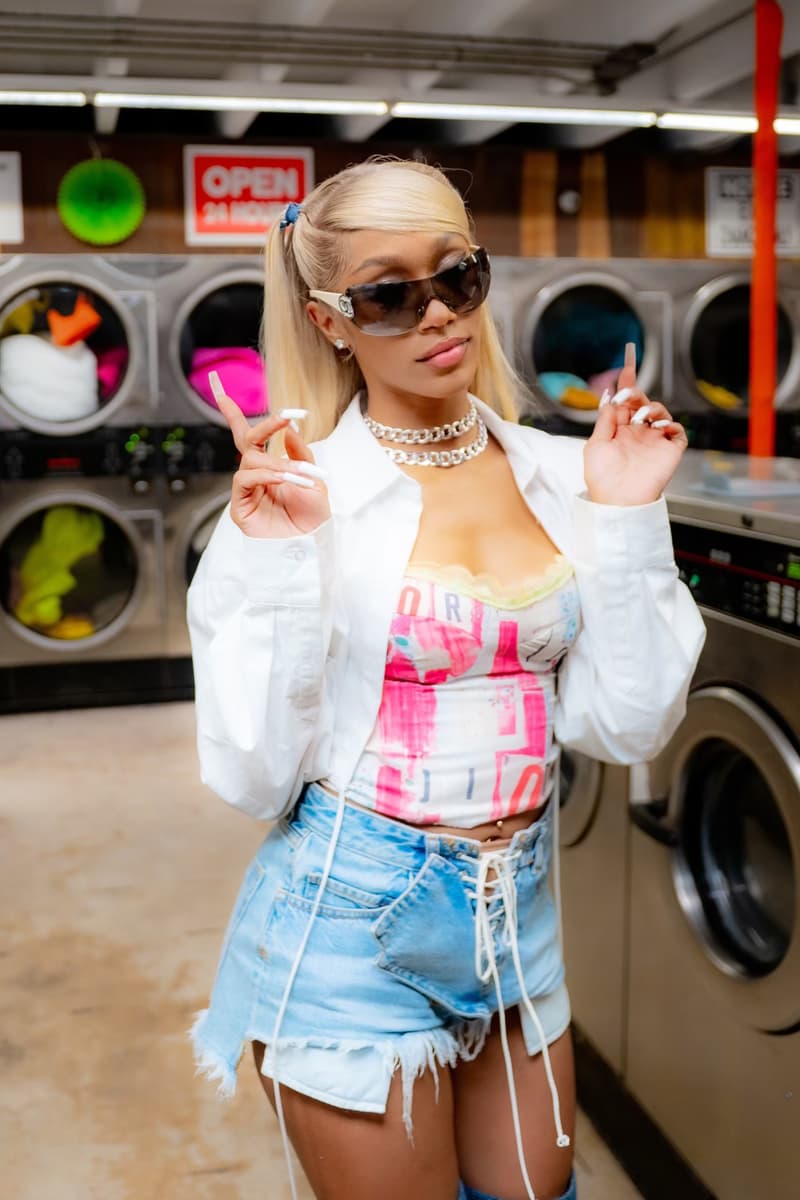 Whole Lotta BIA: The Rapper Talks Her Rise to Hip-Hop Stardom
And her just-dropped 'For Certain' deluxe album.
Music
Whole Lotta BIA: The Rapper Talks Her Rise to Hip-Hop Stardom
And her just-dropped 'For Certain' deluxe album.
Since last December when BIA dropped her sophomore EP, fans have been "for certain" that the artist is one to watch in the rap game. Although she's been at this for quite some time, since even before her 2014 mixtape #CholaSeason was released, BIA is becoming a name in the mainstream music industry for all to behold. Why? Because not only is there a "whole lotta money in this motherf*cker," but there's also a whole lotta BIA coming, too.
Born Bianca Miquela Landrau, the rapper has had a successful season recently, with "WHOLE LOTTA MONEY" going RIAA-certified platinum and her snagging a tour spot with Don Toliver. Prior to her current touring schedule, she toured alongside Ariana Grande, J Balvin and Pusha T, just to name a few. Did we mention that BIA opened for Rihanna's Savage X Fenty Show Vol. 3 with a performance of her singles "COVER GIR" and "WHOLE LOTTA MONEY?"
"Maybe I talk to God so much that I feel like he's just so in tune with everything I'm doing, like it's crazy," BIA said humbly, almost in disbelief that so many blessings have come her way. "I've been doing a lot of praying, a lot of meditating, just a lot of taking 'me time.' Lately, there haven't been any 'me' days because being on tour is so crazy. Everything's back to back."
When asked how the pandemic and moments of solitude and isolation have impacted her artistry, the Massachusetts native positively reflected on the past year and a half. "I think it's allowed for me to be okay with maintaining some privacy in the street," BIA told us. "I think that the pandemic kind of taught me how to pull back a little bit and take that self-care time, take that 'you time,' you know? Check on your loved ones and do what's best for you, because we don't know what's going to happen tomorrow."
HYPEBAE spoke to the "SKATE" rapper about creating the deluxe edition of her highly raved-about For Certain EP, as well as what she's most certain about when it comes to her career.
The For Certain deluxe album is out now on streaming platforms like Spotify and Apple Music.
We're moving back into the normalization of the music industry where there's fan interaction, concerts and tours. How has that transition been for you?
I actually really wanted everything to go back to this, because I feel like music has to thrive in this space, you know? You need to be able to go out and do shows. People need to be able to hear the music live and you've got to be able to touch the fans, meet them. It's a big part of what I'm doing. When I released "COVER GIRL," we were in a pandemic and it was one of my favorite songs I've ever put out. I always said if we were outside when I released "COVER GIRL," so many people would have been able to hear it in a fresh space. It would've been so different. Things like that affect records a lot sometimes, and it's so important to be able to do what we're doing right now.
When For Certain dropped, did you expect that it would garner as much attention and positive feedback as it did?
I didn't have any expectations. One thing about me, I don't put any expectations on my music at all anymore because I just feel like it does so much better when I don't have expectations. I just worked so hard on it, and I think I work hard on all my music. Just to see those things happen and come to fruition is like, wow, it's really happening. I've hoped for this. I can't say I expected this.
How did you feel when you saw "WHOLE LOTTA MONEY" go hard on TikTok and social media, and began to climb the charts?
It was unreal, but it was so rewarding for me because it was my first song to do that by itself. With all my previous songs, I did that [as a featured artist]. "WHOLE LOTTA MONEY" was my first song that got everybody to be like, "Oh, this is BIA." It was just great, and then to get Nicki Minaj on that song was like,"Whoa, is this real life? Wake me up now! Is this real?"
When it comes to collaborating with Nicki Minaj, I can imagine that's probably a dream come true. What made this collaboration so special for you, and what made you think to yourself that you had to have Nicki on this?
I really wanted Nicki or Rihanna on the song. I love Nicki, and I love Rihanna. And when Nicki reached out to me, she had invited me to her house. I had a moment with her and I was just like, "I'm in Nicki Minaj's house right now. This is crazy." Like, what? Come on, that's unreal. You're cutting your remix with Nicki Minaj in her house. That's legendary. It was just God, man. I'm really super grateful and it's one of the happiest times in my career. To know that me and my friends really buckled down and put our all into that project, and that this is where it brought us, it's a beautiful feeling.
What made you want to create a deluxe edition of For Certain, and what can fans expect from this album?
These songs, I always say, would've been on the original. I'm happy that I was able to put out a deluxe, because they already had a home on this project. These are some of my favorite songs. I think they show some different sides of me. Some of them are more vulnerable, like "MOTIONLESS." "CAN"T TOUCH THIS" is like a fire rendition [and] it's one of my favorite songs of all time, so I'm happy to put this out and see what people think about it.
How did the "BESITO" collaboration between you and G Herbo come about?
I feel like he's so underrated and so amazing. He's such a good friend of mine. We went on my first tour ever with G Herbo, so we've been friends for years. As soon as I cut the record, I said, "Yo, I want Herbo on this." I love working with people that I know in real life and that I'm fans of in real life, because I feel like that shines through the record, and it shines through the support. The people know that this is real. It was just dope for us to come together, merge cultures and shoot half of that [music video] in Puerto Rico. To shoot most of that video in Puerto Rico and La Perla is like a legendary thing. It's like shining light on the island, how beautiful the place and its people are. It was just fire.
When it comes to you and your career trajectory, what is something that you're certain about?
I'm definitely certain about who I am. My authenticity, my message. I think that those are all things that are very, very important to me and my spirituality. And I think they shine through my music. I think that people know that when they hear me, I'm coming from a real place and they can trust me.
The end of the year is around the corner. What would you say are some things that you want to do to round off the year right for BIA?
Definitely get more into a healthier lifestyle and take more time with my family. With being on the road and moving so much, for a lot of artists, your family life and a lot of things just pass you by, because you're so focused on, "Let me get to that next moment. Let me get to that next thing." The most important things are the things that you can't buy, the reasons why you're doing it. I think those are some of the things I've started to realize as I get deeper and more successful into my line of things that I like to do.
---
D'Shonda Brown is a freelance culture journalist, public speaker and mental health advocate based in Brooklyn, New York with a passion for mental health, social justice and uplifting the Black community through her writing. As a mental health advocate and suicide attempt survivor, in 2019, D'Shonda became Mental Health First Aid Certified for adults and children, and graduated from the Advocacy Ambassador Program by National Alliance on Mental Illness. D'Shonda is a proud Spelman College graduate and has interviewed notable names from Angela Rye and Soledad O'Brien to Chloe x Halle and Justine Skye.
Share this article