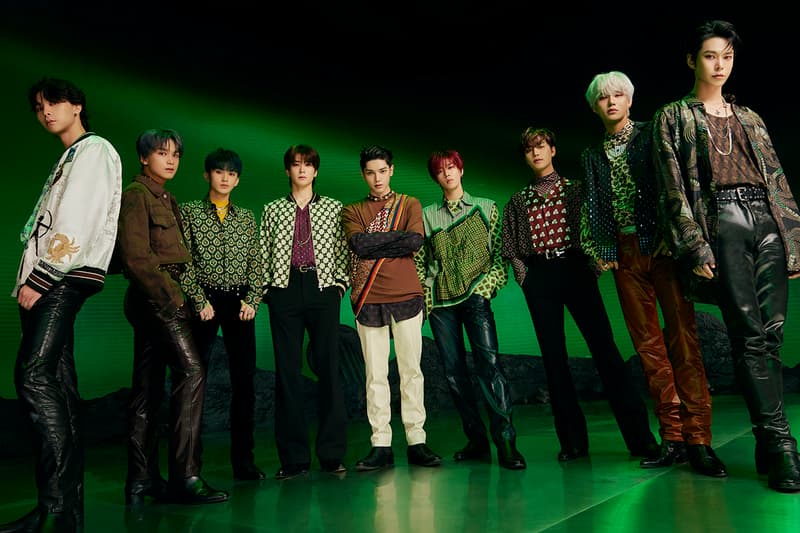 Make Some Noise for NCT 127
The K-pop group returns with a new repackaged album, 'Favorite.'
One of K-pop's most popular groups, NCT 127 is back with new music. Fresh off the release of their highly anticipated studio album, Sticker, which placed the nine-member group on the Billboard 200 chart following its release on September 17, their repackaged album Favorite takes their tunes to an epic new level. With three new songs including "Pilot," "Love On The Floor" and the lead single "Favorite (Vampire)" added to the tracklist, Favorite further expands the group's bountiful discography with a mixture of pop, hip-hop, dance and contemporary R&B.
The haunting single, "Favorite (Vampire)," is aptly timed with the spooky season, with a nostalgic chorus that reminds listeners of an early 2000s hit. Transitioning into "Sticker," the members reveal a change in mood and style, ultimately showing their range as a unit. "We tried to express this dramatic love in NCT 127's own way, so I'm excited to see how our fans will react to this new concept," JAEHYUN says. " I was more excited for the opportunity to show a new side of NCT 127 through this track. It's a fatal love song we haven't tried before, and I'm very curious to see what our fans will think," MARK adds.
NCTzens, as NCT fans are called, are the reason the group has become a global force in recent years. Members of the group hail from Japan, Canada, Korea and even the U.S., and their fanbase is just as varied. "We went into preparing for this album with the desire to show our fans a better performance and song, so that desire really became our inspiration for this album," HAECHAN, the youngest member of the group, says when asked about Sticker. "We thought a lot about how we can express love in a different way, and in the end, it felt like it'd be cool to express love as a 'Sticker'," JOHNNY shares.
"Sticker" was penned by leader TAEYONG and rapper MARK, and the song was clearly thought out with much care. "I was asked to work on the intro for 'Sticker,' so I worked on the lyrics with the thought of making sure the song's concept stands out. I included the 'N' logo and referred to the 'members' in the lyrics, because I'm really proud of NCT 127," TAEYONG explains proudly. "I was also surprised to learn that the mood I was thinking of for this track matched well with the choreography in the intro part and the music video concept. It was exciting to see everything from the choreography and concept come together as one."
TAEYONG and MARK are known for their hard-hitting verses, and this isn't the first time they've been involved in lyric writing. "It was a great experience getting to participate in the rap making, and I had a lot of fun. I really thought about the performance as I was writing the rap, since it comes off more naturally when I'm rapping on stage to what I wrote myself," MARK reflects thoughtfully.
When it comes to their favorite tracks, DOYOUNG shares that his will "definitely be 'Favorite (Vampire)'." He says, "The moment I heard the demo track, I immediately knew this was going to be a great song and probably one of my favorites from NCT 127." JUNGWOO hooks on to one of the B-sides: "I really like 'Pilot.' It's a track that's very exciting, and one that makes you feel happy as if you're up in the sky. I think the chorus especially is really catchy."
Prior to Sticker, some time had passed since NCT 127's last album. The members reflect on how things have changed during the process of recording the album. YUTA says humbly, "I realized how much more precious it is to have our fans when we're performing, and that it's really not something to ever take for granted. One thing that hasn't changed is my desire to perform in front of our fans." TAEIL, the oldest member of the group, expresses: "If I were to say something has changed, I'd say my vocals have improved a lot. As for what's remained constant, that'd have to be the heart we have for our fans."
In a sea of groups constantly debuting, NCT 127 have always been an innovative force, unlike any other entity in the Korean pop landscape. DOYOUNG recognizes that, "I think our team's strength is that we're always taking on new challenges. The fact that we constantly try out new genres is a challenge in itself, and something I feel our fans love about us." JAEHYUN echoes this sentiment, "One of the things that's unique about us and sets us apart is that we're always trying out new concepts and songs, rather than going with something a bit more obvious or familiar." That can result in what some label "noise music," which has become an NCT staple, but it also leaves room for tracks that allow the group's impressive vocals to shine. With each new release, it's impossible to pinpoint exactly what the group has up their sleeve, but that's part of the fun.
NCT 127 may be experiencing an influx of attention right now, but they're more interested in creating a legacy that lasts. Maintaining a fighting spirit in the midst of an ever changing music industry is already a challenge, but luckily, they get to work through it as a team. "My goal for the future is to be a part of this K-pop scene for a long time and continue on as NCT 127," TAEYONG says. "As for trying something new, I'd want to go on a tour since we haven't been able to for quite a while, and things might be a little different in the 'new normal' world." Not being able to perform in person has been a barrier, but the group is still looking forward to the future with hope. "I'd like to go to the countries that we haven't been able to visit yet, and connect with our fans there," JUNGWOO says. The group's fanbase has only grown over the last few years, and the world tours they have missed so much would be a great way to witness that growth.
At the end of the day, NCT 127 are artists who feel incredibly lucky to have the privilege of representing K-pop on a global stage. It's clear in the way they dote on their fans, and in how they reflect on their craft. YUTA says, "As much as we've kept you waiting, I hope our NCTzens will like both 'Favorite (Vampire)' and 'Sticker,' and hope 'Favorite (Vampire)' will become one of their favorite tracks." JOHNNY concludes, "It's been a long time since we've had our last release, but because of all of our fans' support, we were able to come back with a lot of confidence. Thank you always for your love, and I hope to see you guys soon."
---
Ashlee Mitchell is a US-based freelance writer with a focus on Asian and Black pop culture. Her work can be found in Teen Vogue, i-D, Dazed and others. You can connect with Mitchell on her website and Instagram.
Share this article