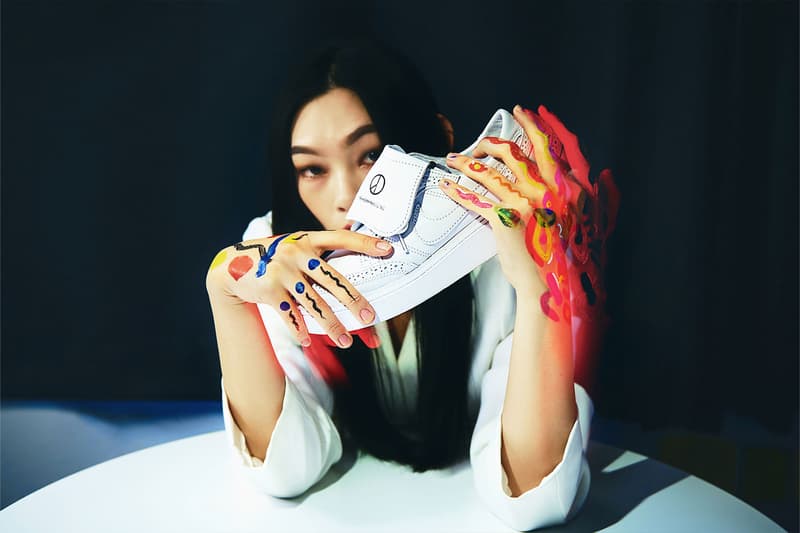 Footwear
Female Creatives Wear G-Dragon's PEACEMINUSONE x Nike Kwondo1
We speak with Korean artists about the sneaker and how its design philosophy shows through their individual work.
Female Creatives Wear G-Dragon's PEACEMINUSONE x Nike Kwondo1
We speak with Korean artists about the sneaker and how its design philosophy shows through their individual work.
In 2019, G-Dragon introduced his brand PEACEMINUSONE and Nike's collaborative Air Force 1 "Para-Noise," leaving a new trajectory in the sneaker market. Two years later, he once again joined hands with the Swoosh brand to reveal a special sneaker dubbed the Kwondo1.
The name Kwondo1 is a portmanteau of the rapper's actual name Kwon Ji-yong, taekwondo and Nike's iconic slogan, "Just Do It." The design takes inspiration from football boots, golf shoes, bowling shoes and skateboard shoes. With this release, the K-pop star hopes to deliver the value of "freedom in flow beyond all boundaries."
In celebration of the Kwondo1, HYPEBEAST and HYPEBAE approached five groups of women who reflect GD's value of the Kwondo1 in real life, from the youngest national female baseball player in Korea to hand performer Ghootree.
Read our conversation with the individuals down below.
Kim Ra-kyung, the youngest national female baseball player in Korea
Kim Ra-kyung, the youngest women's national baseball player in Korea, greets us at Hwaseong Dream Park Baseball Stadium on a foggy weekend morning, wearing a Seoul National University-branded down jumper and a blue uniform.
We met Kim on the day she played on the JDB baseball team, which is composed of female players born in the 2000s. The young team held its first-ever game in September of this year. The "JDB" of the team's name stands for "Just Do Baseball," holding the same meaning as Nike's iconic slogan.
Baseball is a limited career for women in Korea, where there is no professional female league despite the fact that there are more than 50 women's baseball teams officially registered under he Korean Baseball Federation. "The national team is not a job but more of a status, so it doesn't actually provide realistic support. The reality for female baseball players is harsh. I know that. I think women who want to play baseball should be able to experience it in an easier way." She states that this is the key reason for starting the JDB Baseball Team.
We asked Kim about the stereotypes she has faced so far in her career. "I don't think we need to talk about these things anymore. I feel like the more I am fixed to it, the more I think about it. If you're confident about what you like, I hope you'll take the challenge. Looking back, we have been surrounded by so many things that are considered the norm but turn out to be absolutely absurd. I don't want to think that stereotypes cannot be changed. Because they can change at any time." On our way back to Seoul after the interview, we found this phrase on Kim's social media that she lives by: "I will move forward with confidence, strength and power."
Ghootree, sign language artist and performer
Ghootree is an artist who performs paintings through sign language."After my mother lost hearing in one ear from an accident, I thought that perhaps most of us, referred to as the 'non-disabled,' are actually 'potentially disabled.'" Although she is a "non-deaf" person who has almost no hearing impairment and is capable of speaking and hearing, she continues to express herself using sign language. "Deaf individuals speak visually. They're not people who can't hear, but rather people who can see well."
The creative first began learning sign language ever since her family suffered a sudden accident. The reason why she did not choose to take the path of a sign language interpreter was that she believed she could contribute to society in a different way. She believed that if painting and performance could be delivered through sign language, the public would become more aware of it.
Throughout her career, Ghootree faced discrimination with some criticizing her for capitalizing off of sign language. She understands this perspective although it was never her intention, as she is well aware of the many inconveniences that deaf people have to face in a society mostly comprised of the non-deaf. However, she shares that she was able to power through as she believed awareness could bring significant change to the lives of deaf individuals.
"I remember this one deaf person who came to one of my shows. They showed support by telling me: 'For the first time, I was touched that we are creating beautiful art with our language, and I hope you never give up.' There is nothing more encouraging than these words." Ghootree's ultimate goal is to create a scholarship foundation named after herself and hopes to help students with single parents and deaf people.
At the end of the interview, we asked Ghootree what kind of person she would like to be remembered as. She expressed her ambition to change society. "I just want to be a person who constantly tries their best. I hope I'll be remembered as a person who tried to get people's attention to the blind spots of society."
Ryu Sung-sil, winner of 19th Hermès Foundation Art Award
In December 2018, an unknown woman named Cherry Jang appeared in a YouTube video with a face covered in white makeup. She streamed a live broadcast, introducing herself as the "Korea People's Peace and Unification Ambassador." A minute later, she posted a warning message that read "Emergency notification. 5 minutes before the nuclear missile launch. Please evacuate." In another video uploaded on the same day, she preached about her experience in a first-class airplane seat and shared tips on receiving first-class citizenship. A year later, Cherry Jang died, and an online funeral was held in honor of her death.
Artist Ryu Sung-sil, who planned and acted in the "Cherry Jang Series", attempted to discuss Korea's somewhat unhealthy "K-emotions," seen through the fast pace penetrating society. A Seoul National University graduate, Ryu also won this year's Hermès Foundation Art Award through this one-person media work. We met the creative at an old shopping alley in Euljiro, and asked her about her recent endeavors. In our conversation, she reveals that she recently started farming in Yongin, Gyeonggi-do. "I needed digital detox. When I live in Korea, sometimes I feel like I'm going to burn to death."
Ryu admits she rarely uses the term "modern art" because of the social context that comes with it. For example, while the word "patriot" was perceived as a neutral word 10 years ago, it is now used as a politically biased concept. She says that modern art also seems to have formed the meaning of "difficult to understand" by critics. She adds: "The more work I put in, the bigger my bias against art becomes as much as the public, so I don't know what to say."
Ryu has often had to explain her work, as her art mostly deviates from traditional norms. However, now with the title of the winner of the Hermès Foundation Art Award, Ryu says she wants to "work on refuting the conclusive views surrounding modern art." She comments: "Secular goals don't mean a lot to me anymore. Now, I hope I become a person who, as an artist, liked art for a long time. I felt that maintaining affection for my work could be a big deal to an artist."
Military Barbershop, female Korean barbers based in United States Forces Korea (USFK)
Barbers of the Military Barber Shop have been around for 40 years. After operating within the Yongsan base for more than 30 years, they moved their shop to the Samgakji area in 2014, after the U.S. 8th Army moved its headquarters to Pyeongtaek. Currently, there are a total of two female barbers working at the Military Barber Shop. Jang and Julia have been in the business for over 25 and 15 years respectively. The generals in the photos hung on one wall of the store are long-time customers of the two barbers.
The shop is now loved by many across the country, but Jang and Julia explain that a barber was not a job that could be "proudly introduced to" as women. "Even until 10 years ago, we had to face a lot of prejudice and stereotypes. In the past, there were stores called 'adult barbershops,' so if a woman claimed that she's a barber, people would look at her in a different way," Jang says. "There was no prejudice against Asian or female barbers within the military unit. Rather, there was a stereotype to foreigners that Koreans are good with their hands. We were also always kind to them." Julia adds: "Discrimination was severe outside the U.S. military unit. One time I had to quit midway because it was so hard to cope with."
"The foreign clients we work with do not give too much meaning to having a career as a barber. They think of barbers as friends. They always greet me warmly when we bump into each other on the streets." The two barbers share that they were able to continue their careers so far thanks to the friends they made while giving haircuts. They eventually learned that people will be nice to you if you continue to treat them and their work with affection.
As the barber culture gradually begins to take root in Korea, customers' attitudes toward female barbers are also slowly changing. The two barbers advise: "We're sure all barbers do the same, but we try to work with craftsmanship. With numerous barbershops opening in the country, we think there are some barbers who focus only on the appearance. We can't say that's all bad, but we hope they will form a healthy barber culture while trying to develop the skills that go along with their appearances."
Interviewer

Hyeonuk Joo/Hypebeast Korea
Share this article