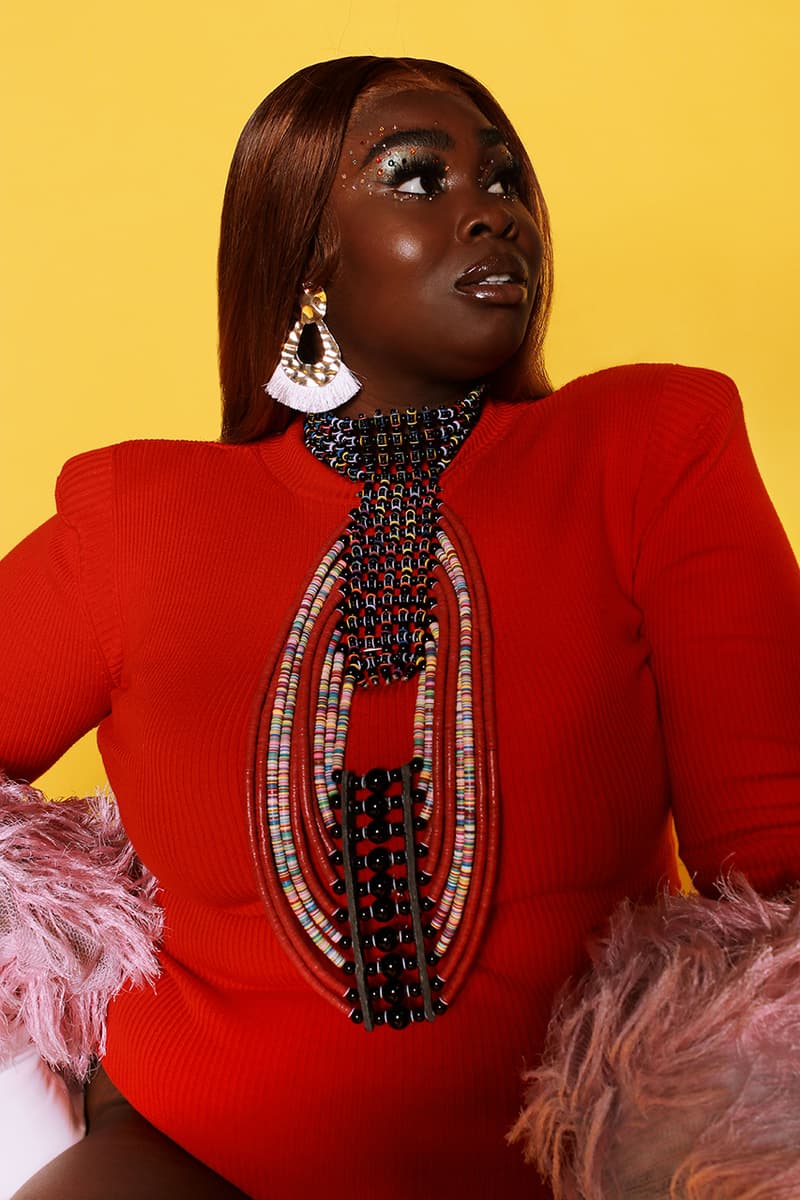 Nnena, the Nigerian Nightmare — More Like an Ethereal Addition to Music
The Ohio femcee is having a whole lotta "Fun" while moving through the industry.
Music
Nnena, the Nigerian Nightmare — More Like an Ethereal Addition to Music
The Ohio femcee is having a whole lotta "Fun" while moving through the industry.
"Today we f*cing good. Feel me?" Nnena said confidently when asked about her mental health before our conversation began. Appreciative, she acknowledged how this icebreaker was a first for her from a journalist. "Damn, you seem cool as f*ck already. Anybody who's ever interviewed me has never asked that, so thank you."
Ohio-based, first-generation Nigerian-American rapper Nnena Adigwe didn't take a traditional route into the industry. As opposed to having a mentor in the music industry to champion for her, or being in the studio day in, day out, Nnena started off in the writers' room instead of an A&R session. "I'm not even going to say it was like my passion. I started off writing TV shows, so I got into music because I needed music for the show. I didn't know how much licensing and that sh*t cost. That sh*t is mad expensive," the musician admitted.
"That's when I started creating my own [music] and then that just stuck. I grew a love for it, but I always had love for music though. Once I start making it, I'm just like, 'I can really say whatever I want.' So I'm like, this is going to be it."
In her own music, the rapper enjoys the art of storytelling and weaves her skilled pen into every tale she shares with her audiences. "I'll just realize sh*t," she told us about her creative process. "I just want people to feel comfortable. That's why I really put it out, tell my past and [stuff] that's happening now. The reason why a lot of people be feeling odd is 'cause nobody says the right sh*t, because they think it's the wrong sh*t that they hiding, but it's really all the good sh*t. I make it based on my life and it's like a diary for real, so I like that sh*t."
Her authenticity in her artistry has landed her music a slot in the critically acclaimed series Insecure, as well as its official soundtrack. Appearing on the fifth season of the HBO show created by Issa Rae, Nnena's song "Fun" has allowed her music the exposure it deserves, a highly rated network and TV series that has become essential to Black culture in mainstream media. "On screen, she makes you feel like you know her or if you come across each other, you will be friends. That show is too f*cking relatable, it's kind of scary," Nnena praised about Issa and her autobiographical fictional character Issa Dee.
HYPEBAE spoke to Nnena about her screenwriting background translating into her artistry, her growth since the release of Bipolar AF, and her thoughts on how Insecure has shifted the culture of music.
Insecure Season 5 is now available to watch on HBO and HBO Max on Sundays at 10 p.m. ET, and on Hulu the following day. The official Insecure soundtrack is slated to release on December 3.
Tell me about how your cultural background influences your music and your aesthetic as an artist.
I definitely get my bounce from that sh*t. I'm Nigerian, that's why I get the bounce in my voice. That's why I like a lot of movement to switch my cadence. We don't ever just do this sh*t one way. On the other tip, I really get most of this sh*t from my dad. I remember every morning when he would drop us off at school, he had a sh*t load of music — and I mean different music, a lot of weird sh*t. I don't like to stay in one place when I'm making a song verbally, if that makes sense. Not actually moving around, but I don't like to stay in one place.
How did your screenwriting background contribute to your growth as an artist?
When I think of music, it's just like short stories — but how am I going to be able to make people visualize what I'm saying? It really does help you. It's real. Sometimes, a lot of the [stuff] I'll be saying is vivid, because I want you to feel the sh*t if you can't be there. They definitely go hand in hand. It makes it so much easier. In screenwriting, you have emotion and all that [stuff], but I feel like when it comes to music, [it] has to be impactful, fast and then not drag out. It makes you think way more.
Insecure is a series that demonstrates the non-monolithic, realistic experience of Black folks, and you had the honor of participating in two writing camps for the show. What was that experience like?
I was just happy being invited. That honestly would've been enough for me. Like you said, Insecure is a Black staple now because we really haven't had [anything] like that since Martin. With Insecure, I felt like somebody was watching my life and then they put that into the show. When I got invited, I was shocked, but I don't know how to explain it. Somebody at that caliber [like Issa Rae] even there, even looking my way because I'm still fairly new at this, I'm like, "Wow, they must think I got something to add to this." I'm still in awe, no lies.
What Insecure character do you feel for the most? Who's your favorite?
I'm Issa all day, but I see [Molly] opening up more. At first, she was a little self-centered, but now I just understand that [she] does not understand. Real talk, it softens her up in a way. I feel for Molly, but my b*tch [is] Issa, all day. My brother, he's like Lawrence and I've never seen somebody like Lawrence being written into a show like this. You don't see a lot of Lawrences and if you do, it's like a real corny Black [guy] with some glasses or some real corny kid. It was very relatable.
How do you believe Issa Rae has been using her platform to personally put on upcoming artists, through her role as a Black female entertainment mogul?
I'm just grateful because she doesn't [have] to do none of that. When you sit down to think about it, where she's at right now, she can easily go hit up Drake, Jazmine Sullivan or people of that caliber. It's just engraved in her to help [others]. I don't know what it is, but that's what makes me think of somebody. That's what makes her a real mogul to me. When you're doing [things] that you do not have to do, you're not going backwards. You're just not forgetting how you started off and how you could help somebody else. When a lot of people I know get there, they forget.
She just has it and she just stands out. I just really love her. It is just wild that she made my [music] the focus tracks. She did not have to. I always questioned sh*t like this, but I can't because she chose me for a reason. It's still unreal. She really be out here changing people's lives and she does it so gracefully. … My mommy doesn't even watch [the show]. She just knows the name and that's it, but she's just proud. I got a real African family and of course they won't be watching that, but [my mom is] just proud because she's also another African woman. We see [people] doing good, being able to be a part of it is wild.
How did your song, "Fun," become a focus track? When you did find out that it was going to be featured in Insecure, what were your initial reactions?
When I first found out, I was at a photoshoot and I'm happy that it happened after because I just froze up. They sent me a screenshot of my name in the email and I'm just like, "F*ck the song, she knows my name! This is beautiful." I found out in a photoshoot and my reaction was just in f*cking awe. If I'm really surprised, I'll be speechless and I'll just sweat a lot. It's weird. I don't know how to explain what it was like, but I was nervous about what was about to happen. I hate not being able to explain the feeling.
There's no point in hiding, but this is still very new to me. I've only been doing music for five years now so at any moment, it's a big moment for me. But it's f*cking Issa! I've been watching that show since my sophomore year. The fact that I get to be a part of something — I think it hits harder because when you're a fan, you're already rooting for something, and then you actually get picked to help and it helps send that sh*t off. What's the best thing to say? You can't say sh*t. You can only feel, but I just feel bad that I can't really express this feeling.
How have you grown since the release of Bipolar AF?
I feel like I honestly won't see the actual growth until I put out another body of work. It's like a comparison thing. I really won't know the actual growth until I let people hear. I always feel strong. I'm counting down the days and I'm waiting for that sh*t, man. Mentally, I feel a little bit more stable. Everybody's a little frantic, but my mind is a little bit more at ease. I'm preparing myself for what else is to come.
What's one thing that you're insecure about as an artist and why is it so important to address?
That's a strong word. … I'm a confident b*tch. I have body insecurity, but I feel like every female has got one. My kneecaps and my inner thighs. Hyperpigmentation is a little b*tch, but it's normal just like that. If people just say sh*t, you will realize how normal things are. That's my problem, I just want to make things normal, but I don't really have a lot of insecurities. That's why I feel like I am supposed to be here. Of course, you get nervous here, but that's just the part that makes you human.
---
D'Shonda Brown is a freelance culture journalist, public speaker and mental health advocate based in Brooklyn, New York with a passion for mental health, social justice and uplifting the Black community through her writing. As a mental health advocate and suicide attempt survivor, in 2019, D'Shonda became Mental Health First Aid Certified for adults and children, and graduated from the Advocacy Ambassador Program by National Alliance on Mental Illness. D'Shonda is a proud Spelman College graduate and has interviewed notable names from Angela Rye and Soledad O'Brien to Chloe x Halle and Justine Skye.
Share this article