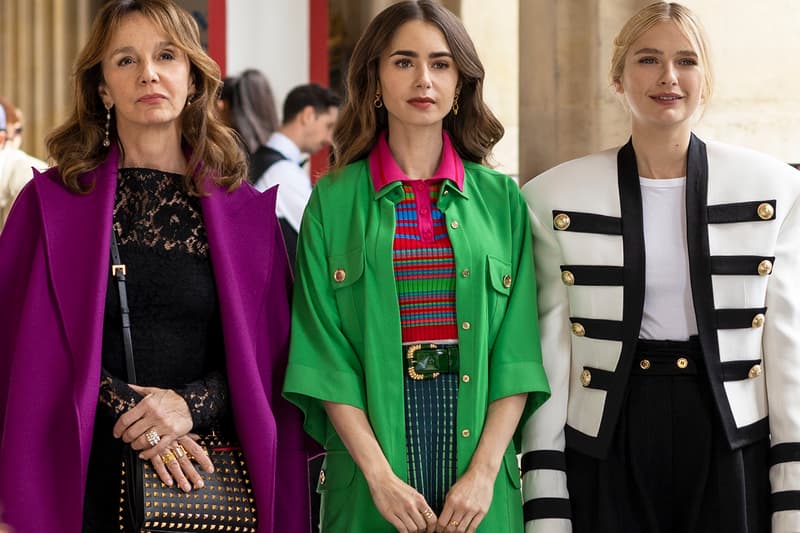 Film & TV
'Emily in Paris' Season 2 Still Misses the Mark on Diversity
While less cringey than Season 1, the show fails to represent the vast array of cultures in Paris.
'Emily in Paris' Season 2 Still Misses the Mark on Diversity
While less cringey than Season 1, the show fails to represent the vast array of cultures in Paris.
The ringarde Chicago native Emily Cooper, portrayed by Lily Collins, is back in the City of Love as Emily in Paris returns to Netflix.
Editor's Note: This article contains spoilers for Emily in Paris Season 1 and 2.
The first season of the comedy-drama series ends on a juicy cliffhanger, with the American marketing executive sleeping with Gabriel (Lucas Bravo), her chef neighbor, who has just split with the protagonist's friend, Camille (Camille Razat). If only Emily knew the trouble she would go through over her one night with Gabriel.
Season 2 hones in on Emily's terrible decisions, as well as cultural differences in the workplace — with Emily being obsessed with work, while Luc (Bruno Gouery) and Julien (Samuel Arnold) constantly remind her that working on weekends is "illegal." She is established in her profession, advising luxury clients and attending exclusive events, but her personal life is in jeopardy. Unlike in Season 1, Emily is now less obnoxious and is willing to learn more about French culture — from taking French language classes, to attempting to integrate into French society. There's no denying how great she is at her job in social media marketing and networking, either. However, no matter how hard she tries to be a better person, Emily still remains unlikeable.
You can't root for a character who doesn't feel sorry for sleeping with Camille's boyfriend, then later inviting both him and Camille to her birthday dinner, thinking it's all roses. What's also problematic is that Emily believes she's a good person by trying to get the couple back together, meanwhile all she thinks about is Gabriel. During the girls' getaway in Saint-Tropez, Emily is practically intervening at any chance Camille seeks out a new sexual escapade. It's also important to note that the Saint-Tropez excursion is meant to be a romantic trip between Emily and Mathieu Cadault (Charles Martins), but he calls it off after realizing Emily's heart isn't in it. In the words of Camille, Emily is an "illiterate sociopath."
And if that is not enough, Emily strings along Alfie (Lucien Laviscount), the British banker on a secondment in Paris. He's willing to stay in Paris for her, but Emily is still holding onto Gabriel. Their relationship dynamic is interesting because it fulfills the stereotypes of Americans and British people: Emily being the happy-go-lucky American, and Alfie being the cold Brit.
Despite its protagonist being an egocentric train wreck, Season 2 of Emily in Paris is salvaged thanks to its entertaining supporting characters. We've seen Chinese-Korean heiress-turned-singer Mindy (Ashley Park) grow and follow her dreams of becoming a singer, albeit in the most unexpected ways, and still seek out love. Camille is the good friend, who tries to guide and support Emily until she ruins it by sleeping with Gabriel. I also grew to love the one and only Sylvie Grateau (Philippine Leroy-Beaulieu). While she was initially hard on Emily for having the audacity to come to France without bothering to learn French and trying to Americanize the culture of Savoir, Sylvie ends up being the big sister, as she tells Emily that she should fall in love, make mistakes and most importantly, "If you're gonna do Paris for one year, do it right."
While Emily may be the main character of the series, Camille and Sylvie's outfits steal the show. It's clear that costume consultant Patricia Field and designer Marylin Fitoussi curated the fashion to represent the characters' personalities — Emily being over the top and out there with her Blumarine cardigan and ANOUKI hearts print dress; Sylvie and Camille being elegant, calmer and poised in Valentino and Coperni respectively.
Overall, however, the comedy's romanticization of Paris remains painfully ignorant. Like many, I binged Season 2 but was ultimately left unimpressed, because the show is built on a fluffy white fantasy, not a reality. Emily in Paris plays into the ideal Parisian package that is sold to the world — a world where Black women and other ethnic minorities sadly do not seem to exist.
Aside from Julien, there's almost no Black French people in Emily's life — perhaps a reflection of how France has long outcasted Black people by being reluctant to collect racial data. Due to French colonialism, Paris has a sizable population of Black people, hailing from African countries and Caribbean islands such as Senegal, Congo, Cameroon, Guadeloupe and Martinique. In many French TV and film productions, however, Black characters are often depicted as people in the banlieues — French working class suburbs — or they are reduced to other racist stereotypes. The same could be said about Emily in Paris, in which Black people are placed outside the periphery of the lush French arrondissements, while Black women in particular are just in the background.
Emily in Paris may be a show for escapism, but who really gets to escape when the experiences of Emily as a well-off, white American aren't exactly the same for many Black women in Paris — women who listen to Aya Nakamura, one of the most streamed Francophone artists, or who live in the multicultural Goutte d'Or in the 18th arrondissement? Women like Sylvie and Camille do exist in real life, but they can't be the only representation of Parisian women.
All in all, the series is aspirational, although a little clichéd at times. And if we're to get a Season 3, let's hope Emily becomes a kinder woman.
---
Bashirat Oladele is a freelance writer covering pop culture and politics. Her work can be found in Teen Vogue, Stylist, Polygon, Cosmopolitan and more. You can check out her work here.
Share this article