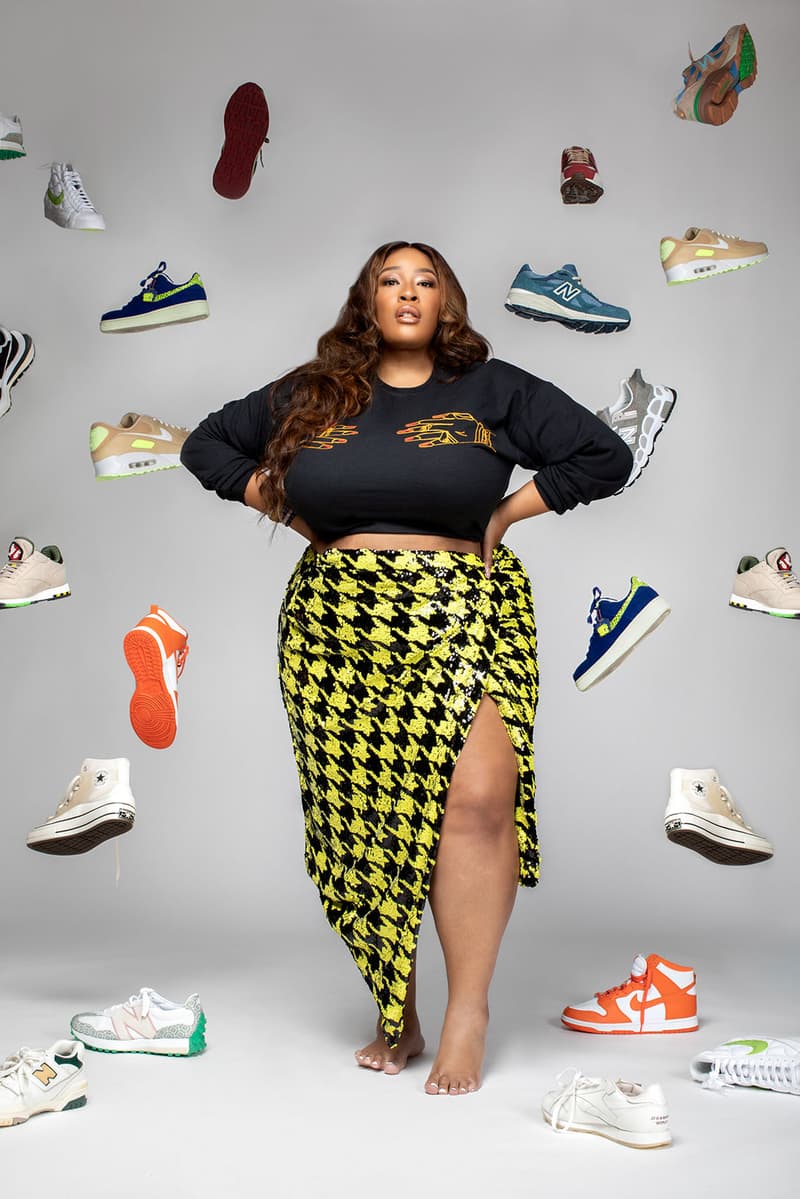 Baes With Kicks: Essie Golden
The co-founder of Thick Laces has created a community for plus-size sneakerheads.
Footwear
Baes With Kicks: Essie Golden
The co-founder of Thick Laces has created a community for plus-size sneakerheads.
New York City opened the eyes of Essie Golden to the world of fashion and sneakers. With how liberated New Yorkers are when it comes to expressing themselves through their fashion or any other type of art form, the content creator and consultant has found a place where she feels comfortable in her own skin and style.
Realizing the lack of representation of plus-size individuals in the sneaker world, Golden established Thick Laces with Katie Baker to champion the plus-size streetwear community. Prior to that, Golden created a movement called Golden Confidence back in 2012 with the aim to inspire women of all shapes and sizes to embrace their natural beauty. "I never thought bringing women together in a safe space could do that. It's been an honor to be a part of so many people's self-love journeys," she tells us.
In the latest installment of Baes With Kicks, we chat with Golden about how she got involved in the sneaker scene, as well as her views on the fashion and footwear industries' diversity and inclusivity efforts. Read on for our interview.
Name: Essie Golden
City: Brooklyn, New York, but I'm originally from Orlando, Florida.
Occupation: Content creator and consultant.
How many pairs of kicks do you currently own?
I refuse to count. I don't want to recognize I have a problem. But I probably have at least 100 pairs, which may not seem a lot to some but I only started taking my collection seriously around three years ago.
What made you decide to start getting involved in the sneaker scene?
I've loved sneakers ever since I was a kid. When my family adopted me, I was gifted with my first pair of white Reeboks. It made me feel cool and like I belonged. However, it really kicked back up a few years ago when the sacai x Nike LDV Waffle came out. After that, I started paying more attention to the sneaker scene.
What are your top three silhouettes at the moment?
Nike Blazer, New Balance 992 or 327 and Reebok Club C.
Can you share with us your style tips when it comes to dressing in sneakers?
Forget the rules — if you like it, wear it. Always wear something that makes you feel comfortable. No matter what anyone says, sneakers go with everything, including evening wear.
Where do you cop your shoes from?
I usually cop my shoes from Nike SNKRS, GOAT, StockX, Nice Kicks and Clicks. I've recently been finding gems on eBay, ASOS and etsy.
What about your clothes? Do you have any go-to brands?
I truly shop anywhere and everywhere. I love Target, ASOS, H&M, Amazon, Torrid, Good American, Nike, Reebok, ELOQUII, Urban Outfitters and Pretty Little Thing. I also adore indie brands like Carnivore Creates, Something For the Aunties, Hanifa, Zelie For She, Shakira Javonni, 11 Honoré and Pantora. I get my vintage pieces from platforms like etsy and Kaleidoscope Femme Studio.
What do you think makes New York City's fashion and footwear scenes unique?
New York is one of the rare places that encourages you to be you. If you don't know who you are, New York will quickly help you find that out. This wonderful place is filled with so many people from all different kinds of backgrounds who are coming in with their own new unique style. These people truly own their fashion choices and make you believe it too. There's a level of confidence they have that you won't see anywhere else.
This is the only place I've ever felt comfortable enough to try new things. I remember the first time I wore a pair of shorts. I was waiting for a crowd of people to "boo" me or tell me to take them off, but no one cared at all. Everyone was just minding their own business. That moment changed my life forever. This city has given me the space to find myself without judgment. If you want to be decked out in full designer, all black or a unicorn costume, you can do that.
Again, that's why NYC is so special to me. Train rides into the city are where I learned how to put outfits together. Loft parties in Bushwick are where I discovered brands like Married to the MOB, Only NY, HLZBLZ and Dimepiece LA. Getting my lashes done at the back of a sneaker shop on Fulton Street is where I saw every new silhouette imaginable. NYC is magic in all areas, especially fashion.
What originated your movement, Golden Confidence?
I started Golden Confidence back in 2012 on Instagram. During that time I was modeling for indie brands and showcasing my outfits on social media. The women who were following me stated they were so inspired by me and that I made them want to wear things they never thought they could. The Golden Confidence hashtag and page came about as a way for people to inspire each other, embrace their beauty and shine no matter what. I never thought bringing women together in a safe space could do that. It's been an honor to be a part of so many people's self-love journeys.
And Thick Laces — how did that community come to be?
It came from a lack of representation. Like many people during this pandemic, I started purchasing sneakers. I became super interested in all of the new releases. What I observed from the sneaker pages was the lack of plus-size individuals. That was crazy to me because I see plus-size women every day on my feed killing it. These women are using popular hashtags and tagging pages that never feature bodies that look like theirs. I've looked at a lot of these pages and they barely feature Black women or women of color.
After realizing this, I reached out to my Thick Laces co-founder Katie Baker who has been collecting sneakers since birth. I told her we needed to have a page that represented the women we see every day. Thick Laces has become a place for plus-size sneakerheads and newbies looking to learn more and get fashion inspiration. It's been incredible to receive thank you messages from so many women who were feeling left out. We look forward to not only growing but showing the world that plus-size women deserve a space within the sneaker world.
In your opinion, what do you think about the fashion and footwear industries' diversity and inclusivity efforts? Do you think there is more that can be done?
It's better than what it was a few years ago, but honestly, it's still severely lacking. People of all body types wear shoes, so why can't I see that represented in campaigns? That's the easiest thing a brand can do. Major brands like Reebok, Nike and adidas now go up to a size 4XL, which is great. However, some of their offerings are much less than their regular-size lines. All of them are headed in the right direction and I hope to see more from them in the future.
Meanwhile, there are many streetwear brands that stop at an XL or 2XL and that should change. There's a lot of bigger men that I'm sure would rock many of the popular brands if it came in their size. The plus-size industry is a multi-billion dollar industry. It always boggles my mind to see so many brands ignore the plus-size consumer. We clearly have a lot to offer.
Also, I wear a women's size 12 and sometimes I can squeeze into an 11 if I really want the sneaker. Many of the women's releases stop at an 11 with some at 12. Why not increase to a 13 or 14? There are women of all shapes and sizes that deserve access to their size.
What message do you want to convey to the world through your platforms?
I hope it shows that people of all shapes and sizes are not only beautiful but deserve to be treated with respect, love and decency. Plus-size people can dress their asses off and they deserve a real space in fashion.
Share this article