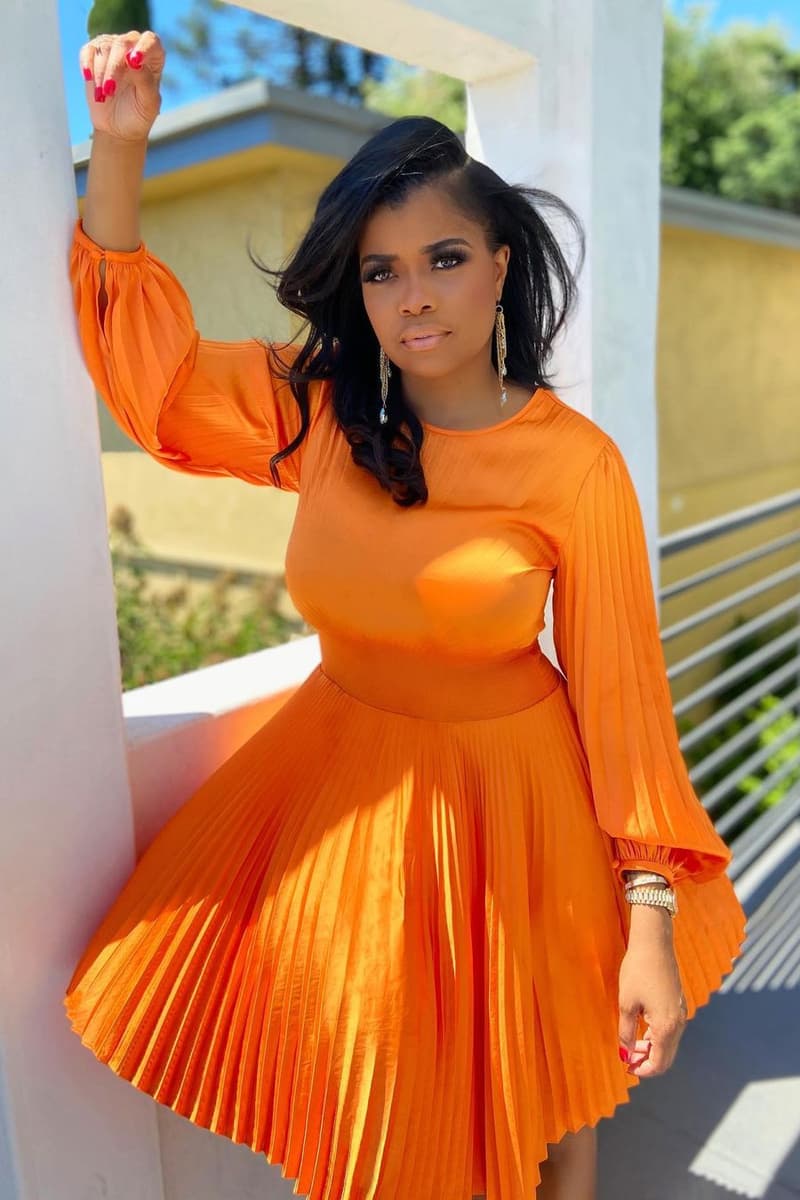 Media Maven Karen Civil Invites Young Black Girls to a Seat at Her Table
The brand strategist tells us how she became the Karen Civil we know, love and admire today.
Culture
Media Maven Karen Civil Invites Young Black Girls to a Seat at Her Table
The brand strategist tells us how she became the Karen Civil we know, love and admire today.
Karen Civil is the definition of "the grind don't stop." The famed marketing maven is in a league all her own — from leading campaigns for Beats by Dre, to being the queen of her own Live Civil empire spanning a lifestyle brand and blog, the Be You tour, and even the Be You & Live Civil self-help book that guides readers into their purpose. Did we forget to mention that she has also recently launched a podcast with her best friend and serial entrepreneur Ming Lee called Girl, I Guess?
The New Jersey-bred marketing strategist has been a powerhouse in the entertainment and media industry, unapologetically creating her own path while helping other young women along the way. Since the launch of her website in 2008, Civil has branched out into her own branding and marketing company, Always Civil, working with clients from Teyana Taylor and YG to Mitch and Quavo. HYPEBAE caught up with the trailblazer about the moment she knew she wanted to be an entrepreneur, advice she would give her younger self about maneuvering the industry and how the media has shifted during the Black Lives Matter movement.
Girl, I Guess podcast season one is available on all streaming platforms, including YouTube, via The Joe Budden Network.
When did you first know that you wanted to become an entrepreneur?
I didn't want a regular job and I didn't take directions very well. Actually, my first job was at Burger King and I gave myself a promotion, I made myself the team captain and that's when I realized this isn't for me at all. This is not for me at all. I'm most likely going to have to work for myself because as much as I loved it there, it wasn't for me. I found ways that I wanted to do things and when they had that conversation with me about the highway, at the time I didn't have a driver's license so that analogy didn't really mean anything to me. I was going to figure out how to have my own career.
How has the scope of media and entertainment shifted since the height of the Black Lives Matter movement last summer?
It's definitely been heightened. We've seen some companies being very performative, but we've seen a lot of people step up and it's something that was necessary. Our voices are being heard, things are shifting and more than ever, with the Black Lives Matter movement, the rallying, the social justice, we are fed up. Black people were fed up with dying just for the color of our skin and it was time. It was always there but social justice outweighed COVID-19, if you understand what I mean. As much as they wanted us in the house and not doing anything, police continuing to kill unarmed Black people took front and center and made the world stop. Everywhere around the world cared about us. At this point, it continues to be important and more than ever, our voices were really heard with this George Floyd situation and the catapult of it.
"Don't let anybody stop you from going after your goals because they don't want to see your potential."
You're a Black woman in the industry and as such, I'm sure you're tired of being asked how you maneuver through the industry. A better question would be, what are things you wish you were or weren't told about maneuvering through the industry?
There are gonna be good days, bad days and honestly, it's like any other job. As much as I didn't want the regular job and I was like, "It's gonna be a fun cookie-cutter fairytale" and it's not. If you can't work 40 hours of being an entrepreneur in this industry, times are not easy at all. At times, it feels like I have two strikes against me: one being a woman and another being a Black woman. At the end of the day, I'm not going to let society's ideologies and thoughts on the glass ceiling they try to place on me matter on how I maneuver. I'm still gonna look at the glass half full and keep going. At times, I knew I was creating my own blueprint. There are a lot of things that weren't done before me so there's a lot of trial and error and I have to walk through the fire, but I look at this situation like a roller coaster. I love using analogies. It's very scary, it has its ups and downs but I'm gonna enjoy this ride. It's my life. 
I'm gonna take the good with the bad, but I'm affirming to understanding the Bible. It taught us to coincide with good and evil, and that's basically what every situation will be. I know I'm gonna have great days, I'm gonna have bad days but I know I'll continue to get up and continue living my life. That's really what matters. I kind of wish I was told that early on but you learn it as you go through. The great thing about it is that I'm gonna just continue working on my blueprint, breaking those generational traumas and curses, and have these early conversations with my children so they are fully prepared. The conversations my parents were scared of and shied away from having with me because they wanted to protect me. I'm gonna let my child know early on and prepare them.
You said in an interview that you didn't have a resume when Lil Wayne hired you or when you became Beats by Dre's 12th employee — and you still don't. What's the importance of networking and making connections — on social media, events or otherwise — as opposed to just having a "polished resume"?
I don't want to say my way is the only way, but that's what worked for me. I don't say this to say "don't have a resume" and I don't want to steer anybody in the wrong direction. At that time, what I was trying to do in the media, social media and digital space really wasn't created, so it didn't matter what was on my resume because the job I was going after, the stuff on my resume wouldn't coincide with it. It was really important for me to network with the right people. I'm a very introverted person so I made sure that I stepped outside of my shell because if this is something that I wanted, I had to prove it to myself. I left my house with 10 business cards and I made sure I handed them out to 10 important people and if I went to an event, there was no plus one and I went by myself. I stepped out of my comfort zone. Networking, having conversations and talking to the person that had the walkie-talkie, the publicists, the assistants because those are the people I wanted to have connections with. Not just the artists themselves because they're actually the ones who are moving the needle and making things happen.
"At the end of the day, the most important thing is you being your own superhero. I'm not waiting for the world to applaud me."
What advice do you have for young Black girls who are looking to pursue a career in the entertainment industry, but they feel discouraged based on how we're treated and the not-so-equal opportunities?
It's a lot of non-equal opportunities in various industries you go into but we're changing that narrative. I'm not gonna let a negative stop me from getting into the game. Be the change you want to see. That's why I'm in it and I'm in it to win it. That's the same stance I want that young woman to have. Don't let anybody stop you from going after your goals because they don't want to see your potential. No offense, f*ck them. F*ck how they feel, their notions and their everything else. You do what you have to do. At the end of the day, the most important thing is you being your own superhero. I'm not waiting for the world to applaud me.
How do you know what talent you want to work with and who to turn down?
It always works best for me when there's been a relationship there and I've known the person or entertainer for a while. I pretty much know how they maneuver, how they are as an individual and it works better when it's actually an organic relationship. That's the place where I'm at now. I'm not really looking to work with new talent because I'm focusing more on the podcast and the brand that I'm personally growing. They were really just individuals that I had relationships with and I've known who they are in certain regards, their ideologies and it made sense.
What advice do you have for any aspiring creatives about the importance of using their platforms and media influence?
Listen, just be you. The great thing is that you can now see your analytics and metrics, and what your core fanbase wants from you. Don't put a time limit on your success because now more than ever we're seeing young Black millionaires at a more rapid rate, and people are starting to make it a competition. Don't do it to yourself , give yourself grace, know what your audience wants from you and use your metrics. Just continue to be yourself. Remember who you are when you started this and just don't get lost in the premise of it.
When did it hit you that you were the Karen Civil?
I think it definitely was when my mom was in the hair salon and it was the EBONY Power 100 issue. NeNe Leakes was on the money issue, they listed 100 people and I was on it. It was in no particular order, but they had me and then Rihanna. My mom called me and she said, "Do they think you have more power than Rihanna?" I was like, "No, Mom, it's not in order. Don't do that." It was just so interesting because I have West Indian parents and they want you to live a certain constructive life — get married, graduate school, kids, career. Very straight and narrow, but I followed my own path. For her to call me and to hear that excitement in her voice meant the world to me. It was my mom being proud of me.
Another time was at the White House. I went to use the restroom and I was at an HBCU event that Terrence J invited me to. I excused myself to use the restroom, but I ain't really want to use the restroom. I was trying to walk around because I was looking for Michelle [Obama]. I actually ran into somebody who worked in her office and they were like, "Hey, are you Karen Civil? I'm a big fan." I said, "What? Excuse me?," and she said, "I follow you on Twitter." That was it. You couldn't tell me nothing else after that. They invited me back numerous times and you couldn't tell me nothing else after that. My mama and Michelle had seen me and that's what I needed. Making my mama proud, somebody in Michelle's office knowing who I was and getting that invitation.
---
D'Shonda Brown is a freelance culture journalist, public speaker and mental health advocate based in Brooklyn, New York with a passion for mental health, social justice and uplifting the Black community through her writing. As a mental health advocate and suicide attempt survivor, in 2019, D'Shonda became Mental Health First Aid Certified for adults and children, and graduated from the Advocacy Ambassador Program by National Alliance on Mental Illness. D'Shonda is a proud Spelman College graduate and has interviewed notable names from Angela Rye and Soledad O'Brien to Chloe x Halle and Justine Skye.
Share this article