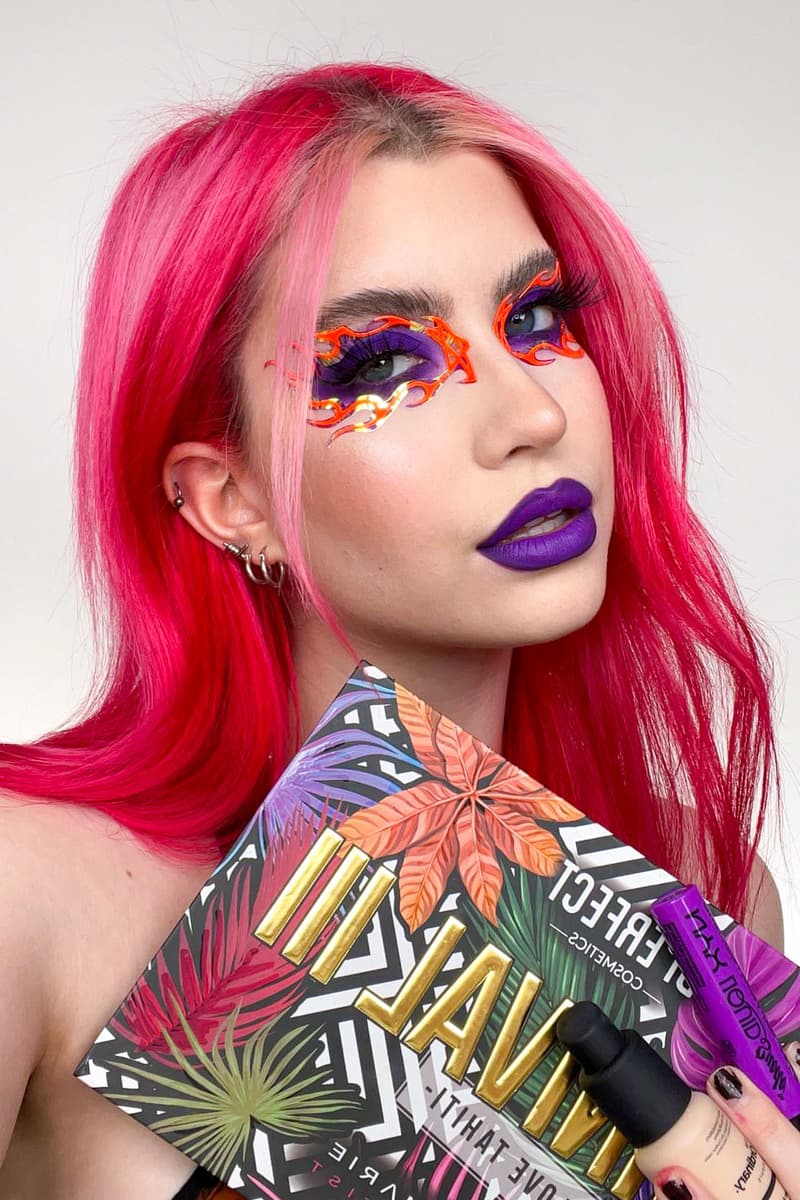 Abby Roberts Is TikTok's Most Exciting Makeup Artist
We speak to the social media star about her finding her style, gaining confidence and her upcoming music release.
Beauty
Abby Roberts Is TikTok's Most Exciting Makeup Artist
We speak to the social media star about her finding her style, gaining confidence and her upcoming music release.
If you've been on TikTok, there's no doubt that Abby Roberts has graced your "for you" page. With her bold makeup looks and bright colored hair, the star has reached 16 million followers on the platform, and is only continuing to grow.
We had the chance to speak to Abby to learn more about how her makeup journey began, her style evolution as well as her upcoming music release. Take a look at our full interview with Abby below, and don't miss our exclusive makeup tutorial below (All products are listed at the end of the article).
View this post on Instagram
When did you first start getting into makeup?
I was 11 years old when I first started loving makeup and posted my first YouTube tutorial then, although I had always grown up with art and makeup, always being the designated makeup artist for family halloween parties!
How has your interest in makeup developed since getting TikTok?
I think when I first started doing TikTok the looks I were doing were always super insane so I could stand out from the crowd, as the years have gone on my style has definitely changed, I think now the looks I do are not so much about standing out as I already have a large audience, but more about telling a story, I enjoy mixing cinematography with my makeup looks.
Do you have a favourite look you've done so far?
It always changes but right now I would say the Rosalie from Twilight transformation I recently did with my sister!
How do you think your style has changed and grown over the past few months?
My personal style outside of makeup, has for sure changed a little over the past few months. I've always dressed in a kind of tom-boyish way but I think recently my style has just gotten darker. I think its true that your style is a reflection of yourself and your emotions, as well as artistic expression. I went through some pretty dark stuff personally towards the end of 2020 and I think that has definitely kind of manifested itself in my fashion as well as finally having the balls to dye my hair all the colours I wanted – whether this was a conscious decision or not. I feel really comfortable with my style right now.
As one of the biggest TikTok accounts, why do you like the platform? What makes it unique?
I love TikTok for its authenticity, everything we show on there is so raw. I think TikTok also has a great way of spreading positive messages and so many great movements have come out of there – body positivity, embracing flaws etc. I always try and carry this positive message in my videos: you are beautiful with or without makeup and everyone is valid to use it as a form of artistic expression!
What has your experience been like growing so rapidly on social media? What have been some ups and downs?
I found it super overwhelming gaining this internet "fame" at such a young age, I think its very easy for everyone to scrutinise your every move and that can be quite intimidating as a young teen in the public eye. You know, all kids make mistakes growing up and you learn from those and grow as a person, I think that makes it ten times harder when the whole world is watching you. I have made mistakes but being called out on those and educated on them rather than being torn down has really helped me grow as a person and become educated on topics I maybe would not have known otherwise. It's always a great feeling to have a video blow up online but with that usually also comes a flood of people who don't know you, and their opinions aren't always positive which can be hard to cope with.
What are you most excited about this year? What are some of the projects you're working on?
I'm super excited to be working on my own music, it's always been a passion of mine but I never had the confidence to be able to pursue it personally. Last year I had the amazing opportunity to begin working with some really great people who have helped me explore my interest in music throughout the past year or so. I'm so excited to hopefully be able to finally put something out later this year that I'm super proud of!
What advice would you give to someone looking to get into makeup? Where do you start?
You just gotta practice! Don't compare yourself to other makeup artists online like myself who've been doing this for years, I know it can be super intimidating but trust me I used to suck at makeup LMAO so if I can do it, you can too!
Lastly, what TikTok accounts are YOU watching the most?
I love Jasmine Chiswell I think her style and her as a person is just so sweet and she spreads such a positive message! I will always love Brittany Broski, too, she makes me laugh so much!
---
Products Used:
The Ordinary Serum foundation
Item Beauty concealer
Kevin Aucoin sculpting powder
Color Pop Fresh N Peachy blush
Ofra Glazed Donut highlight
Face Lace sticker
BPerfect Cosmetics Stacey Marie Carnival III Palette
Colorp Pop Cool BFF lipliner
Color Pop TBH lipliner
Nyx Run The World Suede liquid lipstick
Share this article