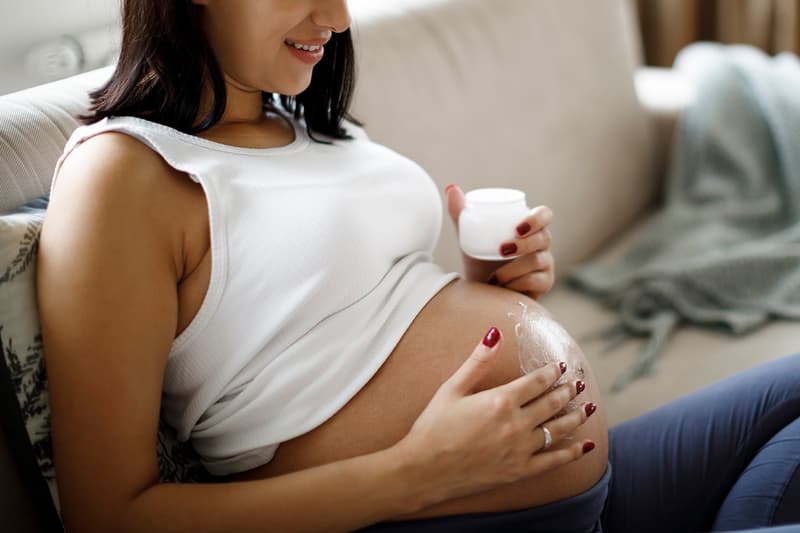 Beauty
Pregnancy-Safe Skincare: What You Need To Know When Choosing Beauty Products, According to a Doctor
From the best treatments to use, to skincare ingredients to avoid.
Pregnancy-Safe Skincare: What You Need To Know When Choosing Beauty Products, According to a Doctor
From the best treatments to use, to skincare ingredients to avoid.
Through all the joy that comes with pregnancy, many expecting and new mothers also face a set of challenges — apart from back aches and tender breasts, skincare can be a difficult thing to navigate among pregnant women, too. Whether it be melasma, hormonal breakouts, spider veins, or that dark line that suddenly made an appearance along your belly button (FYI: that's called a linea nigra), a number of different skin conditions can develop during pregnancy. What's more, there are certain skincare ingredients that pregnant women should steer clear of, either because they're suspected to cause birth defects, or because there isn't enough research to ensure their safety during pregnancy.
While it may be gut-wrenching to part ways with certain products in your beauty routine, thankfully, healthy skin and pregnancy can still go hand in hand — and we have expert input to back that up. Continue reading to learn about why your skin is changing, skincare ingredients to avoid, and what routine to adopt when you're pregnant.
Skin Changes During Pregnancy
Dr. Manuela Maria Vazquez, OB-GYN and founder of skincare and wellness brand LaMaria, says that pregnant women are likely to experience a range of skincare concerns, including acne flare-ups as a result of fluctuating hormone levels. Another skincare side effect of pregnancy is skin pigmentation, or melasma.
"Melasma, which occurs in up to 70 percent of pregnant women, refers to the darkening of the skin, and is usually seen as dark spots on the cheeks, forehead, upper lip, nose and chin," says Dr. Vazquez. "Almost all pregnant women develop some degree of increased skin pigmentation. One possible cause is that estrogen and progesterone cause melanin stimulation." There may also be a genetic component contributing to why pregnant women get melasma. The good news? Melasma due to pregnancy usually regresses within one year after delivery.
Some other skincare issues pregnant women may face are skin tags — which can develop on the face, neck, chest, groin and underneath the breasts — as well as spider and varicose veins. Spider veins look like red or purple tree branches (or spider webs) at the surface of the skin, and tend to appear on your face, neck and arms. Varicose veins, on the other hand, tend to look more like thin ropes that bulge on the surface of the skin. According to Dr. Vazquez, estrogen is a contributing factor as to why these veins develop, as the hormone can grow new blood vessels as well as cause existing ones to dilate.
Skincare Ingredients To Avoid if You're Pregnant
In the beauty world, no other skincare ingredient is celebrated quite like retinol, but Dr. Vazquez says that it isn't recommended for pregnant women. "When ingested, isotretinoin (a retinoid) has been shown to cause birth defects," she says.
What about topical skincare products that contain retinol? Dr. Vazquez recommends avoiding that, too. "Since we don't conduct clinical trials on pregnant patients due to ethical reasons, we don't have a large amount of data to be able to safely encourage the use of topical retinoids during pregnancy, therefore we recommend against them," she says.
Hydroquinone, a skin-lightening agent touted for its ability to fade dark spots and melasma, also makes the no-no list for pregnant women. "It has been estimated that 35 to 45 percent of hydroquinone is systemically absorbed following topical use in humans. And although we don't have studies demonstrating harm in pregnancy, we cannot safely recommend use of the ingredient in pregnancy and breastfeeding women," Dr. Vazquez notes.
Skincare Routine for Pregnant Women
Acne
The quest for clear, breakout-free skin when you're pregnant doesn't have to come to a halt just because retinol, Accutane and high-dose salicylic acid are off the table. Dr. Vazquez suggests opting for oral or topical erythromycin or topical clindamycin, as "these are classified as category B, meaning they are routinely used in pregnancy and considered safe," she notes.
If your doctor gives the green light, benzoyl peroxide and low-dose salicylic acid can also be used. To help keep breakouts at bay, make sure to cleanse off acne-causing dirt, oil and bacteria in the morning and at night with a gentle cleanser, like the Cetaphil Daily Facial Cleanser.
Dark Spots and Veins
According to Dr. Vazquez, azelaic acid is an alternative to hydroquinone that pregnant women can safely use. Azelaic acid is an exfoliant that helps with more than just dark spots — it targets clogged pores, acne and rosacea as well. A tolerable ingredient for sensitive skin types, azelaic acid has antibacterial properties, improves the appearance of post-inflammatory hyperpigmentation, and gently exfoliates dead skin cells. PCA Skin's Pigment Bar is an effective, non-irritating option for pregnant women looking to even out their skin tone with azelaic acid.
Tranexamic acid is another pregnancy-safe skin brightener that helps with the appearance of hyperpigmentation, stubborn brown spots and skin discoloration. The Skinuva Brite, made without retinol, hydroquinone or silicones, is well-loved by pregnant women struggling with hyperpigmentation and dull skin.
As for those veins? The best treatment is patience. Dr. Vazquez says that most skin conditions that occur with pregnancy tend to improve on their own post-delivery.
Sun Damage
Whether you are pregnant or not, one of the best skincare products to use is mineral sunscreen. However, this step in your routine is especially important when you're pregnant, as your skin is more sensitive to the sun due to changes in hormones. Sun exposure can also make melasma worse, so it's important to choose an SPF of at least 30 to ensure that your skin is protected. The Supergoop! Mineral Sheerscreen SPF 30 is a great option.
You can also keep using your vitamin C products during pregnancy. Dr. Vazquez says the ingredient is a powerful antioxidant that can help fight sun damage, and it can be helpful with hyperpigmentation as well. Try incorporating the cult-favorite Bright Idea Vitamin C + Tri-Peptide Collagen Protecting & Brightening Serum from Bliss into your a.m. and p.m. skincare routine.
Stretch Marks
Stretch marks are as natural as weight gain during pregnancy, and are typically seen on the abdomen, breasts and thighs. "Women are more likely to get stretch marks if they have a family history of stretch marks, if they have weight gain above what is recommended for their pregnancy, or if the woman is pregnant with more than one baby," says Dr. Vazquez. "Although stretch marks fade after delivery, usually over a period of months to one or two years, they do not disappear." That said, there are some promising treatment options, including MUTHA's Body Butter, a luxuriously decadent trifecta of shea, cocoa and mango butters developed with pregnant women in mind.
Michelle Rostamian has been part of the beauty industry for 10 years as a writer and editor. She covers beauty, makeup, skincare and wellness, and has bylines at Cosmopolitan, Marie Claire, Women's Health, Byrdie, HelloGiggles and more.
Share this article