Footwear
Artist Brittany Byrd Stars in '00s-Inspired FW21 Campaign and Collection for DC Shoes
Keeping in step with the return of Y2K-era dressing.
Artist Brittany Byrd Stars in '00s-Inspired FW21 Campaign and Collection for DC Shoes
Keeping in step with the return of Y2K-era dressing.
Fashion loves a comeback. The defining styles that reigned supreme during the early '00s have spawned a recent resurgence of noughties-inspired fashion and footwear trends being adopted by trendsetting and fashion-forward dressers alike. Keeping in step with the return of Y2K-era dressing, DC Shoes has unveiled an all-new, women's Fall/Winter 2021 collection and campaign that harkens back to the iconic footwear brand's roots and cultural impact made during the early 2000s. 
To bring the '00s-inspired collection and campaign to life, DC tapped three, leading female creatives to showcase their individuality and distinct approach to personal style in bold fashion. Starting with artist and stylist Brittany Byrd, the latest collection features the Los Angeles-based multihyphenate shot amidst her new gallery, Byrd Museum and dressed in an array of elevated, fuss-free wardrobe essentials. Fusing signature designs from the decade with a dose of edge, standout pieces expertly styled by Brittany include classic cropped logo tees, camo pants imbued with a streetwear sensibility, a bright pink cropped jacket and coordinating low-rise pants fashioned in "Dogwood Pink" along with a range of DC's best-selling footwear silhouettes. 
To get to know the multi-faceted creative, HYPEBAE sat down with Brittany Byrd to discuss the opening of her first gallery space in Los Angeles, how she uses fearlessness and escapism to harness her creativity and the process behind collaborating with DC on the latest campaign.
What was the creative process like when collaborating with DC Shoes on the Fall/Winter 2021 campaign? 
I have so much love for the DC team. The creative process with DC is always amazing energy. I love how DC is so open to bringing creatives together and different elements of style that allow authenticity to carry through. I got to collaborate with recording artist China, who is from Australia and celebrity nail artist Britney Tokyo who's from Japan. The vibes were unmatched and I'm super excited for everyone to experience the campaign and see how [the three of us] styled the new footwear styles. 
How do you use fashion and personal style as a non-verbal greeter? 
I put on my best fit according to how I feel that day. I put on my most vibrant colors and I love adding [accessories] to my hair. I give the eye time to travel every time — even when I'm giving effortless energy. 
How would you describe your ethos or approach to personal style? 
[My sense of style] focuses on the power of individuality, and radical self-acceptance allows me to navigate my personal sense of style easier and create a timeless consistency.
How does fearlessness or escapism allow you to tap into your creativity? 
I feel that the power is in duality and through fearlessness, and escapism I'm able to find a beautiful balance. Fearlessness is important because what is there really to be afraid of? I got to that point after creating my own world to live in, that it's safe for me to create because there are no rules — the rules are in your mind.
What was the process like of opening your own gallery?
I have learned major lessons in terms of being organized and time management. Working with amazing young artists and being inspired by my tribe everyday is what keeps me going.
What inspired or led you to open your own gallery and how do you intend to use the space?
Opening my own gallery was a natural manifestation. As a multihyphenate creative, the art always comes first to me. My Instagram handle is Byrd Museum so that anything I post will have an overall content since it's a museum and not just another social page. Now you can physically visit my museum in the neighborhood where I grew up that highlights artists of all backgrounds. 
Byrd Museum includes two storefronts and a gallery space. LILI Luxe Planet is our in-house plant shop and our retail space is Byrd Museum gift shop. We will be launching educational workshops in the fall such as painting, social media and crypto currency classes as well as private events. Throughout the year, Byrd Museum will also host an artist residency for thirty days at a time and will have exhibitions that are curated by myself. Overall the space is intended to be a safe space for like-minded creatives and provide good vibes and a stimulating experience.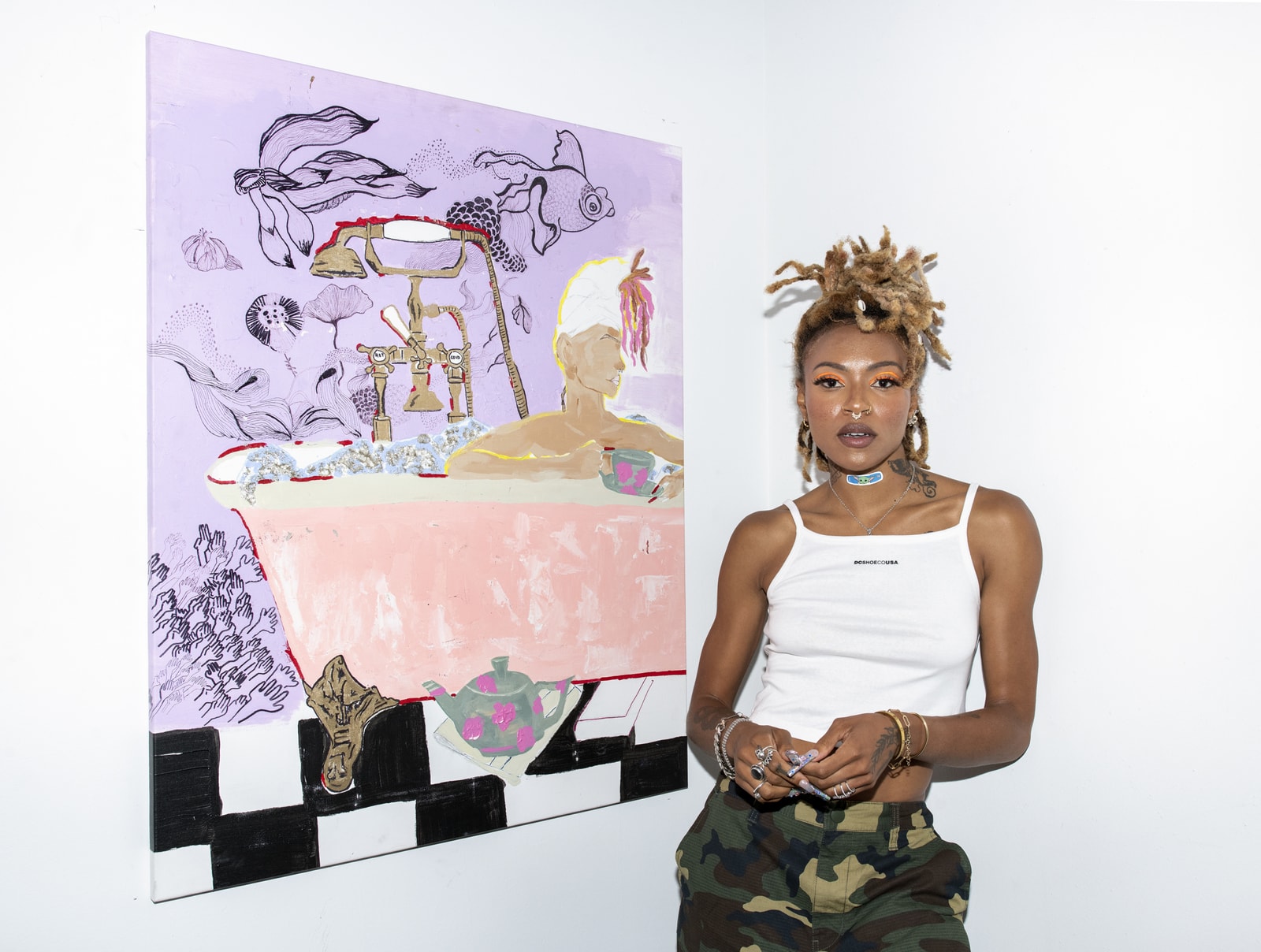 DC's latest campaign and collection with Brittany Byrd will officially launch on July 8. Head to the brand's site to shop their current seasonal offering now.
Share this article