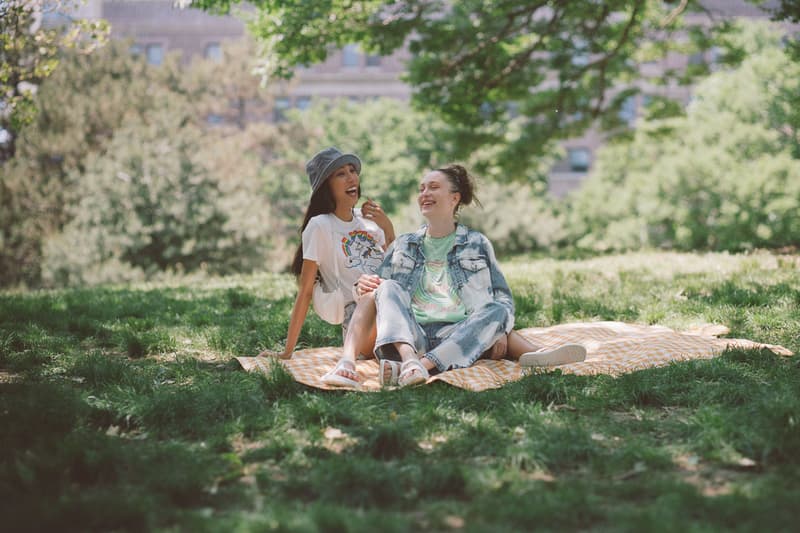 Fashion
Hunter Pifer and Dominique Castelano on Trans Self-Love, Self-Acceptance and the Power of Female Friendship
The sisters by choice demonstrate how to wear rue21's Pride 2021 collection.
Hunter Pifer and Dominique Castelano on Trans Self-Love, Self-Acceptance and the Power of Female Friendship
The sisters by choice demonstrate how to wear rue21's Pride 2021 collection.
Pride was born when trans women of color led the Stonewall Riots in 1969 in New York City — sparking a revolutionary movement to claim space and demand justice for marginalized members of the LGBTQIA+ community. Regardless of gender, identity and sexual orientation, taking pride in oneself begins with harnessing the power of self-expression, self-love, self-acceptance, and the undying support of friends who have become like family. 
Keeping in step with the spirit of individuality, rue21 just released an inclusive, gender-neutral capsule collection brimming with striking colors, vivacious graphics and brazen styles including a collection of graphic tees with empowering slogans and coordinating styles that celebrate Pride 2021 in bold fashion. 
To bring the confidence-evoking collection to life with influential members of the LGBTQIA+ community who are sisters by choice, HYPEBAE tapped Hunter Pifer and Dominique Castelano who represent a new generation of boundary-breaking trans women, models and activists who are paving the future forward. To get to know the close-knit friends, HYPEBAE sat down with the duo to discuss how their friendship blossomed, their personal journeys surrounding self-acceptance, ways they're redefining womanhood, how they use personal style to express and evoke confidence, and why trans self-love is a revolutionary act. 
Through the friendship both of you have formed, what are some ways you've been able to lift each other up and show love to one another? 
Dominique Castelano: Hunter was signed to an agency in March and our agency has been around since the '90s. I was the first trans person in the agency that I know of that was signed, and it was great. I felt like [my agent] didn't know what it would take to build a model's career when it comes to someone that identifies as I do. I feel like because [my agent] had seen the opportunity, and the potential and realized how amazing trans girls are — I think that's when he also brought Hunter on. Then you know, her and I just really just clicked.
How has the power of friendship allowed you to blossom into the person you are today? 
Hunter Pifer: I think just having someone around you that completely understands what you're going through, says it all. It's an understanding that you don't even have to talk about. We're growing up in the same society together and we have our little bubble and our little clique, and it's just all of the dollies, and all of the trans girls. Luckily, we understand what everybody's going through in some way, shape or form. 
At what point did you learn to feel beautiful and comfortable in your own skin? 
DC: Personally, I started feeling beautiful when I saw Laverne Cox on the cover of Time magazine. And when I saw that, I was like, oh wow. This is actually really beautiful and it made me feel so beautiful. And I had a whole different perspective of the world and that speaks to why representation, and having girls like us — especially people of color — featured on platforms like that [is important]. It shows there are so many issues that need to come to light, not just gender diversity, but all across the board. 
HP: The thing is, people don't realize that it takes a minute for you to find clothes that really accentuate your features or even find makeup that works for you or different techniques of makeup or styling yourself. You know, it takes a while. And with cisgender people, they're learning these things a lot earlier on in life. They feel comfortable and we kind of have to catch up in a certain way that we haven't been able to. 
It feels like a lot of the trans people that I know almost have a second puberty. Just because you have to catch up again, and when they start to think that they missed out on fashion, [how they style their] hair, the way you learn to dress up, and dating in order to validate the agenda that you personally identify with and want to be able to express that. 
How do you use style as a tool for self-expression, and how has this played a role in shaping your identity? 
DC: At the beginning, I found that style was like armor for me because for a while, it was coming from a place of like, not trying to get attacked. So my style was dictated by that. I think that one of the greatest things about fashion is that you're able to overcome that feeling inside of you and give yourself confidence in order to really help you express yourself, and your gender identity. 
HP: I definitely agree with that and using fashion as a suit of armor, and trying to fit in, and trying to go along with what the other girls were wearing. Then I just stepped out and finally started wearing clothes that I wanted to wear and pieces that I felt comfortable in. And, going along with gender dysphoria and as your body's changing — you can start wearing things that you feel more comfortable in that you didn't used to feel comfortable in. Allowing myself to just be my quirky, fun self, and not really caring about what other people think is just genuinely the biggest step for sure.
What are some ways each of you have found strength in your friendships and tapped into creative forms of self-expression — whether it's through style or beauty? 
DC: I think the one major component is having that social media aspect in our lives that is so attached to the work that we do. Being able to follow up with people instantly and sometimes, Hunter will do a TikTok and that inspires or influences me to do one too. 
HP: I think TikTok has been such a blessing by being able to grow on the platform, and explain to people that I'm just living my life and you can choose to follow me or not follow me. And I think TikTok has really made me acquire a thick skin about people not understanding who I am. 
I think it's definitely something that I'm so proud of because I get to be able to just be myself and show people that I'm thriving. I'm having a great time and I'm transgender and I've been transitioning for years and there's a light at the end of the tunnel. There are going to be hard times, and they're going to be dark times. But for me to be able to tell my story and say, I've made it, you can make it, and we're all going to make it together. 
Check out rue21's Pride 2021 collection in the gallery above and head to the brand's site to purchase the featured styles seen here. 
Share this article