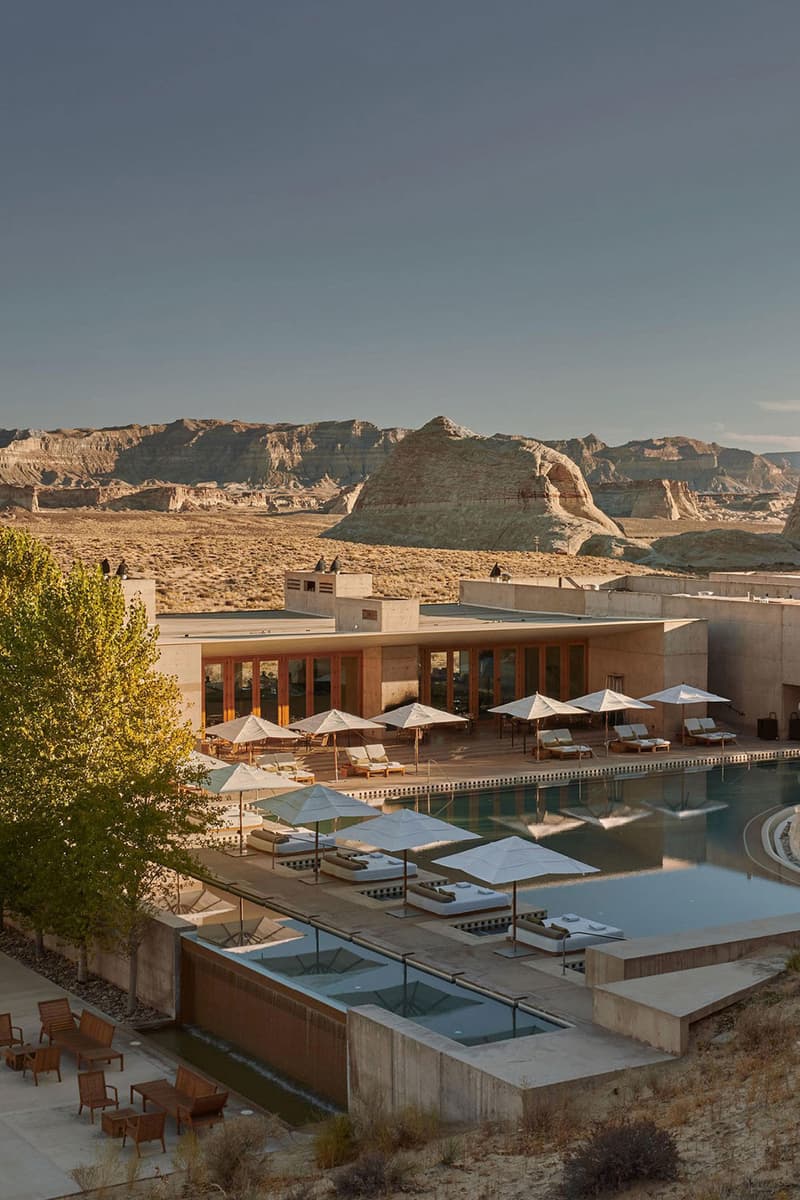 14 Beautiful Hotels Around the World To Add to Your Bucket List
Beach resorts, private pool villas and desert getaways.
Travel
14 Beautiful Hotels Around the World To Add to Your Bucket List
Beach resorts, private pool villas and desert getaways.
It goes without saying that the world is itching to travel. Whether you're planning a socially distant vacation or dreaming of future holidays, virtually tour some of the most beautiful hotels and resorts around the world. Our list below features some of the most popular destinations including Hawaii, the Maldives and Seychelles, all home to stunning ocean views, on-water villas and coral-fringed beaches. Architecture enthusiasts will appreciate the stunning interiors of the Greece and Mexico hotels we're highlighting, while nature lovers will enjoy the breathtaking environment that a Thailand hillside villa offers. Also on our bucket list are trendy vacation spots in offbeat locations ranging from Canyon Point, Utah to a picturesque southern Chinese county.
Continue reading for some of the best luxury hotels and resorts in the world. If you're looking to visit Greece, here's a list of the dreamiest stays in the country.
Offering breathtaking views of the mountains of Gordes, Airelles is a spa hotel located in one of the most beautiful villages in France. Here, you'll find olive groves, cypress trees and lavender fields, all perfect backdrops for your travel snapshots. The site features everything from a classic village-style bedroom, to a private villa with a swimming pool.
Starting price: €1,070 EUR (approximately $1,270 USD)/night
Location: 61 Rue de la Combe, 84220 Gordes, France
Website: airelles.com
Situated in the middle of a desert 45 minutes from Dubai, this Marriott-owned property is a dreamy oasis. From the comfort of your hotel room, you can enjoy views of sand dunes and palm groves, or even explore the region through camel treks and desert safaris. The resort features 42 suites, each boasting a swimming pool, handcrafted furnishings and more.
Starting price: 3,577 AED (approximately $974 USD)/night
Location: Dubai Desert Conservation Reserve Dubai – Al Ain Road Dubai – United Arab Emirates
Website: marriott.com
This Utah-based resort is a must-visit for those who are all about taking aesthetic photos for the 'gram. Spanning 600 acres, Amangiri is set in a desert landscape surrounded by canyons and gorges, and offers guests a private, secluded getaway. Enjoy Navajo dishes at the main restaurant, and luxe beauty treatments and massages at the spa. For outdoor activities, you can also try hiking, climbing and canyoning, and explore Lake Powell by kayaking or stand-up paddleboarding.
Starting price: $3,000 USD/night
Location: 1 Kayenta Rd, Canyon Point, UT
Website: aman.com
The Brando, a property that has appeared in an episode of Netflix's Amazing Hotels: Life Beyond the Lobby, is a high-end resort located on French Polynesia's private Tetiaroa island. To help preserve the island's white-sand beaches, sea turtles, exotic birds and much more, all operations on the site are managed in a way that interferes as little as possible with nature.
Starting price: €2,900 EUR (approximately $3,440 USD)/night
Location: Tetiaroa, Arue, French Polynesia
Website: thebrando.com
One of the more affordable stays on this list, Hotel Casa del Mar is designed with inspiration from the beaches of Santa Monica and the grand villas of the Mediterranean. Visitors can soak in the sun on the Terrazza Beachside Patio overlooking Silicon Beach, and engage in activities such as biking and surfing.
Starting price: $575 USD/night
Location: 1910 Ocean Way, Santa Monica, CA
Website: hotelcasadelmar.com
Housed in a Spanish-style building, Hacienda de San Antonio features 25 suites adorned with traditional Mexican art across living rooms, fireplaces and balconies. You'll love the Hacienda's Wes Anderson-esque gardens, which grow most of the produce served at the hotel. Guests have the choice between garden, river and volcano views for their rooms, which are all individually designed. Activities available on-site include horseback riding, tennis, mountain biking and coffee-making tours.
Starting price: $695 USD/night
Location: Domicilio Conocido, San Antonio, Comala, 28463 Colima, Col., Mexico
Website: haciendadesanantonio.com
Located just 12 minutes by walk from Waikiki, Halekulani offers stunning beach views from its spacious suites and rooms. Guests can choose between tanning on the beach, paddleboarding on Duke Kahanamoku Lagoon or swimming at the hotel's glass-tiled pool.
Starting price: $615 USD/night
Location: 2199 Kalia Rd, Honolulu, HI
Website: halekulani.com
Home to 35 guestrooms with private terraces, Katikies Mykonos looks out over the Agios Ioannis beach as well as the Delos island. At this ocean-view hotel, guests can hop on luxury yachts to explore Santorini, go on private island tours and spend the day tasting local wines.
Starting price: €573 EUR (approximately $680 USD)/night
Location: Agios Ioannis, Mikonos 846 00, Greece
Website: katikies.com
Set on a hillside, Keemala is an all-pool villa resort with views of the rainforest. Embracing the heritage of Thai culture, the site offers holistic retreats and spa treatments, as well as activities like cooking classes and wine tastings.
Starting price: ฿13,354 THB (approximately $409 USD)/night
Location: 10/88 Nakasud Rd, Kamala, Kathu, Kathu District, Phuket, Thailand
Website: keemala.com
Open since 1923, La Mamounia is located on a former royal estate that dates back to the 12th century. In addition to restaurants and bars, the hotel features luxe teatime experiences and trips to some of the best golf courses in Marrakech. Guestrooms and suites are lit with plenty of natural light, accentuating the beautiful interiors decorated with Moroccan-style details.
Starting price: 6,100 MAD (approximately $683 USD)/night
Location: Avenue Bab Jdid، Marrakech 40040, Morocco
Website: mamounia.com
This boutique hotel stands in the heart of a UNESCO-protected site in Italy. Each room at Locanda Don Serafino is built in its own unique way, with some accommodations featuring no-treated rock walls. Indulge in a Michelin-starred meal at the restaurant, which serves dishes with fresh ingredients such as Mediterranean fish.
Starting price: €107 EUR (approximately $127 USD)/night
Location: Via XI Febbraio, 15, 97100 Ragusa RG, Italy
Website: locandadonserafino.it
The Ritz recently debuted its newest resort in the Maldives. Comprised of more than 100 on-water and beachfront villas, the hotel offers "aris meeha" (personal butlers), cricket games, cooking lessons and more. Guests can also swim with dolphins, sunbathe on the Fari Islands' white-sand beaches or spend a relaxing day at the nine-room spa.
Starting price: $1,175 USD/night
Location: Fari Islands North Malé Atoll Male, 20013, Maldives
Website: ritzcarlton.com
Situated on a private island in Seychelles, Six Senses can be reached via a 20-minute helicopter ride from the airport. This secluded, luxurious resort is surrounded by coral-fringed beaches, where you can interact with nature and spot sea turtles. Visitors can choose from 28 one-bedroom pool villas, a duo of two-bedroom pool villas, or the exclusive three- and four-bedroom residences. Available experiences include a kayaking trip to Coco Island, Creole language lessons, hikes and movie nights under the stars.
Starting price: $2,450 USD/night
Location: Felicite, Seychelles
Website: sixsenses.com
Yangshuo, a southern Chinese county loved for its dramatic mountain landscape and fishing villages, is home to a former sugar mill that's been transformed into the trendy Sugar House hotel. This resort is decorated with both traditional and modern Chinese artworks and furniture.
Starting price: $293 USD/night
Location: No 102 Dongling Road, Yangshuo, China
Website: alilahotels.com
Share this article