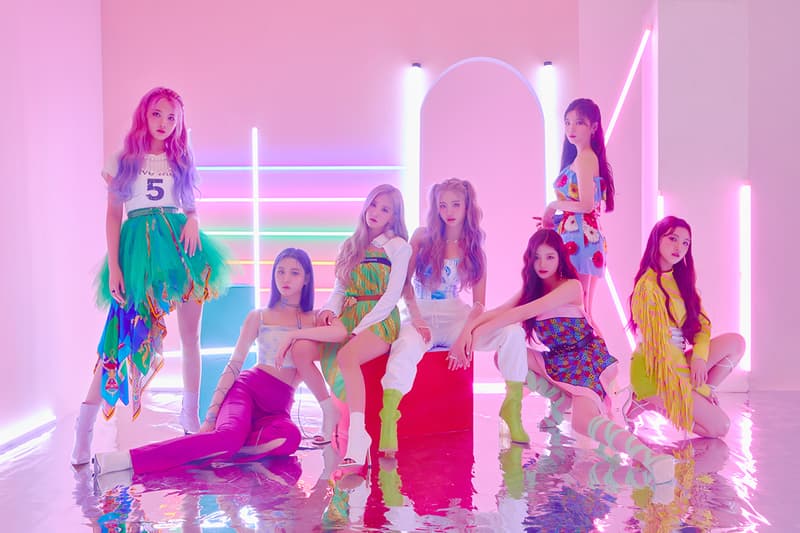 Music
TRI.BE, the Rookie K-Pop Girl Group With Big Dreams
The members talk confidence, sacrifices and what keeps them going.
TRI.BE, the Rookie K-Pop Girl Group With Big Dreams
The members talk confidence, sacrifices and what keeps them going.
When asked what they would do if they ever met a clone version of themselves, the members of rookie K-pop girl group TRI.BE can be divided into those who would be terrified, and those who would be amazed. Leader Songsun is part of the former, but she says, "When I get used to [my clone], we could divide and conquer to live efficiently." Jinha and Kelly join her, stating that they would be scared at first, but they would likely try to be friends with their clones later. Soeun and Hyunbin, on the other hand, think that it would be amazing right from the start. "I would talk to her and ask questions," Hyunbin says. Jia doesn't know if she would either "talk to her first out of curiosity," or "be too scared and run away." And then there's the wise maknae, Mire: "I want to get close to her and ask her to go to personal training sessions instead of me."
This question comes up because the group's latest single, "RUB-A-DUM," sees them fighting doppelgängers and their mischievous pranks in the paradisiacal Jeju Island. A high-energy mix of chants, flutes and synths, the track is created by renowned producer S. Tiger (IU, Beast, T-ara) and EXID's LE — who both have taken TRI.BE under their wings and produced their music since the very beginning. To the members, S. Tiger is like an "uncle," and Elly, their "older sister." The duo is always making TRI.BE laugh and feel confident. "Since we have worked together for a long time, they know us well, and they guide us to a better path with their expert knowledge," says Songsun, who trained for nine years before debuting. "As the leader of our group, I often ask for their advice on how we could develop our skills. They try to find a solution with us, and I am very grateful for it," she adds.
TRI.BE debuted in February of this year with the Latin-inspired earworm, "DOOM DOOM TA." The group's name, derived from the words "triangle" (representing a perfect shape) and "being," aims to reflect their slogan: "We are perfect as we are." With members ranging from 15 to 24 years old, the septet affirms that believing in themselves and being confident is of utmost importance in their lives. "We have to believe that we are perfect as we are, because everyone is different," says Taiwan-born Kelly. "I cannot copy someone exactly, even if I tried, so I think it's best to be myself and improve upon myself."
"When I was a trainee, I learned that if you lose confidence, you also lose your charm. Whatever you do, it doesn't go well," shares Jia, the other Taiwanese member in the group. "However, when you do have confidence, you become a different person. Other people can spot the difference," she says. Vocalist Jinha adds that not being confident makes her feel "demoralized and shy, which eventually leads me into a slump." She thinks that believing in yourself is important: "Once we start comparing ourselves with other people, there is no end to it. We will lose confidence and self-esteem from the constant comparisons."
Rapper Hyunbin elaborates on this thought, expressing that just because you are different, it doesn't mean you are imperfect. "I can be wrong or fail from time to time, but that's all part of growth. I think it's important to not be ashamed of my mistakes, and bravely try again," she says. The other rapper in the group, Soeun, also believes that courage is a significant virtue, and that it comes from confidence. "Giving my opinion or learning new things is part of being confident and courageous," she adds. Songsun sums it up perfectly: "Even if a challenge seems impossible, I will have a better chance at overcoming it when I am confident."
And when do the members of TRI.BE feel most confident? The answer is, unanimously, when they are performing. "My confidence is at 99999% when I am up on stage," Soeun says. Kelly feels on top of her game when she has "practiced enough," explaining that is how she's able to perform fearlessly.
The stage is not only where TRI.BE find their best selves, but also the place that makes every hardship of idol life worth it. "There are many difficulties in being an idol…But you still have to work a lot more than people know," Kelly reveals. "The hardest part of being an idol is smiling in front of the camera no matter how exhausted I am."
To Jinha, the most difficult thing was giving up a sense of normalcy. "I had to sacrifice my school life. I could not hang out with friends. Also, I was anxious from the thought that even if I debuted as an idol, my success wasn't guaranteed. Coping with my anxiety was difficult," she says. "The hardest part was that there was no end in sight," Hyunbin adds. "There are many trainees in the same agency, and there are hundreds of agencies with trainees. It's uncertain if you will become part of a group, and even if you do, the group might not debut at all."
Kelly, Jia and Mire, who moved to Korea to pursue their careers, have faced even more obstacles. "I left my hometown alone when I was in the second grade of middle school," Jia shares. "At the time, I did not speak any Korean, and I was unfamiliar with a lot of house chores. I didn't have anyone to rely on. After I debuted as [part of] TRI.BE, I feel much better as I have our members and TRUE (TRI.BE's fandom) by my side." Mire, who was born in Japan, recalls a time when she was a trainee and had to rap in English for her monthly assessment. "I struggled a lot at the time because it was the first time I was rapping, and I wasn't fluent in English. Although I wanted to give up, I practiced until dawn for my dream," she says. "I was complimented by our producer at the assessment [for my effort]. That's when I learned that I can do anything as long as I don't give up."
That's a belief shared by the group as a whole. As Songsun puts it, "Hard work will not betray me." During the last few years of her lengthy trainee experience, she recalls being resilient, despite feeling stuck. "Eventually, I did accomplish the results that I wanted, and I gained confidence," she says. Her history is an inspiration for the other members. "I think it is amazing how she did not give up for so long and tried until she made it," Jinha says. "When I [see] her always doing her best, she makes me realize that anything is possible if I try hard."
The members are all praise and compliments to each other. Songsun admires Mire's courage in coming to Korea when she's so young and working so hard to achieve her dreams. Mire admires Kelly's language skills (she is fluent in Korean, Chinese and English), and how she is "talented in many areas, such as drawing, playing the piano, the violin and crafting with beads," while Jia admires how Soeun is always showing her bright side, "even though our schedules can be exhausting."
TRI.BE's journey has just begun, but the members keep their feet on the ground. "I want to keep the passion I had when I debuted throughout my career," says Soeun, who aims to always remember where she came from. "Confidence is important, but I should not be arrogant." She adds that it's an honor to be an idol. "I would be lying if I said I don't feel pressured, but it motivates me to try harder." In fact, the whole experience is still a little surreal to some of them. "Honestly, I still can't believe this is real. I can't believe that so many people know TRI.BE and support us, and I'm so thankful for them all the time," Jia says. "Of course, there are many hardships," Mire admits, "But I am honored and happy to experience something that only a few people can."
---
Tássia Assis is a freelance writer covering culture and music, with a focus on K-pop. You can read more of her work here or follow her on Twitter.
Share this article