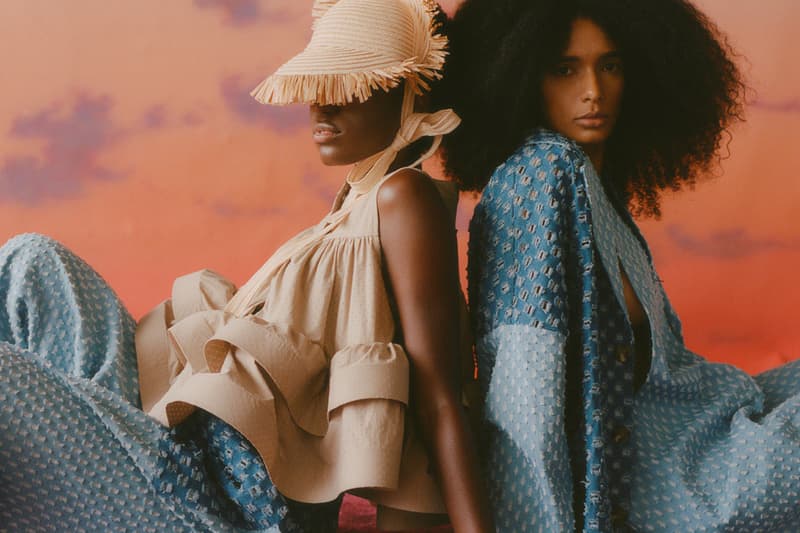 Fashion
8 Emerging Black Designers To Know From New York Fashion Week SS22
From A.Potts to KHIRY, meet the new generation of homegrown talents.
8 Emerging Black Designers To Know From New York Fashion Week SS22
From A.Potts to KHIRY, meet the new generation of homegrown talents.
After taking a mostly digital format in February, New York Fashion Week made a thrilling comeback this month with a Spring/Summer 2022 calendar packed with shows of not only distinguished designers, but also up-and-coming talents. Here, we shine the spotlight on eight Black-owned brands that seized our attention this season. From A.Potts, the unisex label founded by Aaron Potts, to KHIRY, the Afrofuturist jewelry company created by Jameel Mohammed, read about some of the most exciting emerging designers at NYFW below.
While you are here, check out the top shows and runway trends at NYFW SS22.
Having interned for brands such as Marc Jacobs and Perry Ellis, as well as having designed for Victoria's Secret and Badgley Mischka, Aaron Potts has quite an impressive background. The Brooklyn-based designer and founder of his eponymous brand, A.Potts, designs modern, genderless clothing with billowing silhouettes. His garments are also known for allowing one to transition their wardrobe easily from season to season. For each collection, Potts continually challenges himself to design pieces that offer maximum comfort and functionality.
Chelsea Grays describes herself as a political designer and communicates social issues with her garments. She continuously strives for change within the sociopolitical atmosphere, and desires to creatively spread awareness through her designs. "Organized Chaos," a previous collection from the designer, consisted of garments that were inspired by the homeless on San Francisco's streets, as well as Basquiat's artwork. Other past collections of the designer contained garments such as flared and paneled pants, turtlenecks and assorted knitwear.
Behind Dur Doux is mother and daughter duo Cynthia and Najla Burt. The pair pride themselves on their ability to create luxury pieces that are actually affordable. Drawing inspiration from different cultures around the globe, they design fun, voluminous dresses made from candy-colored tulle. Najla, who serves as the creative director of the brand, ensures that each design incorporates an element of avant-garde while still retaining its wearability.
Another mother-daughter pair, Rebecca Henry and Akua Shabaka are the founders of House of Aama, the Los Angeles-based brand dedicated to sartorial storytelling. Inspired by the Black experience, the brand utilizes a very nostalgic approach to design. Clothing from House of Aama's collections are infused with neutral, muted tones and an aesthetic reminiscent of the '70s. Some of the label's signature garments include effortlessly styled wrap skirts, military pants, halter tops and silk blouses.
With internships at Narciso Rodriguez and Barneys under his belt, Jameel Mohammed has gained plenty of knowledge about the fashion industry before even launching of his own brand in 2016. His luxury jewelry label KHIRY makes Afrofuturist statement pieces in bold, chunky and shapely silhouettes. Inspired by the African diaspora, the brand's earrings, bracelets and necklaces are designed with respect to Black cultures, and with a modern, decadent twist.
As the first sustainable denim brand in Harlem, Oak & Acorn is a pioneering concept. With its clothing — denim overalls, harem pants, quilted bomber jackets, vests, branded hoodies — composed of natural artisan fabrics, recycled textiles and deadstock materials, the brand hopes to pay tribute to the enslaved Africans who contributed to the manufacturing of denim in the United States.
Known for its bold graphics and conceptual projects, TIER is a Black-owned clothing brand that's deeply rooted in visual storytelling. The brand's founders, Nigeria Ealey, Victor James and Esaiii2e Jean Simon — three close friends who grew up in Brooklyn — come from creative backgrounds and contribute to the brand in a multitude of ways. Characterized by its beautiful, artful imagery, TIER's most recent campaign channels an island-oriented vibe.
Who Decides War is a denim brand that has presented collections during NYFW as well as Paris Fashion Week. Co-founded by Ev Bravado and Téla D'Amore, the brand aims to raise awareness on current events and the conflicts going on in the world. Its collections features deconstructed denim jackets and jeans with eye-catching text, patchwork, embroidery and distressed detailing. An abundance of color dominates each collection as well.
---
Tiffany Harrison is a multifaceted creative who is skilled in visual storytelling. She immerses herself in artful endeavors within photography, prop styling, product design and creative writing. Tiffany's work is very conceptual and is inspired by contemporary art, which she is truly passionate about. You can connect with Tiffany on her website and Instagram.
Share this article