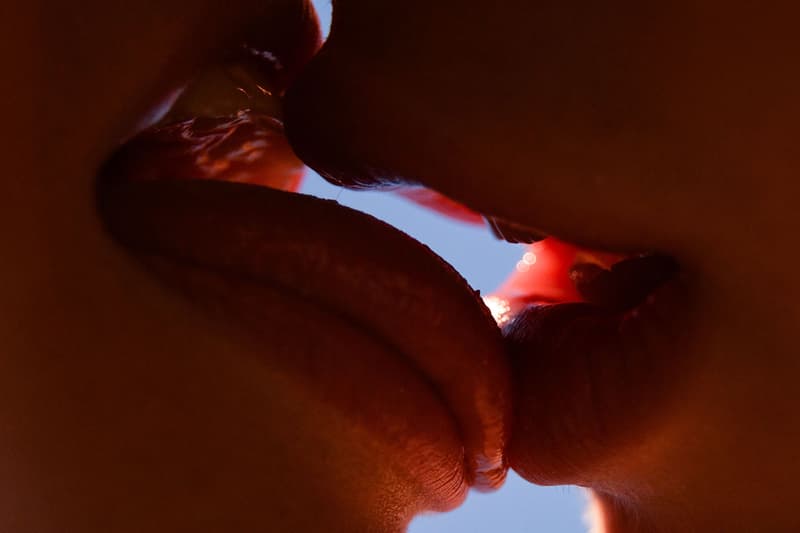 Sex & Dating
Valentine's Day Ideas for IRL and Long Distance Lovers (ENM-Friendly)
With a little light kink and foreplay.
Valentine's Day Ideas for IRL and Long Distance Lovers (ENM-Friendly)
With a little light kink and foreplay.
Valentine's Day can come with a lot of pressure — especially in the middle of a pandemic. If you have the luxury of having your V-Day date in real life, lucky you. However, if you're enjoying the day of love virtually this year, no worries. There's endless options for you too.
Celebrate your love on February 14 with these IRL and virtual date night ideas.
Valentine's Day foreplay tip for enhancing the vibe
Flowers and a personalized playlist
In the morning, send your lover(s) some flowers — or their preferred equivalents — with an accompanying playlist on their favorite streaming platforms. Your lover(s) can play this mix while they get ready and imagine the tons of love you'll share later on. Think of it as the perfect tease to get them in the holiday mood. 
IRL ideas
Paint and sip
Paint and sip sessions are the perfect date for letting loose and dabbling in your creative juices. Not the most creative? Don't worry. It's interactive and super simplified so you're bound to have a care-free experience. 
Spa date
A spa day is the OG date choice because, well, adulting is tough enough. Kick back and enjoy an intimate relaxation session with your love(s). Make sure you pull out all the stops like surprising them with gifts in between treatments.
Staycation
Book a staycation — or if you're on a side of the world that's less restricted, book a trip to get away from the cold this Valentine's Day. The beauty of this option is that no matter how your partners identify, everyone could use a few days away from their daily routine.
Dinner, of course
A classic option for so many reasons. Sexy outfits and dinner with drinks are the perfect way to simply enjoy each other's company. Bonus point: If you usually visit the same place for dinner, switch it up by visiting a new spot for dessert. New experiences = new memories.
Sunset views
Time to bring that fire playlist back into play. Get cozy, cuddle up and enjoy Mother Nature's most romantic masterpiece: the sunset. Make sure you bring a JBL speaker and some wine so the vibe hits just right. The beauty of this option is that you can enjoy it from the living room couch with a glass of wine, or even on the way to a romantic dinner. The choices are endless. 
Book a luxury picnic
If you're on a warmer side of the world, book a luxury picnic. There are few sweeter things than enjoying the company of your partner(s) underneath the sun. The best part of luxury picnics is that you don't have to worry about setting up a thing. Simply show up with your lover(s) looking your best.
Virtual date ideas
COVID-19 restrictions don't have to keep you from love this year. Check out these options for an intimate virtual date night — with a kinky bonus.
Virtual museum tour
Virtual museum tours were all the hype at the start of COVID-19, and for good reason. Great art is the perfect cherry on top for life. There's just something about admiring art that reminds you of the work of art your lover is. Side note: if any of your partners are artists, this will definitely give you those bonus points you're looking for.
Cook together on a video chat, or schedule a virtual cooking class
Take it from the relationship experts, new experiences strengthen intimacy and cooking dates aren't exempt from that truth. Whether you're actually following recipes like a pro or completely flailing, it'll be a moment to get intimate, laugh and learn more about your partner, finished off with (hopefully) a fire dinner. 
Movie marathon and binge-watching with a side of spontaneity
Just because you're long-distance doesn't mean you can't Netflix and chill. Use a hosting service like Teleparty to watch a movie (or five). Make this treat spontaneous and order each other's favorite meals on Uber Eats so everyone feels treated. 
Send them a care package and open gifts together on FaceTime
Wait till the end of day and have a nice serotonin boost by opening your Valentine's Day gifts together. You can send them some enticing lingerie and see where the night takes you. Other care package add-ons that everyone loves: a weighted blanket, their favorite chocolates and a bottle of their favorite wine. 
Kinky date idea for virtual and IRL date night
Play with couples sex toys
Add a little pleasure to the evening with We-Vibe's Chorus. This sex toy is designed to make you "sing with pleasure" through clitoral and vaginal stimulation. Whether you want to incorporate a little fun to your sunset watch or pleasure your long-distance partner, you can enjoy an intimate moment together with the help of the We-Vibe app. 
---
DISCLAIMER: We discourage irresponsible and/or underage drinking. Drink responsibly and legally.
Share this article