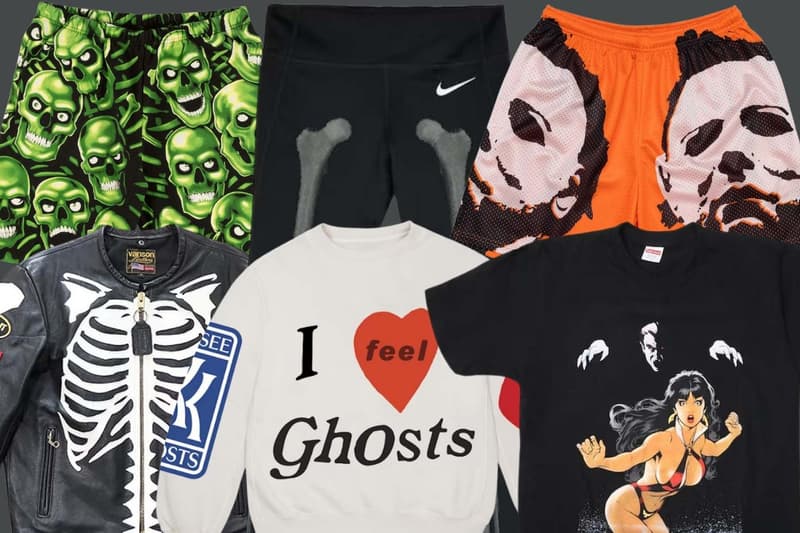 Fashion
Halloween-Ready Streetwear for When You're Absolutely Not a Costume Person
No costume, no problem.
Halloween-Ready Streetwear for When You're Absolutely Not a Costume Person
No costume, no problem.
Halloween costumes aren't for everyone. While some go all out with Heidi Klum-levels of transformation, others would sooner opt to use that budget on versatile clothing that works well beyond spooky season.
For anyone looking to be festive without donning a costume, the world of streetwear is a welcoming place. From Supreme's bevy of seasonal tees to Kids See Ghosts tour merch, there are plenty ways to serve subtle Halloween vibes.
A classic Vanson Leather skeleton jacket is a perfect, albeit pricey, choice for Halloween. At a lower price point, a Supreme Vampirella shirt fits the bill, as does an October's Very Own trucker hat in pumpkin orange.
Simply searching terms like "skeleton" and "ghost" in any resell platform will yield hidden gems like Nike's skeletal leggings, a pair of Michael Myers shorts by Chalk Line, skull sweaters by Palace and the KAWS x Uniqlo x Peanuts "Ghost" Tee.
Keep scrolling for a rundown of our favorite Halloween-ready streetwear and be sure to check out our spooky season sneaker round up to complete your 'fit.
Supreme Vampirella T-Shirt
Price Range: $208 – $295 USD
Where to Buy: Resell sites like GOAT and StockX
Travis Scott Cactus Jack x Mastermind Skull Shirt
Price Range: $44 – $59 USD
Where to Buy: Resell sites like GOAT and StockX
Nike Men's Skeleton Top
Price Range: $119 – $403 USD
Where to Buy: Resell sites like GOAT and StockX
Palace Skull Knit Sweater
Price: Approximately $220 USD
Where to Buy: Resell sites like GOAT and StockX
Kids See Ghosts FREEEE Crewneck Sweatshirt
Price Range: $1,190 – $1,300 USD
Where to Buy: Resell sites like GOAT and StockX
Chalk Line Michael Myers Shorts
Price: Approximately $85 USD
Where to Buy: Resell sites like GOAT and StockX
Supreme Skull Pile Short
Price Range: $290 – $440 USD
Where to Buy: Resell sites like GOAT and StockX
Nike Women's Skeleton Leggings
Price: Approximately $150 USD
Where to Buy: Resell sites like GOAT and StockX
Supreme x Vanson Leather Bones Jacket
Price Range: $3,460 – $5,750 USD
Where to Buy: Resell sites like GOAT and StockX
October's Very Own Trucker Hat
Price: Approximately $150 USD
Where to Buy: Resell sites like GOAT and StockX
---
Share this article