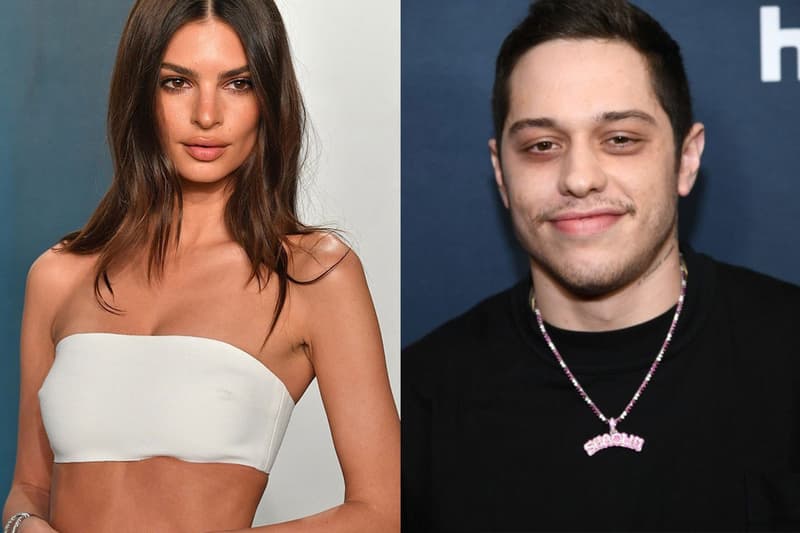 Entertainment
Pete Davidson and Emily Ratajkowski Are Reportedly Dating
One more time for Davidson's BDE!
Pete Davidson and Emily Ratajkowski Are Reportedly Dating
One more time for Davidson's BDE!
Pete Davidson has been linked to yet another "hot girl," only this time it appears to be model Emily Ratajkowski.
A source told US Weekly that Ratajkowski and the comedian have been "talking for a couple of months now," with their relationship seemingly still in "the very early stages." The source also claimed that "both really like each other."
Davidson split from reality star Kim Kardashian back in August, after they spent nine months together. The aftermath is still somewhat unfolding on Hulu's The Kardashians, however, fans are starting to see less and less of the SNL star as the series goes on. While it's been reported that the pair no longer speak, sources have confirmed that they'd "decided to just be friends" and still had a lot of "love and respect" for each other.
Similarly, Ratajkowski recently opened up about the fact that she's "never been single before," adding that "I feel all the emotions…The only good thing I know is that I'm feeling all those things, which is nice because it makes me believe that I'll be okay." The model also alluded to the idea of going on dates, saying that "Now it's really fun to go to dinner with someone and be like, 'Cool. I really enjoyed these parts of them. I really didn't like these other parts,'" she said.
Neither party have yet to confirm or respond to the rumors, but we expect to have some form of update pretty soon. After all, Ratajkowski's new podcast recently saw her and Julia Fox talk openly about sex, dating and her life in the spotlight.
That said, Ratajkowski was recently seen liking a tweet from songstress Dionne Warwick which read "I will be dating Pete Davidson next," in a seeming reference to the couple's newly burgeoning relationship.
Stay tuned for more updates coming soon.
---
Share this article