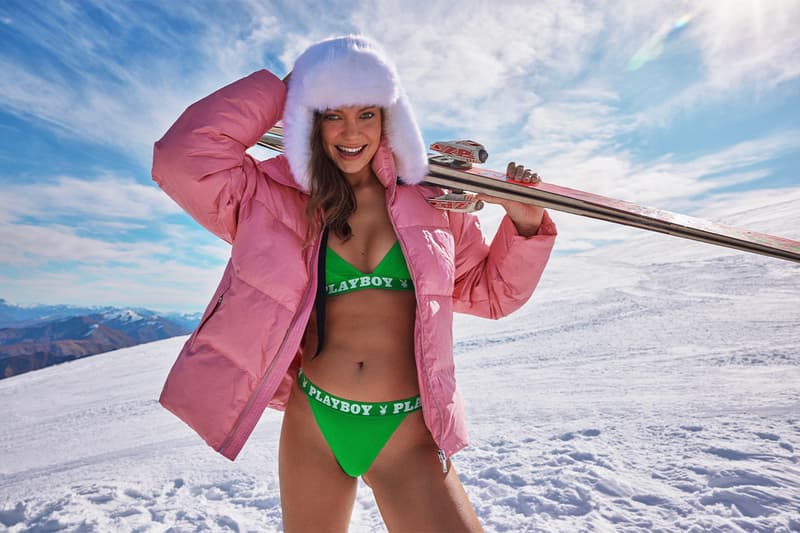 1 of 12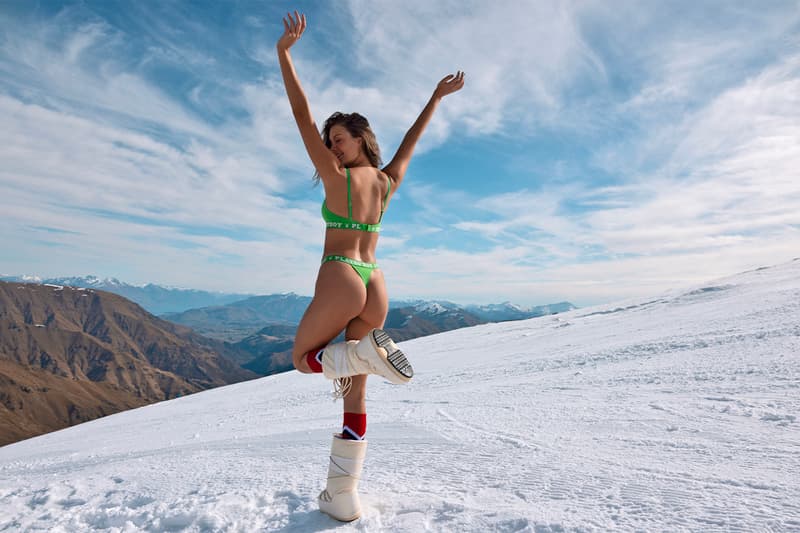 2 of 12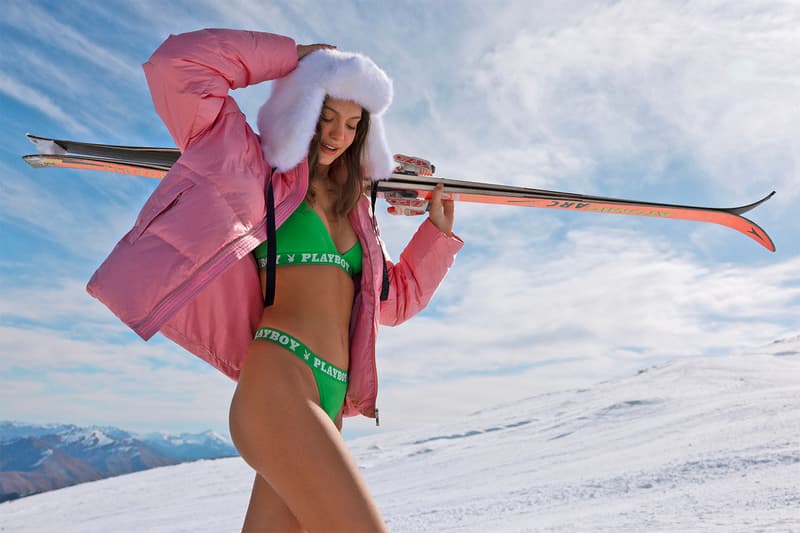 3 of 12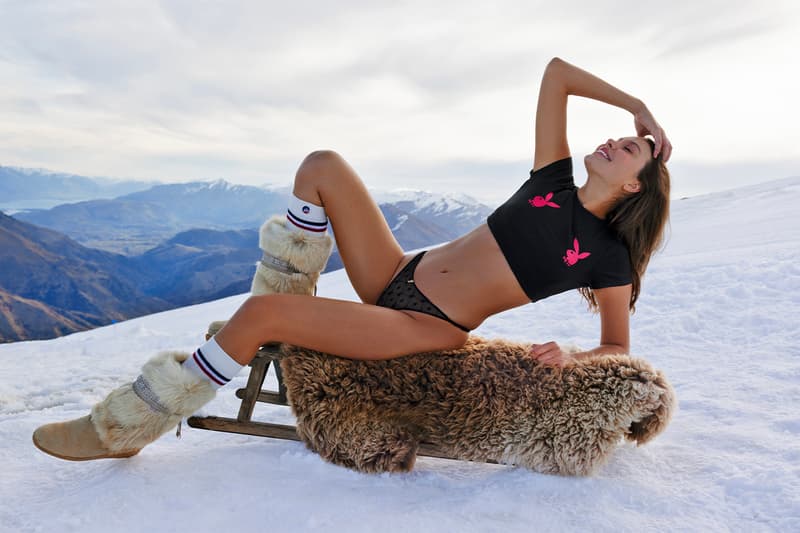 4 of 12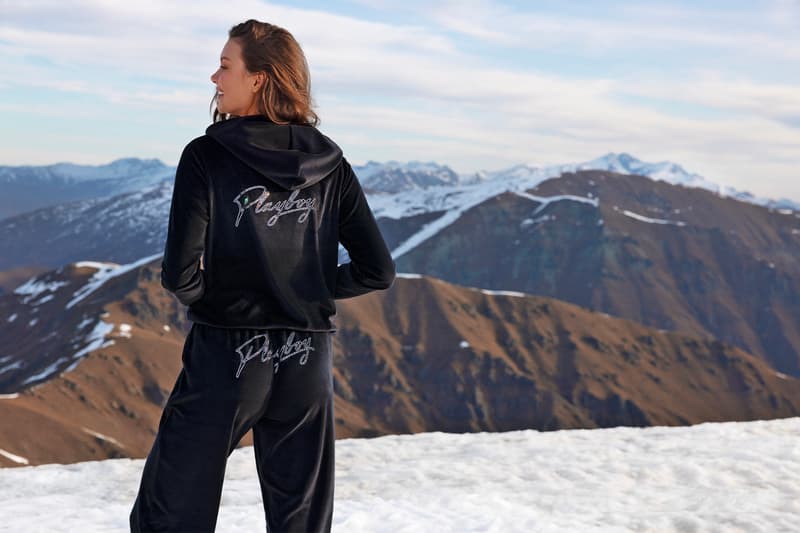 5 of 12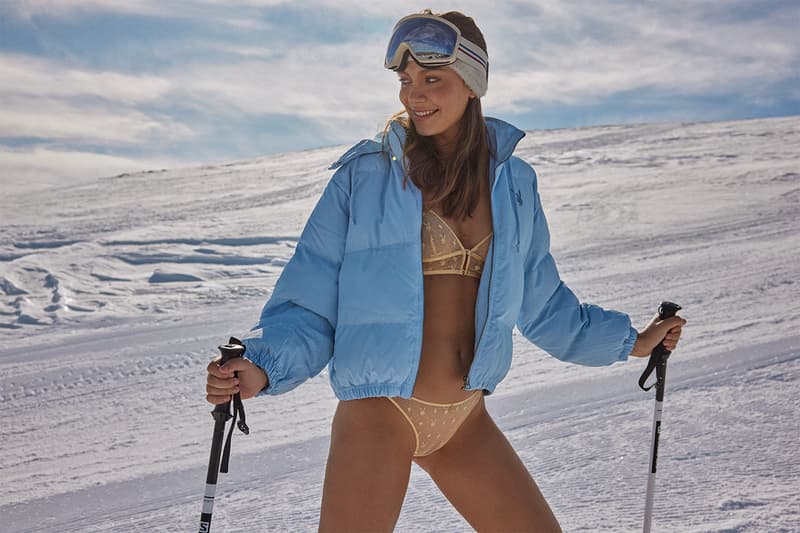 6 of 12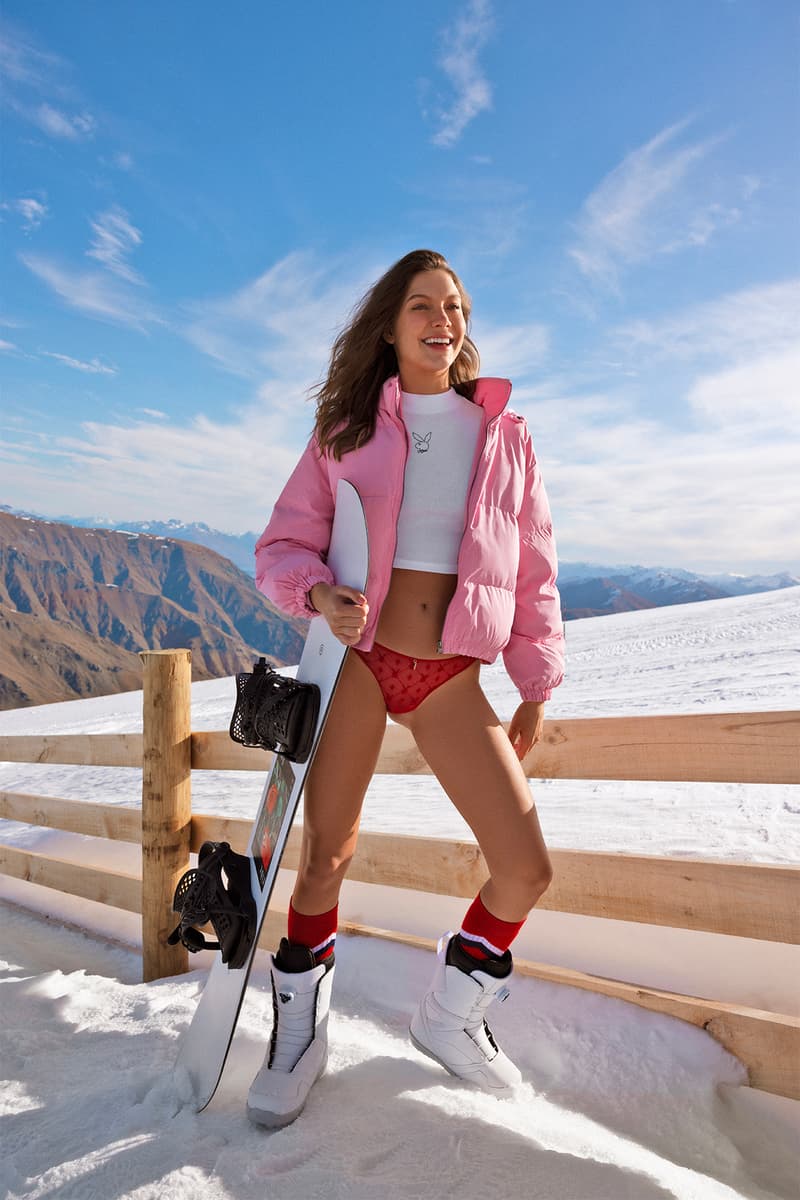 7 of 12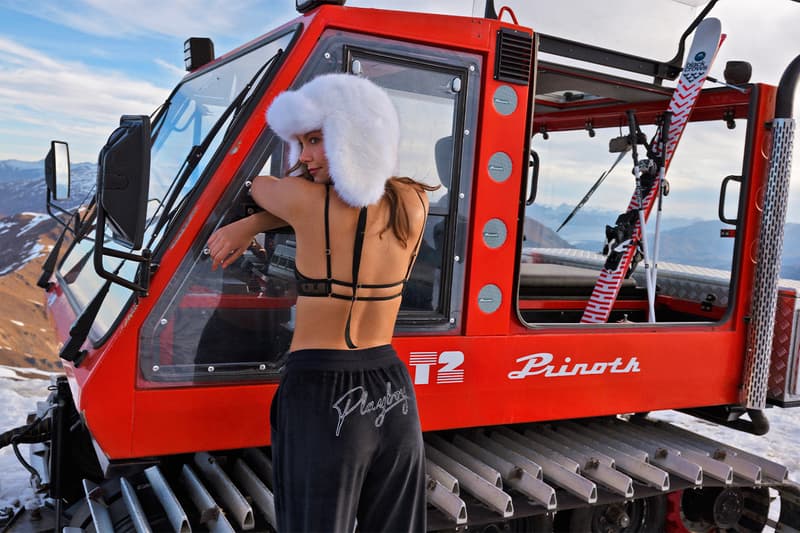 8 of 12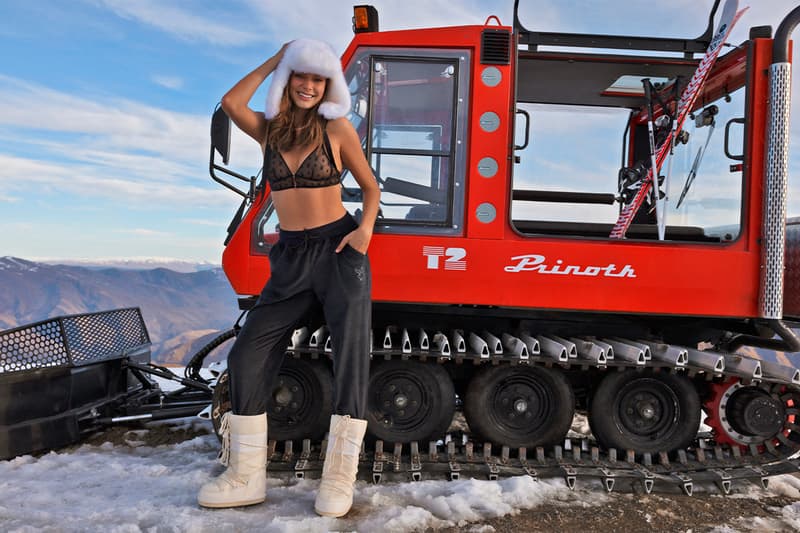 9 of 12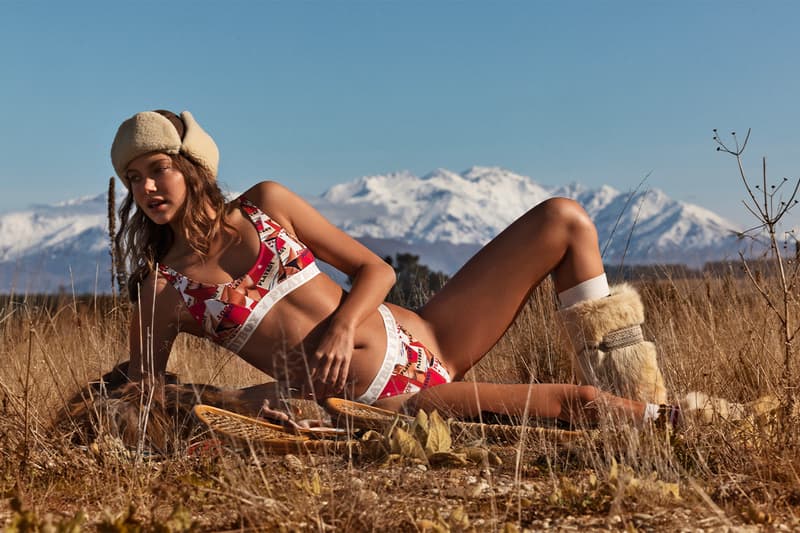 10 of 12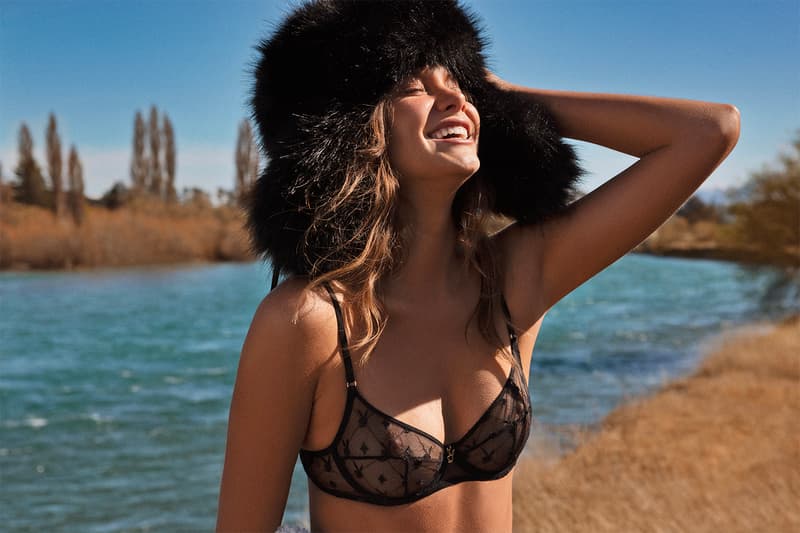 11 of 12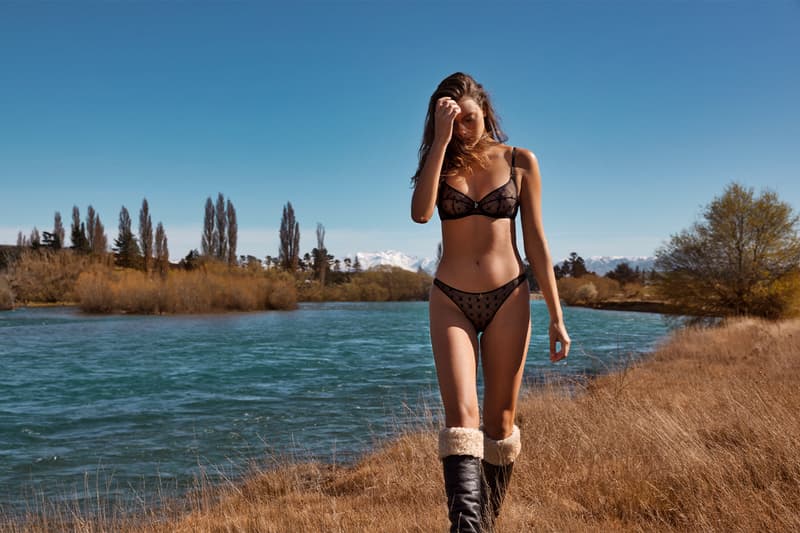 12 of 12
Sex & Dating
EXCLUSIVE: Inside the World of Playboy's Iconic Lingerie
Brought to life by design director, Mel Floyd.
EXCLUSIVE: Inside the World of Playboy's Iconic Lingerie
Brought to life by design director, Mel Floyd.
Playboy has pioneered and captured every aspect of sex appeal since 1953, through its highly acclaimed magazines and now, lingerie. In under a month, the brand has released three seductive collections, solidifying itself as a powerhouse within the industry. Where we once knew Playboy for featuring iconic women, the brand is now venturing into unleashing your inner icon, with newly appointed Design Director, Mel Floyd.
Floyd's lingerie journey began at another renowned lingerie company, Honey Birdette, known for luxury pieces that cater to the more mature customer. She began working in stores, and in true boss babe fashion, worked her way up the corporate ladder. After almost 12 years of supporting the brand's growth through lingerie design, marketing and more, Playboy acquired Honey Birdette and requested Floyd as its lingerie's head Design Director.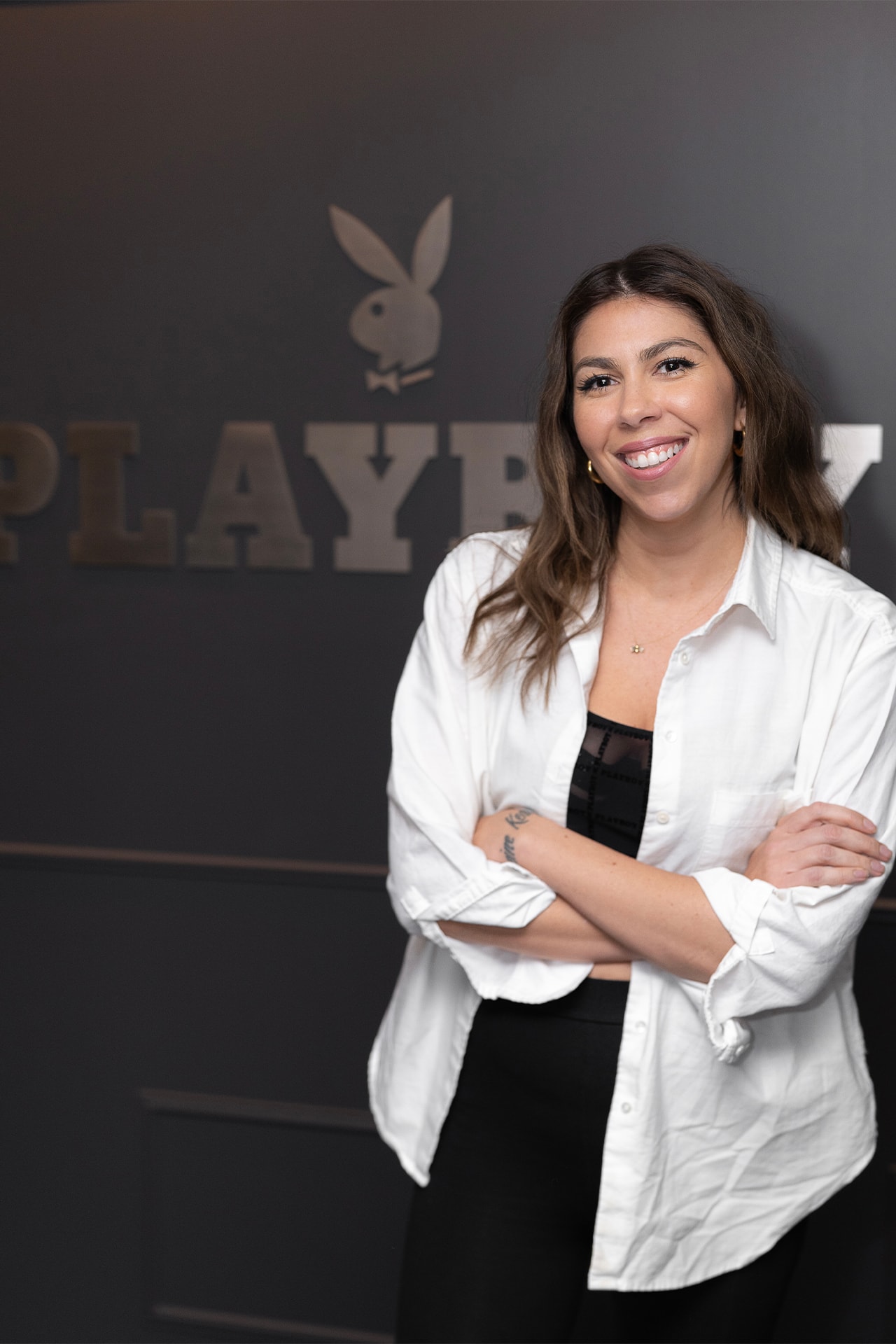 With Mel's direction, Playboy's expansion into lingerie has been seamlessly providing Gen Z and millennials with premium lingerie and everyday wear that unleashes the icon within. Usually, such alluring, and high-quality garments are insanely expensive, making sexy feel unattainable for the everyday woman. But Playboy easily bypasses this issue with its latest acquisition.
PLBY Group's president of global consumer products, Ashley Kechter, shared the brand's genius in an exclusive quote with Hypebae: "We're one of the most recognized brands in the world so with the history we have in lingerie from the 90s, as well as our acquisition of Honey Birdette last year, we were able to leverage a lot of the highest quality design capabilities and the same sourcing partners, to really expedite how we bring [lingerie] to market… The goal is to be fun, energetic, versatile, everyday wear but with that more affordable pricepoint and the same level of quality of elevation."
For more on the journey of Mel Floyd and Playboy lingerie, keep reading.
What does a day in the life of a Design Director look like?
It's a lot of looking through creative references. At Playboy, specifically, we have so much heritage, with a full vault of artwork, magazines, articles and more. I spend a lot of time sifting through what we have in our archives and I try to find interesting stories or narratives that were important in Playboy's past. Then turn them into a concept that relates to the product.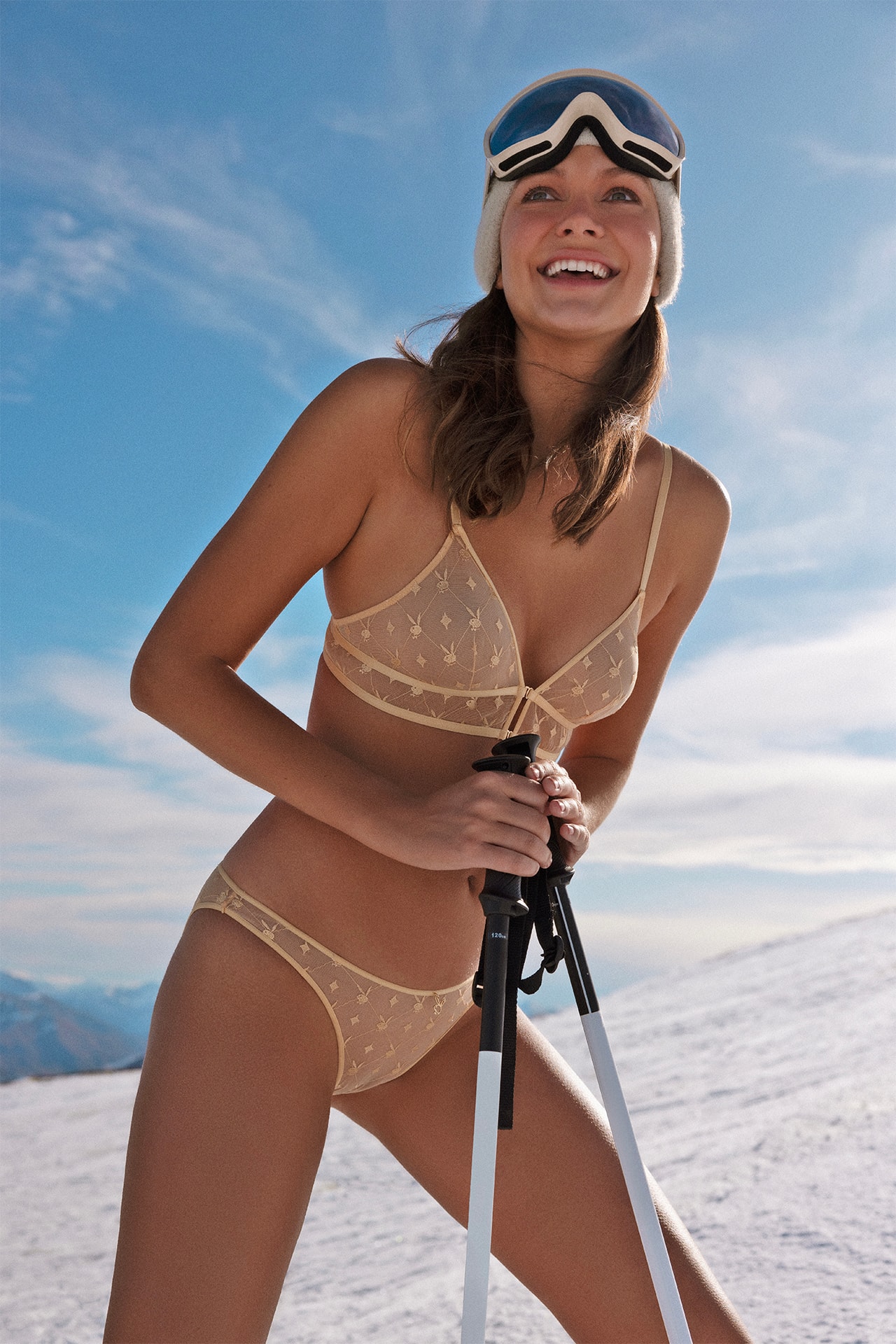 For general inspiration, we have Playboy vaults which have specific Playboy artwork and heritage pieces — moments that are important to our history, dating back to 1953. We also have all of the Playboy books leather bound as well. It's really fun when you hit a wall and you're just like, "Oh, I need a new sort of room," or "I need a new idea to walk into." I've already read most of them, but every time I go through them, I find something that I've missed before that pops comes out.
If you could describe your take on lingerie in one word, what would it be?
Inspiring. It's not something someone would usually say for lingerie, but I've seen the way it changes people. For example, working in that lingerie store and seeing people try to save their marriage by buying lingerie. Or getting out of a marriage, and now they're like, "Fuck this, I feel hot. I'm gonna go buy some lingerie." For some people, it's a superhero suit. They're usually scared to put it on but when they do, they see themselves in a completely different light.
How has your transition to Playboy allowed you to grow from your iconic role at Honey Birdette? 
Well, firstly, I was at Honey Birdette for 12 years, so I know that brand, aesthetic and customer very well. Moving into Playboy, which has an iconic name and so much brand recognition, it's a completely different beast to try and build this brand.
"The goal is to be fun, energetic, versatile, everyday wear but with that more affordable pricepoint."
I'm working with a different demographic from what I'm used to at Honey Birdette, but I love it. That's the best part about this role: finding out how these people who I am now building products for think, what they want and what they feel. They have a very specific customer, it's still very broad, but that customer is looking for something specific.
I'm also working with more men because I'm building male products as well. So it's different. Also, at Honey Birdette, we had the aesthetic down pat. So I didn't need to be involved in the day-to-day of the product, I was more over the marketing, PR and branding. Whereas here, I'm really in the nuts and bolts day-to-day of creating the product first, which we need to sort of grow the brand before we can amplify it. It's just so much more broad-reaching and the product has to reflect that as well, so I get to have a lot of fun here with the product.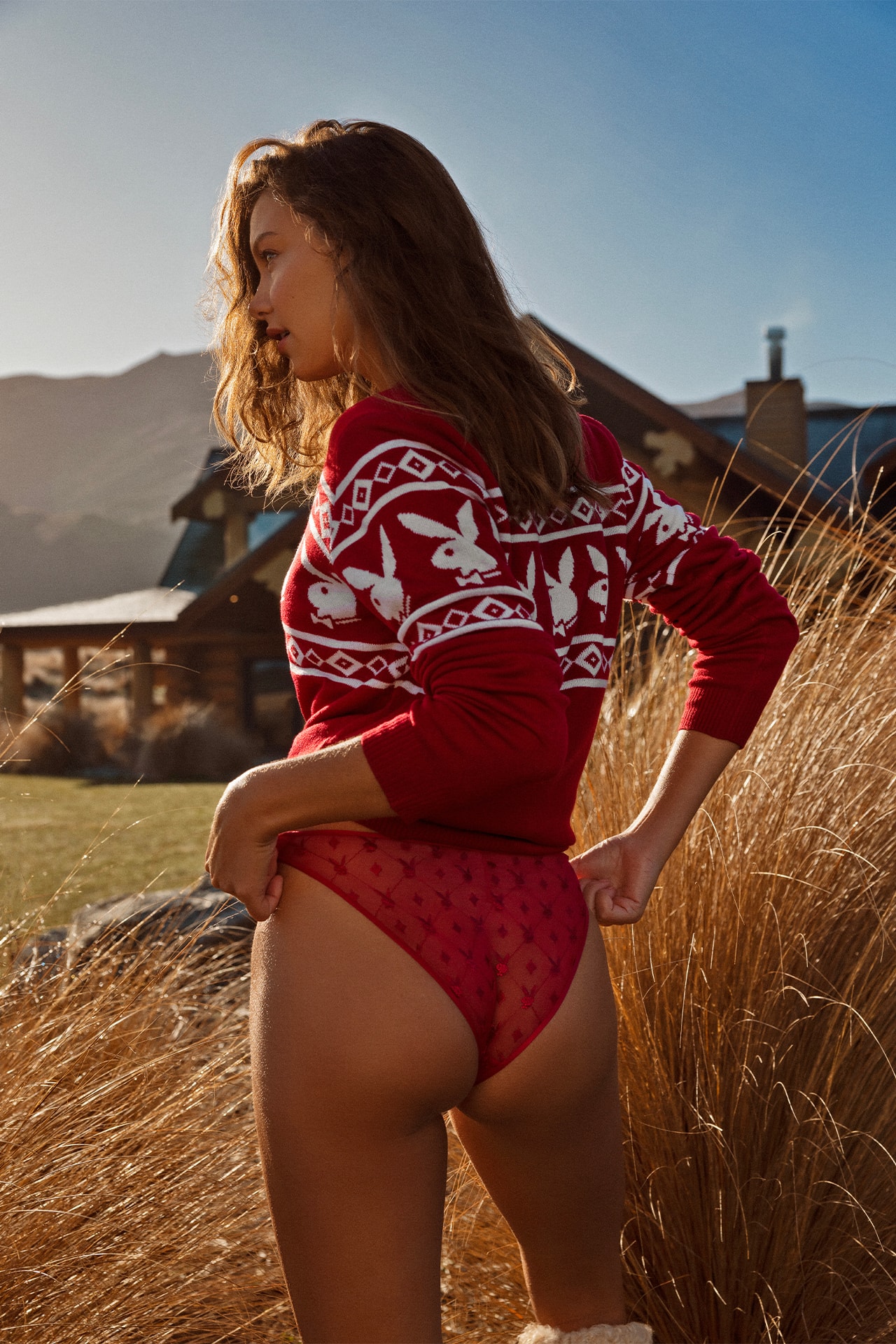 Since you've joined the team, has your vision shifted, remained the same or is your vision ever-evolving?
Well, I had some ideas when they first came to me and asked " Are you interested in Playboy lingerie?" I had an idea of what I thought it was or could be. Once I started to learn about our customers and more about our heritage — because there were things I didn't know just from being just a fan — my vision changed. I think I have a way better grasp of what Playboy lingerie will be and what it will become. But it is evolving. I think because this is a brand that can cross so many scopes of what you want from it, it has longevity, and it has the space to grow.
One of the first lingerie collections you brought to life is the Icon Collection. What inspired this name?
Simply put, Playboy just is iconic. It's the first word that comes to mind when I think of Playboy and I wanted the first collection to embrace that. I also wanted it to be bold so people get the reference immediately, like with the bunny head. I want people to buy something and feel iconic in it. It's been so cool to watch, as well. We only launched like two weeks ago and I've just been reading through some of the Instagram comments and people like, I feel amazing when I put our garments, like the opera gloves, on. That's exactly what it does to people, it makes them feel iconic.
What inspired the use of the Playboy monogram on each piece? Was that an important deciding factor and kind of just driving home the identity of Playboy?
Yes, it was. The most exciting thing, for me, is that there is no other lingerie brand that has a recognizable logo. There are some logos that if you're in the lingerie space, you might recognize but I could show the bunny head to anyone in the world, and they would know what brand I'm talking about. So I wanted to have fun and start playing with that logo just knowing that there's no other brand that can compete with us when it comes to logo and sort of brand awareness. The bunny head also signifies so much. It really is an icon of sexual expression and freedom. So just having it on lingerie says a lot. It's symbolic.
"It's all about confidence."

The Icon Collection covers all bases from coquette looks with opera gloves to sporty chic. What goes into making a collection for different aesthetics?
The gloves are my favorite. I noticed when I worked in the stores people would say to me, "Can you choose an outfit for me? Like, I don't know, I don't usually wear this stuff," or "What should I wear?" I'd put some garments in the fitting room for them and when they have the outfit on, they're loving themselves — but they're still like, "How do I do this?" I'm like, "You're doing it! You don't have to do anything like you look amazing." But they still want another piece like a comfort piece. The gloves are like a robe or cape, something that you can play with. You can take them off, you can put them on and it gives people who are not as comfortable in lingerie almost a bit of a security blanket.
Playboy has pivoted from catering solely to men to pleasure for all, which we love because our company has a similar journey. We've watched Playboy elevate its Centerfold by partnering with Cardi B in the past few years and directly support sex-positive femmes. How does Playboy's lingerie tie into this journey?
I think for most people, Playboy and lingerie is just a no-brainer. It's always been about women. So to have a lingerie brand within Playboy makes sense. But now that we also have Centerfold, we have so many amazing creators who also want lingerie, so there's just so many synergies between Centerfold and Playboy. We only just launched and we wanted to have a lot of a lot more product and a lot of other exciting things coming through. But I know that as we move through them, Playboy's creators and Playboy lingerie will have a lot more in common.
"The bunny head really is an icon of sexual expression and freedom."

Playboy as a brand is all encompassing with the customers that it services. We have a sex-positive aspect, we have this new Gen Z customer who just found out about Playboy and think it's cool. We have the more mature customer who knows of Playboy's past more. And there's so many different themes and aesthetics within Playboy that we can offer without differing from our core values.
It actually doesn't really matter who you are, everyone kind of wants the same thing at the base level and we have something in there for everyone. It's not as trend-driven.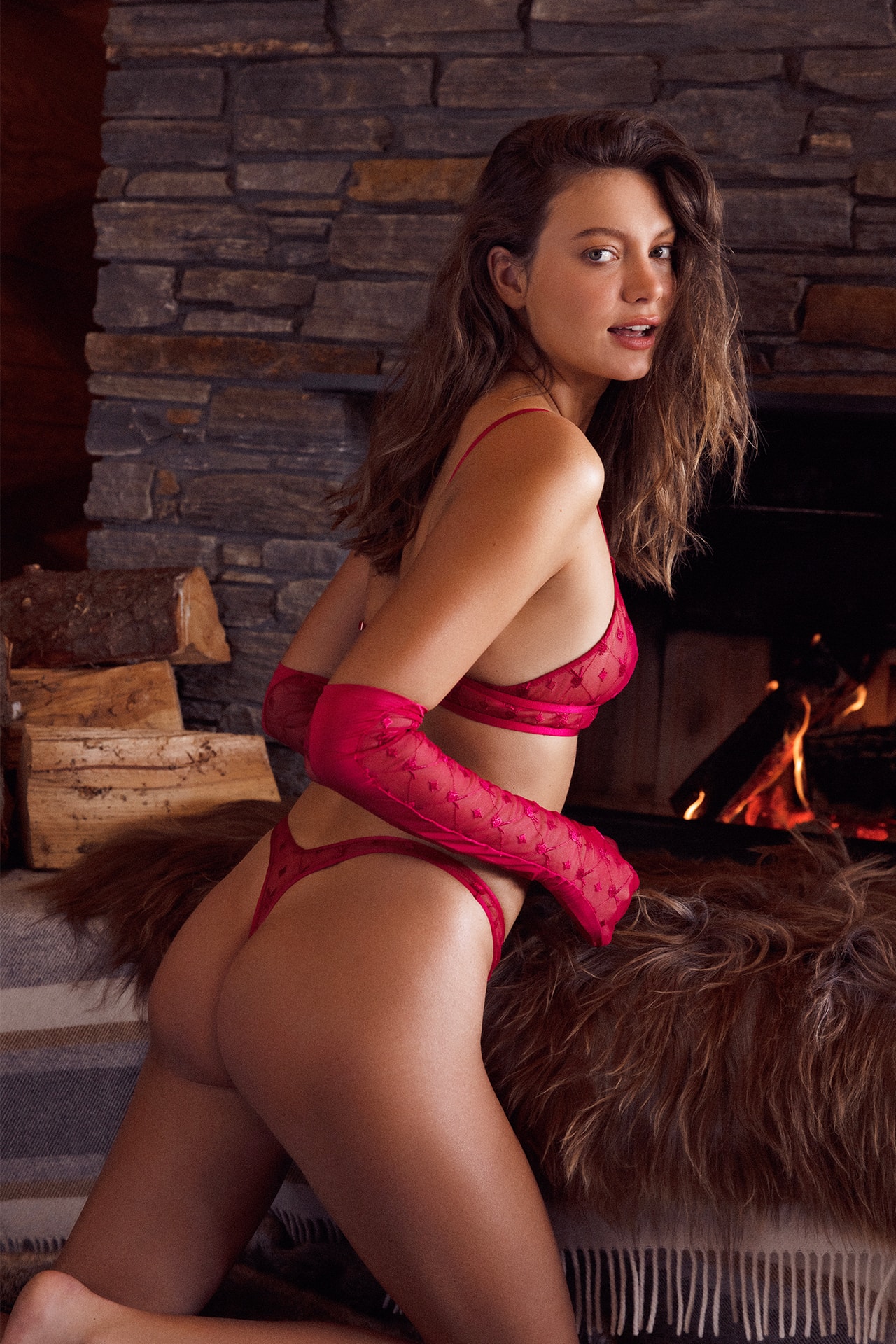 What has been the greatest pleasure of directing design at Playboy?
I'm so excited to see everything come to life. And as I said earlier, being able to access this amazing heritage and the vault and create products that are 100% unique to Playboy. No other brand can come out with these pieces, so being able to lift that heritage and transform it into products.
Any Playboy-approved tips for keeping things elevated, sexy and most importantly – pleasurable?
I've learned in my experience that it's all about confidence. You need to be in something that makes you feel amazing and boosts your confidence. It's all about you and when you feel confident, so will other people.
What are your future plans for Playboy that you can let us in on?
We have a very exciting Valentine's Day collection coming up where we have recreated some lingerie from some of our iconic covers. We've not used the cover, but made the item they were wearing on the cover.
Hint: Pamela. F-cking. Anderson.
This interview has been condensed for clarity.
---
Share this article