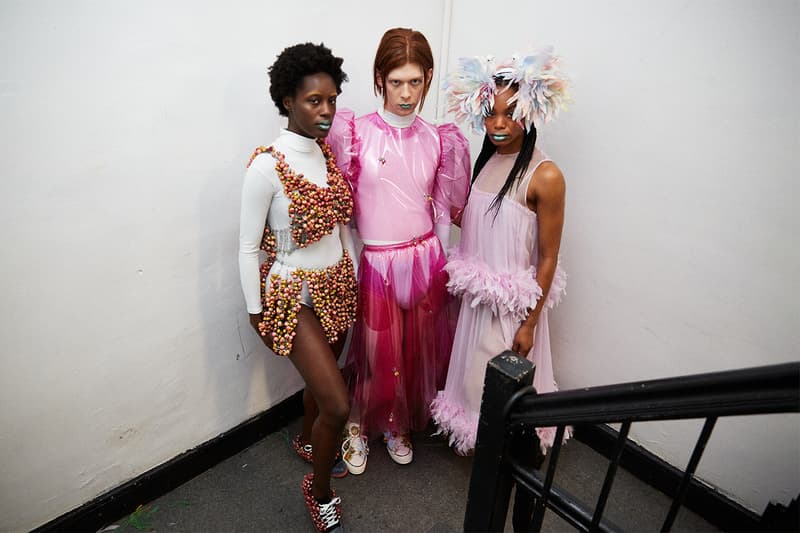 1 of 2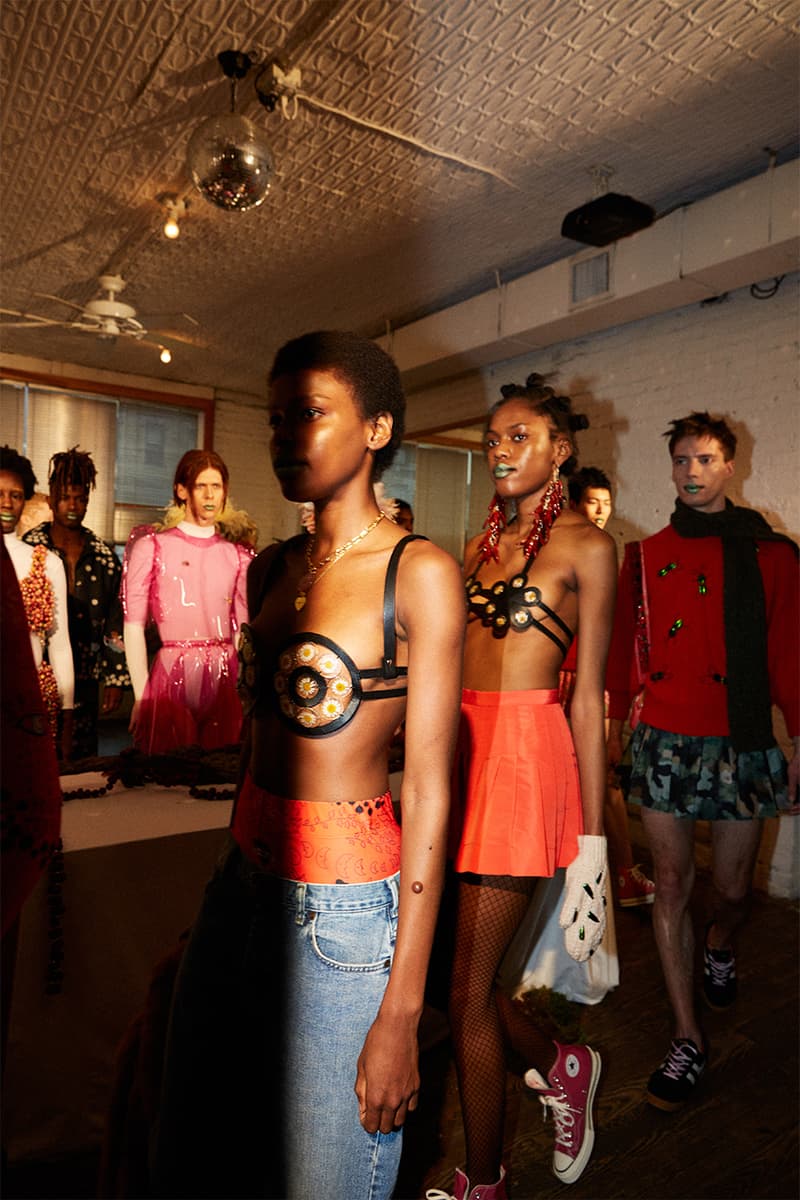 2 of 2
Fashion
Olivia Cheng Talks Staying Curious, Backstage at Dauphinette FW22
HYPEBAE speaks to the 23-year-old designer about the inspiration behind her latest collection.
Olivia Cheng Talks Staying Curious, Backstage at Dauphinette FW22
HYPEBAE speaks to the 23-year-old designer about the inspiration behind her latest collection.
Nestled in the heart of Chinatown, excited New Yorkers shuffled into a cozy room, filled with silk-wrapped mandarins, gilded date garlands and succulent leafy plants lining the windows to view Dauphinette's Fall/Winter 2022 collection. Gifted with delicate papyrus menus speckled with wildflower seeds, guests were treated to a light tasting menu of gold-plated ginkgo leaves in the form of dainty tops and iridescent beetle wings spread across silk organza. 
Made famous for her resin-covered strawberry chainmail and 500 Days of Summer-inspired preserved daisies, Olivia Cheng masterfully presented a decidedly fresh collection of new garments while staying true to her quintessentially wondrous and joyful creations. Dangerously spiky hair and futuristic metallic green lips added a refreshing sour flavor to Cheng's heavenly sweet white silk frocks and hot pink PVC dresses. Tapping into its cabinet of curiosities, Dauphinette adorned extravagant feather hats with romantic turtle doves while others bore regal swans.
Keep reading to hear from the designer herself about her latest New York Fashion Week outing.
Can you talk about the inspiration behind your FW22 collection?
The collection is called "Tasting Menu" and the idea was that every season, I like to be learning. I feel that's the entire point. Living in a world with so much content, so being able to work with incredible artisans is a part of what makes the job really exciting on a continuous basis. This season, I was working a lot with pearl buttons and beetle wings. In the time Dauphinette has been around, I feel like most of our customers know it for being feminine and whimsical in nature, and with this collection I didn't want to reject that conversation, but really expand the dialogue by bringing in different types of motifs and materials, as well as bringing more context as my goal was to say something more bold, different and unique with this range.
For example, the second look is the very, very whimsical puff-sleeve organza dress which we've had in different seasons in many iterations. But this time, we covered it with these pins made of beetles, and the idea is that you're taking something beautiful and delicate with crawling bugs all over it, and it's an embodiment of the tasting menu — funky, esoteric. It's 28 courses. My idea was that your curiosity is satisfied but your appetite is raging. It was also really important to cast a diversity of models, in terms of age, size, gender and shape. Taking a globalized perspective is central to our brand and expanding. My way of designing is naturally light in its aesthetic and I've heard it reflected back to me as joyful. I think that I'm always trying to learn and reflect that education experience in a way that intrigues people and is digestible, because I feel that we live in a highly individualized society that very much emphasizes a hustle culture of getting ahead and a conventional path, but I hope to continue to push the boundaries of what education can be. I enjoy that my clothing is easily consumable but piques peoples' interest and urges them to learn about how it's made, keeping their curiosity.
What led to the introduction of swimwear this season?
My friends and I were going on a beach vacation last spring, and I had asked them if they knew of any great swim brands that did colorful printed pieces. We were chatting and they suggested that I should make swim with my prints that we could all wear, and the rest was history. The printed swimsuits did not make it in time for that vacation, but they've been an incredibly exciting venture that I'm excited to continue and grow.
There's been a shift in the fashion industry towards sustainability. Could you speak about Dauphinette's approach to ethical production and what your goals for the company are?
Something that is very top of mind for us is that I veer more away from saying outright that we're sustainable, because I feel it's such a behemoth of a topic. … But something I'm always trying to do while I continue learning about the business is how I can make my business more responsible. Now that I understand more about the brick and mortar side, which we sourced vintage wood for the scaffolding (which is to say that we're always looking for ways to use recycled materials and often times with shows and events), [I know] a lot of the products that get shown with small brands don't end up going into production. For example, we have this reworked vintage mink fur coat from the 1940s that's going to be up for sale in our store. Having a brick and mortar experience that we get to craft and curate means we can give back to the community, and that's really special for me because it keeps the brand fresh and accepting.
As the youngest designer who's exhibited at the Metropolitan Museum of Art, in what way does your youth work towards your advantage as an artist?
For the first two years when I was still in college, your naiveté is awesome — it's your strength. I never overstepped anyone's boundaries, but I felt like there are questions I wouldn't have asked if I wasn't so fresh to the scene. Without having other opinions to blur my perspective, I unabashedly shared my own voice. I didn't know what I was doing and think that helped, because it gave me a lot of opportunities to have my own educational experience, especially having gone to business school rather than studying at fashion institutions. Being able to form that path for myself was really exciting, and walking into random factories in the Garment District to buy fabric is how I learned to source and really get started. Being in it for the process and the learning experience, while not working about expectations is key.
Share this article