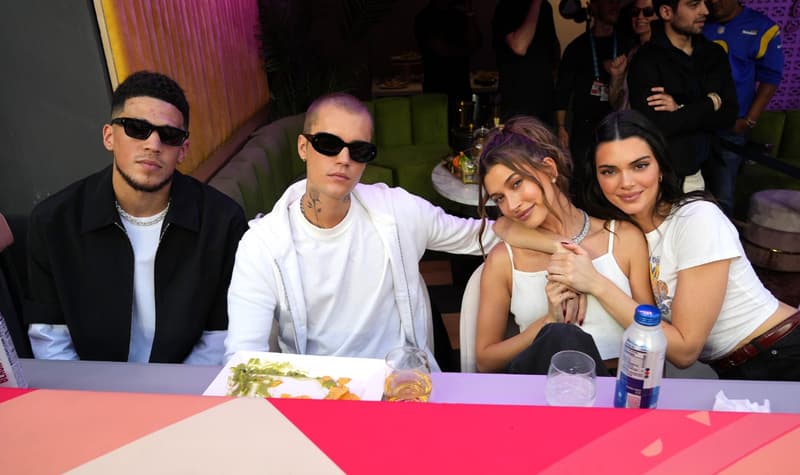 Entertainment
Kendall Jenner and Devin Booker Go on a Double Date With Hailey and Justin Bieber
Both couples wear matching tops.
Kendall Jenner and Devin Booker Go on a Double Date With Hailey and Justin Bieber
Both couples wear matching tops.
While it's rare for Kendall Jenner to publicize her relationship with boyfriend Devin Booker, the couple was photographed on a double date with Hailey and Justin Bieber on Super Bowl Sunday. The four of them wore white tops; the gentlemen rocked hoodies and shades while the ladies accessorized with natural glam.
Jenner and Booker have been dating since 2020 and have kept their relationship on the DL ever since. According to the model, it's best that way. "Kylie and I have had the opportunity to watch our older sisters go through marriages and relationships and breakups and all these things, and do them pretty publicly," she told Andy Cohen during a KUWTK reunion in June 2021. "And no offense to you guys at all, but I think it was personal preference from a really young age that I didn't want to [do that]. I think it makes my life a lot easier and our relationship a lot better, to be completely honest. I just feel like it's a private matter, it's not really for anybody else to judge or know."
Though Hailey and Justin have been a lot more open with their relationship, that doesn't seem like the case moving forward. "It doesn't feel worth it to me anymore when I try to have an open conversation with someone like you and then it gets taken out of context," she told WSJ. Magazine earlier this month. "The media loves to take a tiny little blurb of something for clickbait. The media has always been a disgusting thing."
Check out both couples on their double date above.
---
Share this article