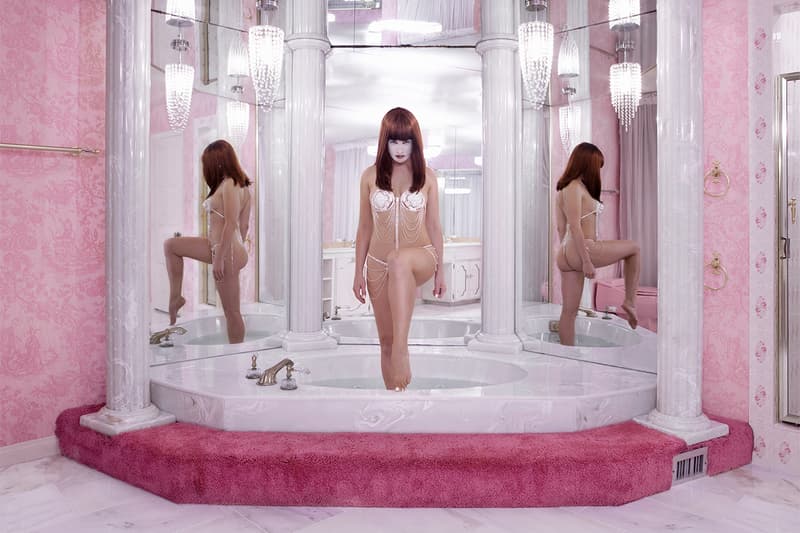 Art
Prada's "Role Play" Exhibit Features Juno Calypso's Eerie Performance Piece About Femininity
The photographer posed as a travel writer and landed in an underground mansion in Vegas.
Prada's "Role Play" Exhibit Features Juno Calypso's Eerie Performance Piece About Femininity
The photographer posed as a travel writer and landed in an underground mansion in Vegas.
Prada presents the "Role Play" exhibition highlighting the works of several artists including Juno Calypso. The exhibit is curated by Melissa Harris to explore alter egos.
"An alter ego, persona, or avatar may be aspirational … It may be a form of activism, or a means of maneuvering through entrenched, even polarized positions," Harris shares.
Calypso is a multimedia artist that began taking pictures of herself as her alter ego, Joyce, while studying photography. She disguised herself in real life by posing as a travel writer, which gave her access to stunning locations like a mansion built underneath Las Vegas in the '70s. Her piece, A Clone of Your Own, was created as a self-portrait of Joyce, modeled as a performance piece about femininity. The image shows Joyce exiting the bath ever so sensually in divine garments. What's intriguing is that her performance of femininity is not only sensual, but eerie.
In Calypso's 2018 British Vogue interview, she shared, "We're always trying to suppress aging, and everything should be perfect and fresh, and edible and delicious … but underneath is this real death and decay, and I'm like, no — let's see more of that." Her goal with this collection is in alignment with Harris' vision for this exhibit and acts as a form of activism. It pushes back against restrictive ideals of what femininity is and adds an element of mystery.
Calypso's performance taps into stereotypes, from the color pink to the garments she wears. However, her painted face unlocks the thought that there must be something taking place beneath the surface. One of the most beautiful aspects of this piece is that Calypso actually shot these photos in the underground bunker in Vegas. The mansion is still perfectly preserved from the '70,s and is now owned by a group that believes in cryonics.
View the full "Role Play" exhibit from March 11 to June 20 at Prada Aoyama Tokyo.
Share this article