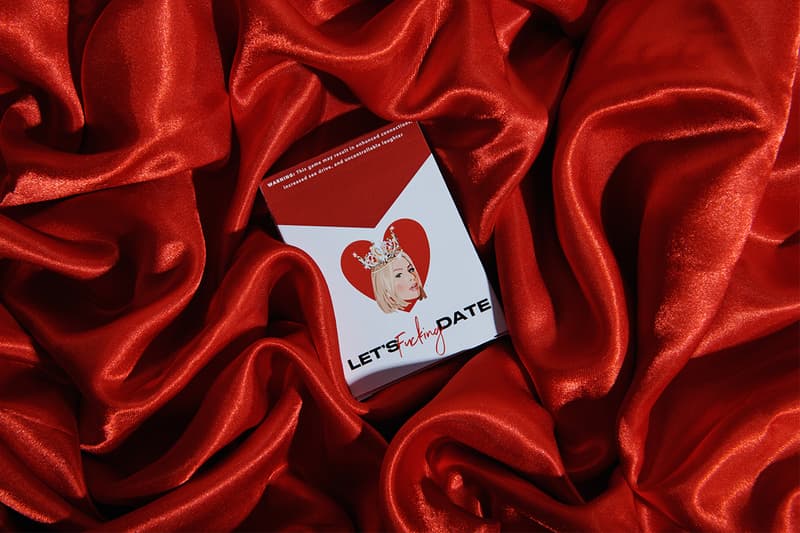 Sex & Dating
7 Sensual Ideas for Enjoying Valentine's Day at Home
Go above and beyond from the comfort of your own home.
7 Sensual Ideas for Enjoying Valentine's Day at Home
Go above and beyond from the comfort of your own home.
Whether you're avoiding breaking the bank or you're simply a homebody, Valentine's Day at home doesn't have to be boring. The beauty of the day of love is that the options for pleasure are endless — as long as your lover is present.
Read on for some of our best hacks for enjoying Valentine's Day at home.
1. Get riled up and play a raunchy game
Created by Serena Kerrigan during the uneventful moments of quarantine, the Let's Fucking Date card game will keep your spirits up and the vibe playful during a Valentine's Day stuck at home. It's the perfect way to spend quality time, laugh and maybe even get riled up with your partner(s) on the day of love.
2. Netflix & chill — in lingerie
What better way to seduce your partner(s) than with relaxation and the finest lingerie? If you need suggestions for Valentine's Day intimates, here are some of the best sets for feeling and looking sexy. If you prefer a more modest look, adorn yourself with Lunya's Washable Silk Set and matching Silk Robe.
3. Experiment with new sex toys
Try the Zumio for a new sexual experience. Adding "a new spin on pleasure," its tiny head doesn't vibrate like most sex toys, but moves in a circular motion. This allows for precise pleasure for those who prefer clitoral stimulation.
If you love your clitoral pleasure with a side of penetration, try P.S. Condoms for a better feel. These condoms are 15% thinner than most ultra-thin condoms which means you and your partner(s) can get even closer on the day of love.
4. Book a sexy staycation
Technically, the home is where the heart is, so switch things up and book a luxury stay for you and your partner(s) to enjoy. The best part is that you get to focus on the wild fun and not the clean up.
5. Unwind with a sensual at-home spa day
Take a hot bath or shower together, and don't forget to light your Maude Burn candles that melt into a divine massage oil. After your bath, relieve any remaining stress by pouring the warm wax into your palm and massaging your partner(s) muscles. Think of it as the ultimate enhancer for your intimate relaxation session.
6. Dip everything in chocolate
The finishing touch to any spa day should be something sweet. Before you indulge in your spa day, have some fun with your partner(s) and make chocolate-covered goodies to indulge in. Getting creative in the kitchen is a great way to build intimacy.
If you're vegan and still want the pleasure of chocolate this Valentine's Day, swap out dairy chocolate for Hu Kitchen's Semi Sweet Baking Chocolate Chips.
7. Get creative and set up an at home bar (dry-date friendly)
Create your ideal bar set up with all your favorite drinks. Choose something light, something dark and something spontaneous. Nothing screams sensual like a delicious glass of wine.
If you're a dry dater, no stress — the non-alcohol options are endless with brands like Töst that focus on inclusivity for non-drinkers. Not preferring alcohol is no reason to skip out on the fun, and here are some of the best non-alcoholic beverages to try.
DISCLAIMER: We discourage irresponsible and/or underage drinking. Drink responsibly and legally.
Share this article