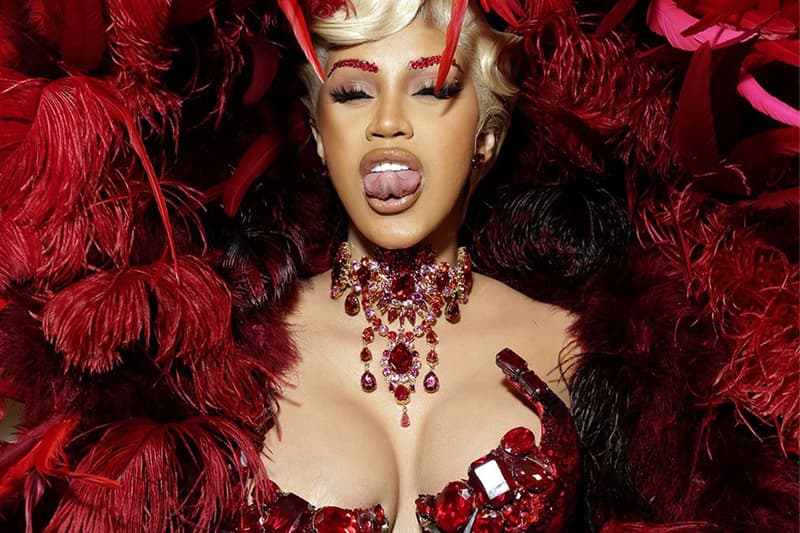 Beauty
Cardi B Approves of the Y2K Hair Stamp Trend
Take a look at the rapper's red paisley bandana hair.
Cardi B Approves of the Y2K Hair Stamp Trend
Take a look at the rapper's red paisley bandana hair.
Cardi B showed up on the set of a new music video earlier this week with a red, bandana-inspired hair look that fans were not prepared for.
The throwback hair stamp trend has been making its way back, with celebrities like Rihanna, Dua Lipa and now Cardi B sporting the 2000s look. The Bronx native wore her fans' favorite tone on her, red, with the classic bandana design stamped on. With such an eccentric hairstyle, Cardi adopted a minimalist approach for the rest of her outfit. She wore oversized, baggy jeans, with red boxers peeking through, a white cropped tank and stacked Cuban link chokers.
The hair stamp trend dates all the way back to the '90s, when Lil' Kim began her reign as a trendsetter. She wore Chanel hair stamps, and even revisited the style with the Fendi emblem. The artist's stylist Misa Hylton told Essence: "Colored hair and designer brands were really a part of Kim's DNA, so this was a natural progression of combining those two elements." The looks were both later channeled by Beyoncé.
Cardi B, who proudly owns Lil' Kim's influence on her aesthetic, took the trend to new heights. Her take on hair stamps evokes a luxury yet "from the block" feel, and is the perfect look for a trap song.
View Cardi B's paisley bandana hair look below.
View this post on Instagram
Share this article