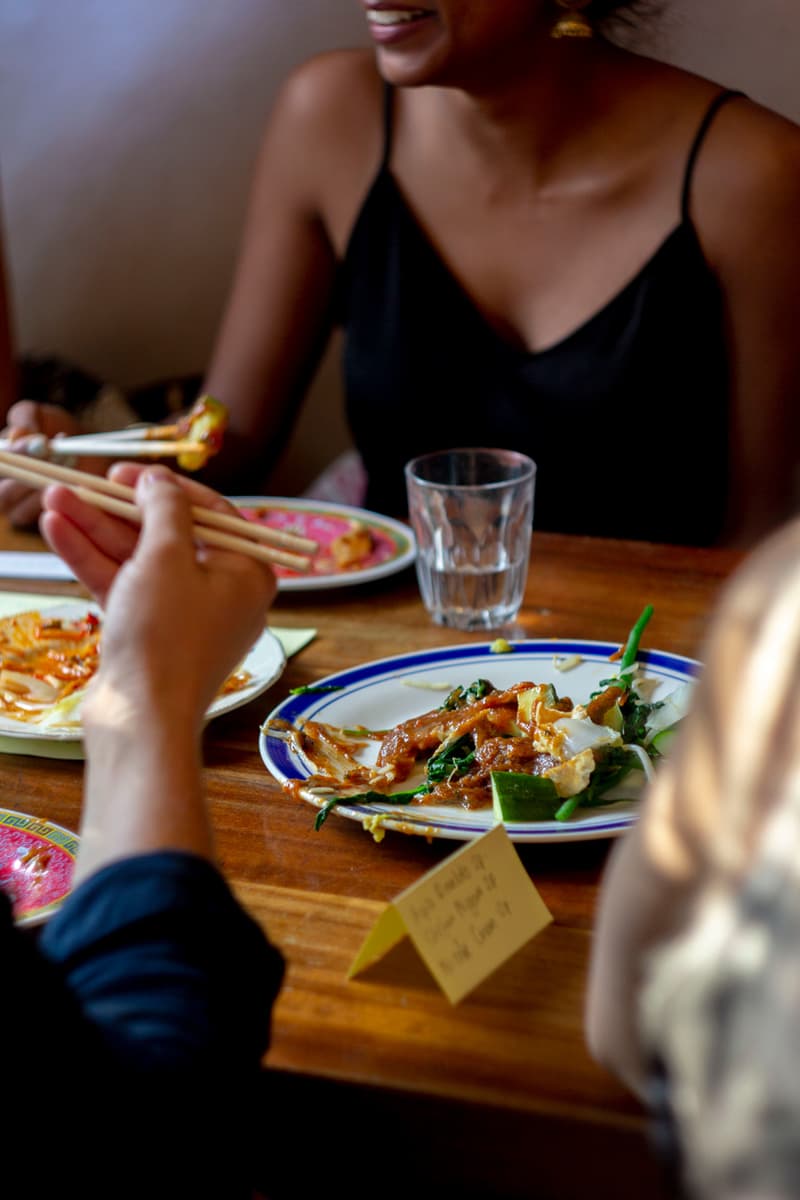 Meet the Emerging Chefs Reviving the Humble Supper Club in London
Forming new communities through creative plates.
Food
Meet the Emerging Chefs Reviving the Humble Supper Club in London
Forming new communities through creative plates.
Supper clubs have always been a warming way to share new food in the company of good friends. Cooking up recipes that have been passed down from ancestors and serving them up across a carefully decorated spread — it's a toothsome gesture that brings comfort and joy to the most regular of evenings.
While the pandemic became a catalyst for hosting more supper clubs in intimate settings, there were a handful of rising chefs who pioneered this foodie trend to exciting new heights. Food writer and hot sauce extraordinaire Suzie Bakos is as much a supper club goer as she is a hoster. She typifies the creativity in London's gastronomic scene with innovative ways of introducing new flavors and ingredients to her guests, simultaneously putting on the most decked-out experiences.
Also based in London but transporting her diners to Indonesia is the chef and host behind "Sp00ns" supper club, Rahel Stephanie. Taking traditional meals from her motherland and reimagining them in vegan-style adaptations, her supper clubs have amassed a community of foodies who consistently leave well-educated on the authentic Indonesian food experience.
To find out more about why supper clubs are becoming some of the most exciting spots to discover fresh flavors while meeting likeminded people, Hypebae caught up with the pair between their busy schedules of cheffing.
Keep up to date with upcoming supper clubs hosted by Bakos and Stephanie by following them on Instagram or visiting their websites.
Suzie Bakos
Hey Suzie, let's start on your affinity for discovering, cooking and sharing food. Where does this come from?
Growing up in a Middle Eastern household, everything is centered around food. Cooking and eating is not something we just do for fuel, every meal is a moment and I've definitely taken that into my adult life. My mum would show us how to make traditional Iraqi meals, so my knowledge of food started in my childhood kitchen; touching, smelling and tasting ingredients were so important, and they helped me understand what flavors worked well together. The Middle Eastern way of cooking is all about family-style too: sharing big plates of food and sitting around the table chatting. It's so strange to me to go sit in the kitchen alone and eat.
Tell us a little bit about the flavors you love serving up for your friends.
We've become so accustomed to eating out all the time — and I'm the biggest culprit — so when my friends come around for dinner, I want to treat them as if they're in their favorite restaurant. I usually do something that I don't have on a normal Tuesday, such as baked sea bass with scallops, samphire, fennel and tomato, or slow-roast chipotle lamb in corn tacos. Neither are really hard to make, but they're always a hit.
When did you start hosting supper clubs, and what inspired you to do so?
I started hosting in 2018. I went to a Middle Eastern supper club and I thought, "I can do this." So, I found a venue two days later and booked the event for three weeks after that. I invited friends and family and had all profits go to charity. I'm very impulsive and ambitious, so when I get fixated on an idea, I have to see it through. It was one of the best decisions I ever made because everyone loved it, they tried new food they'd never had before, and it was a vibe.
When supper clubs paused during lockdown, how did your home delivery service fill the void?
The food deliveries were a great way of continuing my ethos of bringing new flavors and dishes to Londoners. The menu for the deliveries was super traditional, and people were really in the mindset of supporting small businesses. I guess it was a nice way of mixing up lockdown dinners for people too.
In your opinion, what makes a memorable supper club?
There's so much to making a supper club bang. You want people to enjoy themselves and come back to your supper club again. For me, there are many factors — a cozy, well-lit space is one of them. When it's sparse, the atmosphere can often be quite dead too. My playlist is fun, energetic and creates a vibe-y mood. Also, play music you love. Everything about your supper club should represent you and your brand.
Apart from my food business, I am also a writer. So, I'd create a new food-based poem which is printed to the back of the menu cards at my supper clubs, and people can take these home. I also have my hot sauce as [part of] the place settings, and it's a great way to treat your attendees. Everyone loves a lil' gift.
Where is the future for community dinners and supper clubs heading?
I think supper clubs are only getting bigger, and that's down to the community of people who like to explore new food spots and want something different from their usual eateries. There's a whole culture that comes along with the supper club world: those who want to experience their favorite up-and-coming chef in an intimate space, others who want to share their new favorite natty wine, and some who want a fun space to catch up with old friends. If anyone is thinking of doing their own one, then please do! It's such a great way to present your food for one night of fun.
Rahel Stephanie
Rahel, tell us about the dishes you serve at your supper clubs.
Inspired by authentic regional dishes traversing the streets and homes of Indonesia, I serve lesser-known vegan Indonesian dishes with friends — flavors and textures you rarely find elsewhere in London.
What inspires your menus specifically?
I'm so inspired by the many humble entrepreneurs in Indonesia who consistently and expertly whip up all the Indonesian dishes I know and love. Warteg (street food joint) shopkeepers, housewives with side hustles, cooking aunties of YouTube, mobile street vendors and everything in between — [they are] the true unsung heroes and my real inspiration.
How have your supper clubs helped people understand what true and authentic Indonesian food is?
I was motivated to pay respect to and reclaim my culture and cuisine, especially after noticing the widespread inaccurate representations of Indonesian cuisines in the Western world. An example I love is the misconception of satay. First of all, it's spelled "sate." And secondly, sate means skewer. We have a vast variety of sate dishes in Indonesia apart from the commonly found chicken sate with peanut sauce. This is why calling dishes "something something satay sauce" or "satay rice bowl" after slapping some peanut sauce on them makes absolutely no sense.
I'm hoping through the little I've shared and contributed, some people have begun to learn and be introduced to true Indonesian cuisine — that we're more than just your "Gado-Gado peanut salad" or "Satay."
Where did the supper club name "Sp00ns" originate from?
Growing up in Indonesia and Singapore, our standard choice of cutlery would always be a fork and a spoon, if not your bare hands. When first moving to London I was pretty confused to find that the standard cutlery set included a fork and a knife. How am I supposed to eat rice and scoop all the sauce? If I were asked to pick one cutlery to eat an entire dish with, it would be the spoon, so it was a pretty tongue-in-cheek name.
Why do you think supper clubs have seen a resurgence, and what does this mean for communities?
It's such an accessible way for cooks to share their food with the public, which also means it opens more opportunities for emerging cooks from underrepresented communities. We've got so many exciting supper clubs popping up in London at the moment, and I hope this continues to grow.
In your opinion, what makes a memorable supper club?
For myself, it's always the people. I don't just do what I do cause I love peeling and chopping garlic for five hours [laughs.] At the end of the day, it's getting to dine with everyone that makes it so rewarding. I've honestly been so blessed with such a warm, kind and supportive community.
Share this article