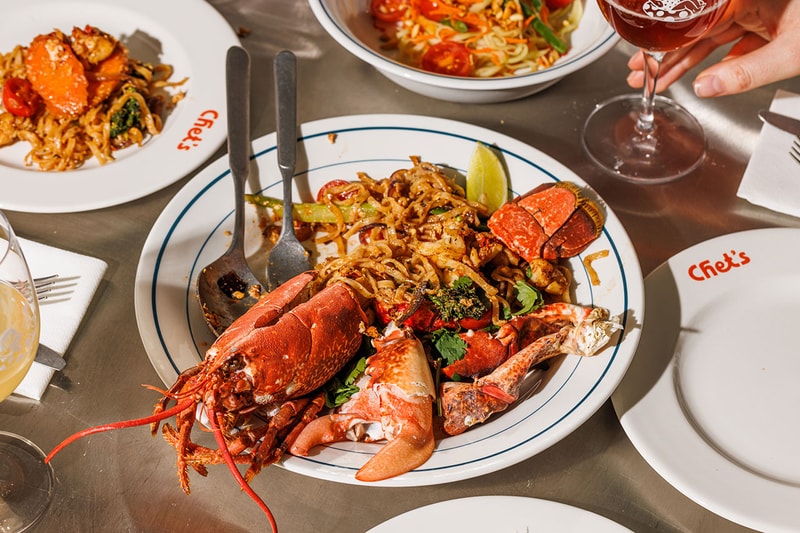 Culture
The Coolest Restaurants in London for Fashionable Foodies
From Dua Lipa's favorite Persian hotspot to the fashion crowd's canteen of choice.
The Coolest Restaurants in London for Fashionable Foodies
From Dua Lipa's favorite Persian hotspot to the fashion crowd's canteen of choice.
We recently explored the blossoming relationship between food and fashion, one that's been even more prevalent in recent times. With increasing cross-category collaborations and the growing community culture surrounding IYKYK hotspots, emerging chefs and of course — TV shows like The Bear — food is starting to become even more important to us.
Aside from using "Yes, Chef!" in our Instagram captions and adding that Palace x McDonald's collab tee to our baskets, it means there's a rising number of local food spots starting to hit the top of our wish lists and visiting them is equally as important (if not more so) than copping the latest drop.
As a result, we've rounded up some of our favorite restaurants in London, from Dua Lipa's favorite Persian hotspot to the fashion crowd's canteen of choice (spoiler: it's Rochelle's) and a multitude of must-visit locals in between.
Scroll down for our full list of recommendations below.
Bistro Freddie
View this post on Instagram
Situated in Shoreditch, Bistro Freddie provides a taste of authentic French cuisine, offering only French wine pairings alongside cocktails and canapes. Serving up the best of British produce, the East London eatery prides itself on its seasonal starters and sharing platters of meat cooked over fire.
Berenjak
View this post on Instagram
Once described by global popstar Dua Lipa as one of her favorite places in London, Berenjak is a Persian hotspot with locations in London's Soho and Borough. Serving up a delightful array of home-inspired dishes, the restaurant aims to "evoke the style of a rustic hole-in-the-wall eatery from Tehran, and reinterpret signature dishes using seasonal British produce," according to its founder.
Chet's
View this post on Instagram
Brought to you by the same name that gave you Los Angeles' NIGHT+MARKET, Chet's is an LA-Thai fusion which sits inside the newly opened The Hoxton Hotel in Shepherd's Bush. Standout menu items include the Pineapple Rice (very much served inside an actual pineapple) alongside the Tingling Onion, the restaurant offers a full breakfast, lunch and dinner service for all occasions.
Cafe Cecilia
View this post on Instagram
Cafe Cecilia is a classic neighborhood restaurant located in Hackney, complete with gourmet plates, baked goods and a stylish interior. The seasonal menu offers breakfast and lunch dishes, served up alongside a picturesque view of the canal and a modern bistro feel.
Rochelle Canteen
View this post on Instagram
Rochelle Canteen is a cafe slash restaurant located at a former school bike shed, serving up a daily menu of seasonal produce and contemporary flavors. With a discreet entrance that leads to a blissful garden, the restaurant has quickly become a must-visit destination amongst fashionable foodies everywhere.
Dorian
View this post on Instagram
The recently opened Dorian is located in Notting Hill in the heart of West London. The cozy neighbourhood restaurant offers a special menu of fish and meat dishes, alongside perfectly paired wines and cocktails. Head chef Max Coen comes from the two Michelin Starred restaurant Kitchen Table, plus three Michelin Starred Frantzen in Stockholm.
Zephyr
View this post on Instagram
Newly opened in Notting Hill, Zephyr boasts "vibrant flavours inspired by the Greek Islands," in a truly Instagrammable setting. One of West London's most fashionable restaurants, the new locale has already played host to a tonne of fashion week dinners and parties, with its downstairs bar the perfect spot for an after-dinner drink.
Pahli Hill
View this post on Instagram
For an authentic taste of Indian cuisine, look no further. Situated in central London, Pahli Hill features on the MICHELIN Guide and aims to provide a contemporary take on traditional Indian dishes. Downstairs, the restaurant is home to a vintage-inspired cocktail bar named Bandra Bhai, featuring classic cocktails with the ingredients of India.
Gymkhana
View this post on Instagram
Inspired by "elite clubs of India," Gymkhana boasts traditional flavors with a twist and has held a Michelin Star since 2014. Located in London's Mayfair, the swanky restaurant serves seasonal dishes alongside a contemporary Indian menu, with retro-inspired decor.
The Tamil Prince
View this post on Instagram
Situated in Islington, The Tamil Prince offers a casual, small-plates dining experience in a pub-style setting, serving contemporary takes on classic South Indian cuisine. Known for its famed cocktails and cozy interior, it's the perfect place for Sunday lunches or celebratory dinners.
Rita's Dining
View this post on Instagram
A firm favorite amongst the fashion crowd, Rita's is located in central London in Soho, and boasts an intimate setting with "Modern American" dishes made with seasonal British produce. With an accompanying menu of natural wines and cocktails, the restaurant also boasts an East London outpost named Rita's Bodega which serves a delightful array of sandwiches.
Elliot's
View this post on Instagram
With two locations in Borough Market and Hackney, Elliot's is a must-visit for any foodie. Complete with a cozy, brick-lined interior, its Borough Market location boasts a seasonal menu with dishes cooked on a wood-fired grill, accompanied by a vibrant selection of biodynamic wines.
BRAT
View this post on Instagram
BRAT is a rustic Spanish-inspired restaurant with locations in Shoreditch and Climpson's Arch. Another MICHELIN Guide restaurant, BRAT is the first solo location from chef Tomos Parry, who celebrates Basque cuisine through a contemporary lens.
Gold
View this post on Instagram
Located in Notting Hill, Gold is the ultimate spot for celebration. Complete with a picturesque interior, the West London locale boasts a range of expertly curated European dishes with cocktails and wines to match. Complete with a bar and terrace plus a private dining room, the edgy neighbourhood restaurant is a genuine must-visit.
Strakers
View this post on Instagram
Similarly, you'll find Strakers situated across Notting Hill's Golborne Road, marking the first culinary experience from chef Thomas Straker after gaining popularity on TikTok during lockdown. Also featured on the MICHELIN Guide, the easy-breezy diner boasts a selection of Italian-inspired dishes with low-intervention wines.
Bistrotheque
View this post on Instagram
Located in East London, Bistrotheque is a converted warehouse-turned-restaurant with white walls and a modern European cuisine. Featuring seasonal dishes and a distinctive menu, flavors like pickled grape, candied squash and braised leek make multiple appearances. Downstairs, the restaurant comes alive with regular karaoke and dinner theatre.
Supermarket of Dreams
View this post on Instagram
A supermarket-turned-restaurant, Holland Park's aptly named Supermarket of Dreams dons a clean slate each evening as it gears up to set its kitchen island table for dinner service. Offering a rotating roster of guest chefs, the unique dining experience is a definite must-visit.
Top Cuvée
View this post on Instagram
Based in Islington, Top Cuvée serves up a selection of small plates and natural wines, with a vibrant interior complete with its signature neon orange hue. Alongside its North London restaurant, Top Cuvee also owns a shop and basement bar in Bethnal Green, offering a varied collection of wines and food below the glimmering light of a disco ball.
Kekaki
View this post on Instagram
Kekaki is a family-owned izakaya in Deptford, offering contemporary Japanese dishes through sharing plates. The relaxed, warm atmosphere plays host to a unique culinary experience, with standout dishes including the pandan waffles and chocolate spring rolls.
Rambutan
View this post on Instagram
Located in the heart of Borough Market is Rambutan, a Sri Lankan restaurant specializing in open-fire cooking and the taste of the diaspora. Serving traditional dishes like mutton chops, bone marrow rolls and pineapple curry, the restaurant fuses flavors of its heritage with contemporary twists.
---
Share this article