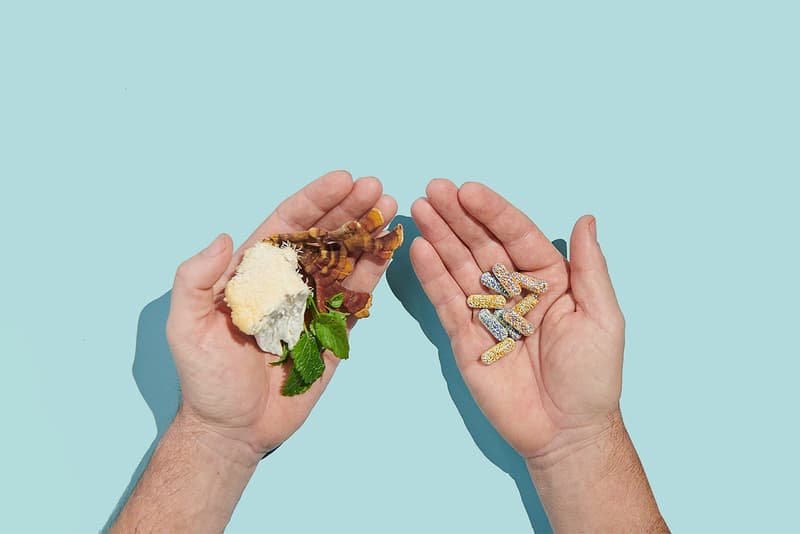 Health
Mushroom Supplements: Health Hero or Placebo?
Do functional mushrooms really work, or are they a wellness fad?
Mushroom Supplements: Health Hero or Placebo?
Do functional mushrooms really work, or are they a wellness fad?
From mushroom-print sneakers to fungi-shaped earrings, mushrooms have become a buzz-worthy plant and for good reason. Partly inspired by TikTok's forest-core community as well as a collective desire to be healthier since the pandemic, mushroom-based supplements have been on the rise, as the uniquely shaped plants boast a myriad of physical and mental health benefits.
The health benefits of medicinal mushrooms
Adopting holistic healing has become the antidote to our modern ailments, making medicinal mushrooms the perfect path to starting a wellness system. While many of us may use the savory plant as a pizza topping, functional mushrooms are teeming with health benefits as certain varieties of edible fungi can help aid anxiety, insomnia, increase productivity and boost cognitive health. Skincare brands have even included mushrooms in deeply nourishing products, as the super star ingredient also increases skin's radiance.
How to use mushroom supplements
With many mushroom-based supplements touting claims that have not been evaluated by the Food and Drug Administration, it's important to remember that reishi and ashwagandha cannot completely cure one's illnesses. A balanced diet, along with exercise and a close relationship with a trusted and inclusive physician can truly make the difference in your health journey. What makes functional mushrooms a crucial player in many wellness lovers' routines is their powerful effect on the mind and body.
Mushroom-based supplements to try
On a personal wellness journey, I've found Wylde One's mixes extremely beneficial. AAPI and women-owned, Wylde One was founded by Stephanie Park as a means to heal herself, inside and out. Burnt out from a stressful career in advertising and struggling with a years-long eating disorder, Park hit a breaking point and knew that her lifestyle needed a reset.
"I started making my own foods, focusing on nutrient-rich and plant-based ingredients, eventually discovering medicinal mushrooms and fell in love." For beginners, Park recommends starting slow and incorporating adaptogens into your routine, one at a time. She stresses that wellness is not one-size-fits-all, and should never come at the cost of your emotional and mental health.
Functional mushrooms' effects on one's mental health is huge as the founders of First Person, brothers Chris and Joe Claussen, can attest to their cognitive benefits. Watching their father struggle with dementia, the siblings were inspired to take their health into their own hands, using medicinal mushrooms to strengthen their brain health.
"After witnessing our father's health decline, my brother and I knew we needed to change our lifestyles. When we initially began researching ways to combat dementia, there wasn't much out there aside from doing crossword puzzles. Slowly, we began to venture into functional mushrooms and found that ingredients like lion's mane and chaga to be powerful brain boosters"
First Person is the only domestic producer of exclusively cultivated and full spectrum organic functional mushrooms, making their supplements uniquely posed to effectively target specific neurotransmitters. As someone who struggles with insomnia, First Person's Moonlight, a blend of kava, holly basil, l-theanine, passion flower and organic reishi put me to sleep, whereas melatonin and ZzzQuil never worked. These days, I find myself starting my mornings with Wylde One's Yoga in a Cup to ease my work anxiety.
While everyone's experience is different given the variety in our biochemical makeup, functional mushrooms are proving to be a powerful and effective health aid alongside a balanced diet. Plants have always provided humans with a wealth of health benefits, and mushrooms are no different.
Share this article