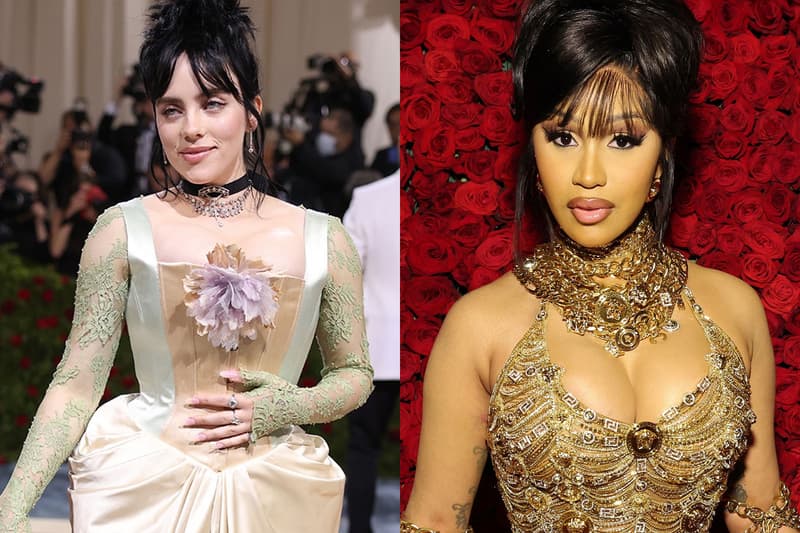 Entertainment
Billie Eilish and Cardi B's Met Gala Drama, Explained
"I hate the internet," said Cardi.
Billie Eilish and Cardi B's Met Gala Drama, Explained
"I hate the internet," said Cardi.
Fans were surprised to see Billie Eilish "not exactly feeling" Cardi B's performance at a Met Gala after-party in a viral video clip.
The footage, which was taken out of context, captures Eilish looking toward the stage on which Cardi is performing as she says, "That's so weird." The video quickly circulated online, making fans believe that there was drama between the two artists that night.
Cardi B took to social media to clear the air, sharing a screen capture of her DM exchange with the "bad guy" singer. She captioned the post: "I hate the internet cause one, how do y'all turn one of the most lit parties into drama? Two, 'ocean eyes' is the song I cater to my daughter. Three, Billie is my f-ckin baby. Yesterday, from the Met to the party, everything was drama-free. Why do y'all wanna turn everything into mess?"
In the clip, Eilish tells Cardi: "Oh my God, I was so worried you were gonna see that. I was f-cking calling the people around you weird because everyone was f-cking coming around shoving their phones into your ass!" She then says: "Just look at her with your eyes!" Cardi responded in her audio message: "The internet is trying to divide us. They don't understand that you're my baby!"
Watch the video clip down below.
I hate the internet cause one, how do y'all turn one of the most lit parties into drama? Two, Ocean eyes is the song I cater to my daughter. Three,Billie is my fuckin baby.Yesterday, from the met to the party, everything was drama free. Why do yallwanna turn everything into mess? pic.twitter.com/cyph1XbmE2

— Cardi B (@iamcardib) May 3, 2022
---
Share this article