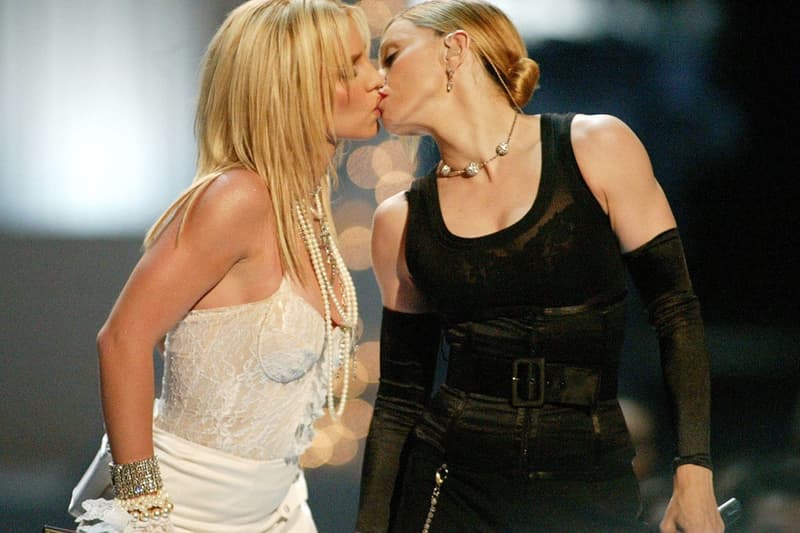 Culture
Britney Spears and Madonna Recreate Their Iconic MTV VMAs Kiss Nearly 2 Decades Later
Oops!.. They did it again.
Britney Spears and Madonna Recreate Their Iconic MTV VMAs Kiss Nearly 2 Decades Later
Oops!.. They did it again.
Britney Spears and Madonna sent fans into a frenzy when they recreated an unforgettable pop culture moment: their kiss from the 2003 MTV VMAs.
The pair reunited at Spears' wedding; Spears and now-husband Sam Asghari tied the knot on June 9 during an intimate ceremony that also included Selena Gomez, Drew Barrymore, Donatella Versace and Paris Hilton as guests.
Additionally, the group of ladies got together to perform a bit of Madonna's "Vogue." As seen in this video, they sang and danced in unison, "Don't just stand there, let's get to it/ Strike a pose, there's nothing to it."
Madonna recently teased the possibility of smooching Spears again. During an Instagram Live in January, the Queen of Pop revealed she wants to go on a stadium tour and "reenact the original kiss." She had also added that she's "not sure" if Spears would be for it. However, after the kiss went down in 2003, Spears admitted she would consider locking lips with Madonna again.
"I didn't know it was going to be that long and everything," the "Lucky" singer told CNN in 2003. "I've never kissed a woman before." When asked if she would do it again, Spears said, "No, I would not do it. Maybe with Madonna."
Check out side-by-side photos of Madonna and Spears kissing in 2003 and 2022 below.
View this post on Instagram
Share this article