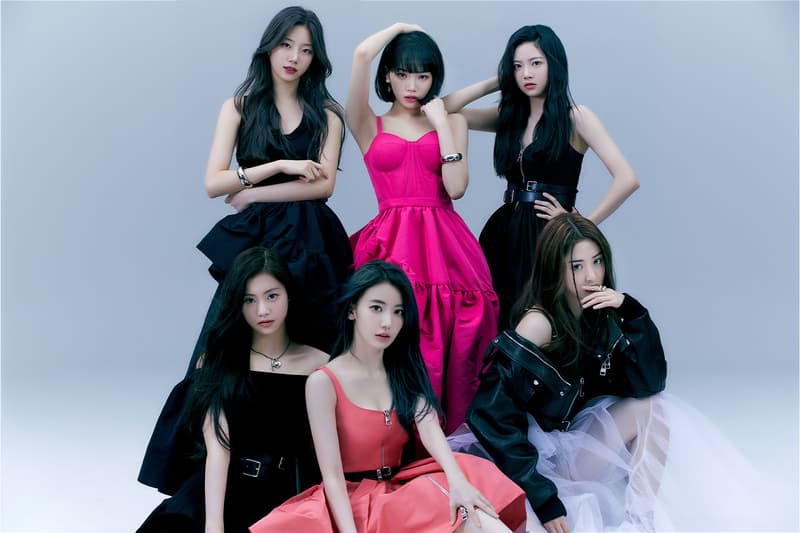 Music
LE SSERAFIM on Their Powerful, "FEARLESS" K-Pop Debut
Each member reflects on teamwork, what it means to be fearless and more.
LE SSERAFIM on Their Powerful, "FEARLESS" K-Pop Debut
Each member reflects on teamwork, what it means to be fearless and more.
What does it mean to be fearless? Perhaps it's doing what needs to be done, no dwindling around. Or bravely running after your dreams, against all odds. Some people might see it as a willingness to put yourself into thrilling, or even risky situations. Regardless of particular definitions, they all demand a measure of belief — in the world, in other people, in yourself — but, most importantly, of accepting the uncertain.
"It's impossible to actually be scared of nothing," says Yunjin, 20, a Korean-American trained opera singer and fiery performer. To her, being fearless means "to accept the parts of us that are scared, and show everything as honestly as we can." It's a theme that hits close to home lately. Less than a month before this Zoom call with Hypebae, she and her five bandmates were making their long-awaited debut as LE SSERAFIM, the first girl group under HYBE, South Korea's entertainment behemoth that is home to groups like BTS and SEVENTEEN. However, as soon as the teasers began to roll out, member Garam saw herself embroiled in bullying allegations — which ultimately led to her hiatus from the group.
The remaining active members — Sakura, Chaewon, Kazuha, Eunchae and Yunjin — had to brave the storm. But if there was any group primed to face this weather without breaking, it had to be them. LE SSERAFIM is an anagram for "I'm fearless," their conceptual centerpiece, and FEARLESS names both their smooth debut EP and title track, which were released on May 2. "Our album was made by holding interviews with the members and expressing our true selves, our bold selves, our confident selves," says the chic leader Chaewon, 21. "We want people to be more like that."
True to their aspirations, they adapted to the changes. LE SSERAFIM continued to promote in Korean music shows as eagerly as ever, winning four trophies and breaking records for highest first-day album sales for a girl group, and highest first-week sales of any girl group debut album, according to Korea's Hanteo Chart history. But this whirlwind of events hasn't even dawned on them yet. Eunchae, the youngest of the group at 15, exclaims a giggly "No!" when asked if they believe that the past month was real, and Chaewon recalls that "I can't forget the moment when the music video was first released, we were extremely excited. I think time passed so fast because we received so much love."
Stemming from diverse backgrounds, each member developed their own way to overcome adversities. Together, they found resilience. "We had to talk a lot about [our] differences, and that's why we became so close," says Chaewon. "All of our trainee periods were different. During that time, from start to finish, it was like a battle. Our biggest opponents were ourselves," adds Yunjin, who trained for over four years before debuting, including participation in Mnet's 2018 survival show Produce 48, where she was eliminated in the semi-finals. "After Produce 48, it was hard and things got lonely. But subconsciously I knew that I could never give up," she continues. "I have this belief that everything will work out if I just believe in myself, and it ended up leading me to LE SSERAFIM and finding the home that I've been looking for for a long time."
The thoughtful and serene Sakura, 24, says that she admires Yunjin's bright energy, and that she learned a lot from her "absolutely fierce" performance in "FEARLESS." Sakura and Chaewon also participated in Produce 48, although both of them made it to the final line-up of the resulting girl group IZ*ONE. But long before that, Sakura had been an idol in her homeland Japan since 2011 – where she was a member of groups HKT48 and AKB48. She previously mentioned that LE SSERAFIM will "likely be my last debut and my last group," which motivates her to do her best."At first she looks very cool, but we found out that she's extremely warm and cares about each and every one of us so much," says Chaewon, tapping Sakura's shoulder lightly. "She's attentive and observes us very carefully, that's what I love about her." Sakura agrees, making the others blush when she declares: "I really love our members, so I think that's why we got close quickly."
Also hailing from Japan is Kazuha, 19, a graceful ballerina with a deep voice, who trained at the Dutch National Ballet Academy in Amsterdam, the Bolshoi Academy in Moscow and the Royal Ballet School in London. "When I first saw her, I thought she was very shy and reserved," says Eunchae. "But she's full of surprises. She is a total goofball who can be very funny, [and] makes us all laugh a lot." Despite her impressive resume, Kazuha says that she always had reservations about pursuing ballet for the rest of her life. "I wanted to try different genres like K-pop and express myself in a variety of ways. I had the opportunity to become a member of LE SSERAFIM, so I took it," she says. She was a trainee for only three months, and while she says that basic skills are the same for both K-pop and ballet, "in K-pop there are a lot of close-up shots, so I thought that I should work more on my facial expressions."
That's when having Eunchae by her side comes in handy. "Eunchae is so cute and lovely," says Kazuha. "But when the camera is on she suddenly becomes completely charismatic. Her expressions and everything are so professional." Despite her young age, Eunchae says that she "always wanted to send out positive energy and do something that would help people." She's grateful to be a member of LE SSERAFIM — a task whose benefits she has fully embraced. "It was always my dream to debut as the youngest member, that way I could get lots of love from the other members," she says, prompting a round of laughter from the other members. "All of my dreams came true when I debuted in LE SSERAFIM."
And then there's Chaewon, who used to do "whatever other people told me to do and just took things as they came to me," as she mentioned in her interview with Weverse Magazine. Since joining LE SSERAFIM, she learned that something had changed inside her and stepped into leadership as if it was innate to her. "I always want to challenge myself," she says. "As a leader, I have this increased sense of responsibility. I want to lead the group to grow together, and I also want to be the kind that the other members can lean onto." According to Yunjin, Chaewon is "so fun to be around, but she also takes the reins when she has to. She's very charismatic and stuff, but when she's off stage, I feel like she gets five years younger. At times she's very serious, but then other times there's a switch and she becomes such a funny friend" — a statement that Chaewon approves by doing a V sign to the screen.
Their vivid personalities, motivations and budding friendships are reflected in the five-tracked FEARLESS — a sleek ode to self-knowledge and self-confidence, but most of all, to self-acceptance. "Showing who you really are actually takes a lot of courage. I have weaknesses and shortcomings too, but accepting [that] is being fearless," Sakura reflects. In the catwalk-ready intro "The World is My Oyster," they express their will to fight back at a world that tries to change them. In the glistening, bass-heavy "Blue Flame," which features lyrics co-written by Chaewon and Yunjin, they follow burning desires. "The Great Mermaid" is an electropop retelling of Hans Christian Andersen's fairy tale The Little Mermaid, this time giving Ariel full agency over her destiny. "I don't give a [sh-t]!/No love, no golden prince/I don't need such twisted love story," they boldly sing.
It's not their only song to feature an expletive — a rare feature for girl groups, especially rookie ones — "FEARLESS" features the line "I'm fearless a new [b-tch]/new crazy climbing up, next one." Kazuha says that she likes how "those words act like an accent to the song. We don't really use [them] in our day-to-day life, but it was an interesting experience to express the emotions of the songs through those words."
The only song that showcases their soft, vulnerable side is the closing ballad "Sour Grapes," which Chaewon says highlights their vocal colors. "The lyrics are very cute, young, and fresh, so it represents who we are as a group," she adds. It links back to the last frame of the music video for "FEARLESS," where the question "Do you think I'm fragile?" pops up, daring the viewer to think twice. Yes, LE SSERAFIM is fearless and driven, riding convertibles and dancing in leather and sequins, but most of them are just entering their twenties. There's no need to pretend they know it all.
"The fact that we make honest music is a great aspect of what we do," says Yunjin. "We just debuted, so it's hard to say 'this is our biggest asset,' but I do think it's a powerful addition to what we do. It's very special to us." As LE SSERAFIM's first month has proven, being fragile is not contradictory to being fearless. It is precisely what allows them the flexibility to weather setbacks, fierceness to make a lasting impression, and freedom to grow wherever their dreams may lead.
---
Tássia Assis is a freelance writer covering culture and music, with a focus on K-pop. You can read more of her work here or follow her on Twitter.
Share this article