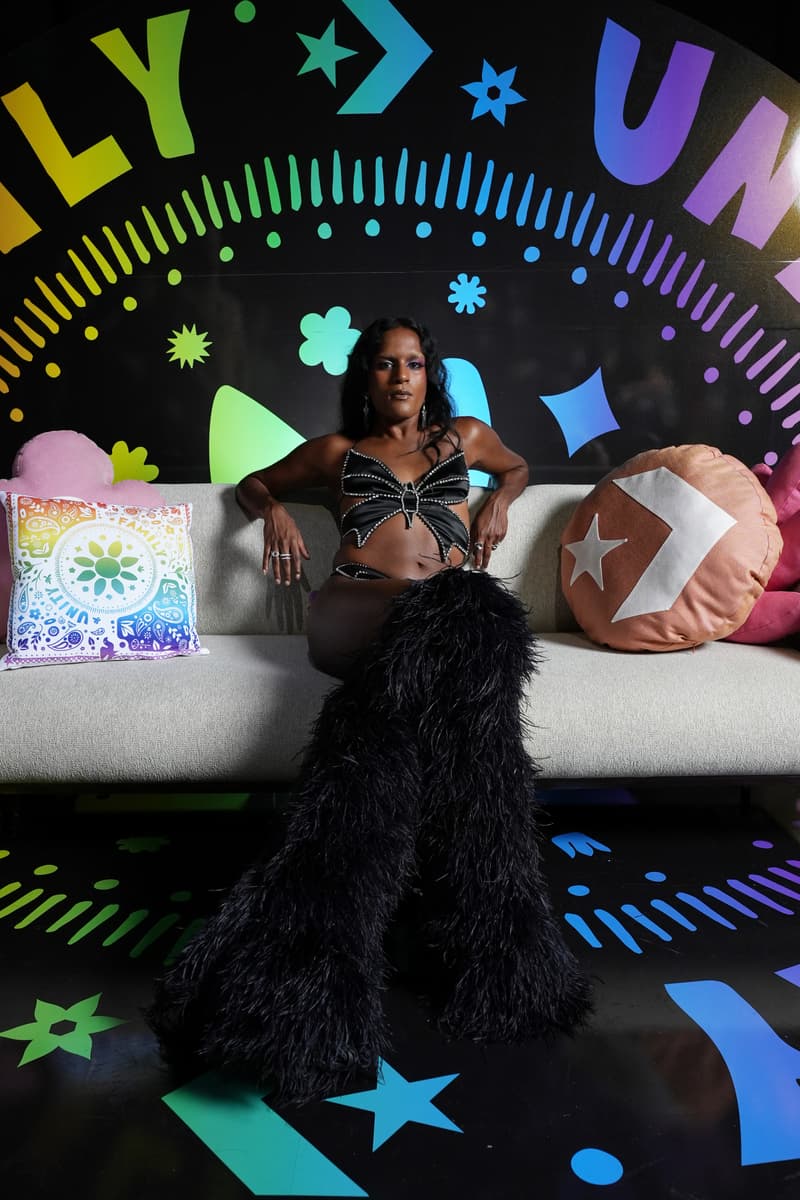 Model Richie Shazam Makes Her Directorial Debut With New Documentary
Produced in partnership with Converse.
Film & TV
Model Richie Shazam Makes Her Directorial Debut With New Documentary
Produced in partnership with Converse.
Non-binary femme model Richie Shazam makes her mark as a director with the premiere of her documentary Savitree, produced in partnership with Converse and creative directed by partner Ben Draghi. Nodding to the brand's Pride campaign, the film is a celebration of found family — the kindred spirits LGBTQ+ folks often meet along the way in their journey of self discovery.
Debuting at the Tribeca Film Festival, Shazam reveals that her gender dysphoria was the source of her feelings of disembodiment and lack of body confidence. Finding decades-long friend Julia Fox at 18 gave her the courage and sense of sisterhood she needed to come into her own.
Richie Shazam spoke to Hypebae, discussing the inspiration and creative process behind debut film Savitree. Watch the trailer for the short film here and continue scrolling to read the full interview.
Can you speak to the importance of building a chosen family, especially as it relates to affirming your identity as a member of the LGBTQ+ community?
For the LGBTQ+ community especially, your found family becomes an integral part of your identity, how you express yourself, and experience true freedom, self and love. These are the people that you find on the journey to finding and loving yourself. They show you that being loved as you are and having a family as you are, is possible. It's important to surround yourself with like-minded people who you know will ground you and have your back and that is what I have done with my family.
Growing up in a culture that is sometimes inhospitable to queer identities, how did you navigate merging those seemingly conflicting parts of yourself?
For me, this process is still a work-in-progress. While working on Savitree with Converse, I did a lot of self-reflecting and soul-searching, as I still work to find ways to love the younger me. In the film, you can see there are days where I'm at home in my own skin and others where I still feel disconnected – but, every day, I know I have my found family there to support me on my journey. Because of them, I now have the strength to look back and wish I could give my younger self a hug, and tell them that everything will be alright and, one day soon, you'll find where you belong, you'll find your sisters, and you'll find yourself.
As a queer, Guyanese person, could you discuss the importance of being a public figure and demonstrating what is possible for your community? Were there mentors or other figures that helped you see it does get better as you were growing up?
I've always felt such strong pride in my Guyanese heritage, as it's the framework in which I grew up. I find it necessary to rewrite a lot of the ways in which I grew up and what is deemed acceptable. I think it's important for people within my community to see the endless possibilities that we are able to achieve and what we can push for. It's something that I will always do and will continue to make space for others to do the same.
Could you take us into your creative process as a first time director and share your inspirations behind the film?
The film was inspired by my journey from being part of my mother, Savitree, to finding a new family – my found family. I always had strong, femme mentors and those people helped to shape me into the person I am today, and inspired me to share the story of how I come to a place of love, acceptance, care and support. My mom was one of my biggest supporters and this film is dedicated to her and the vision she had for me.
My creative process involved a lot of self-reflecting, and digging into my past and my experiences in ways that I hadn't before. I couldn't do any of this without my partner, Ben, who was crucial in the creation of this film and all my work. He is my true partner, serving as the creative director for this film and helping me in all elements of it from writing, to directing and even scoring the film. Really, my whole family played a part in the film. My best friend Briana served as the stylist and plays a role in the film, while my other best friend Cara was the producer.
Could you elaborate on the importance of joy and art as an act of resistance, especially in a time where laws that seek to stamp out the queer community are becoming more rampant?
It's a hard time, filled with intense pressure and scrutiny but we have to celebrate and find joy. We have to remember what this month especially is built on – a riot and crisis. In these moments and when everything around you feels like it could be falling apart, it's more important than ever to celebrate the individuals that are the reason why I'm here today.
What advice would you give to young LGBTQ+ folks who may feel stifled or unsafe in their present community?
I would encourage young LGBTQ+ folks everywhere to push through the barriers, knock down the walls that others are putting up — fight to achieve your hopes and dreams and find your family. There is someone out there that can be your support system. Someone who is on a similar journey to you, understands you and is able to be your guiding light through a hard time. It is so important to find that person or group of people who can unconditionally support each other and I know that there is someone out there for everyone.
Share this article