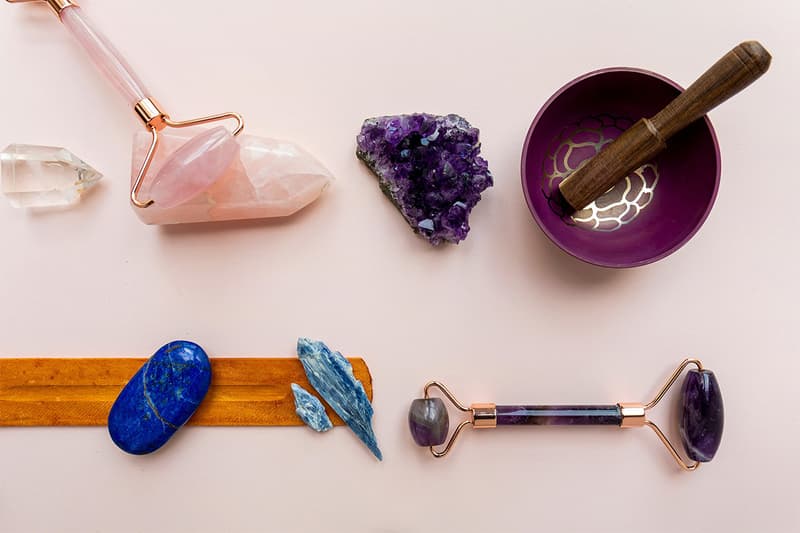 Culture
Your Guide on How To Use Crystals for Spiritual Growth
From amethyst for mental clarity to clear quartz for stability.
Your Guide on How To Use Crystals for Spiritual Growth
From amethyst for mental clarity to clear quartz for stability.
Whether you're new to the world of spirituality, an expert in aligning your chakras or simply a fan of Steven Universe, you're probably aware of crystals. As precious gifts from the Earth, the inclusion of crystals in healing practices, as well as magical rituals, goes back to the dawn of time. While it's important to do your own research, their potent properties are clear given the basic science of energy. More than mere sparkly rocks, stones from yellow topaz to clear quartz are charged with the planet's frequencies and are tangible connections to nature's power. 
Primarily used to align and create balance between the spiritual and physical self, many believe crystals to be wonderful tools in lessening symptoms of anxiety and stress. Some rely on their natural gems to help them stay focused and calm during meditation, while others implement stones like black onyx for manifestation work or moonstone for decor. Personally, I love to keep my amethyst in the window during a new or full moon to charge, infusing my home with my intentions. Whatever your goal may be, crystals are a great addition to a spiritual practice. 
Continue reading for a guide on the meaning behind crystals. 
Amethyst
The beautiful purple stone is famous for strengthening intuition, assisting in a journey of self-discovery and growth. Amethysts possess the power to clear the mind of the ego's delusions, offering much needed mental clarity. Best for relieving your worries after a long day's work, amethyst will find a welcome place underneath your pillow or by your bedside. 
Black Tourmaline 
Consider black tourmaline as your personal energetic body guard as the deep stone is known for its powers of psychic protection and grounding. If there are a few draining folks in your life, black tourmaline is an expert on repelling energy vampires and restoring a sense of peace and serenity. Black tourmaline is great as a necklace or piece of jewelry, granting you with 24/7 karming support. 
Labradorite
Fans of Harry Potter will immediately recognize this smooth and round crystal as "the sorcerer's stone." Labradorite is notorious for helping to increase your focus, attention and motivation, so consider this stone the perfect study buddy. Keep it by your desk at work or in your pocket during a stressful exam or interview. 
Rose Quartz
Ruling all things love, rose quartz is your go-to crystal for matters of the heart. Overflowing with unconditional love, the pink hued gem is the ideal companion if you're on a journey of self-love. Opening up your heart, rose quartz allows you to be vulnerable and heal your emotions, as well as unresolved trauma. The romantic stone can also help in manifesting relationships, whether that be with your inner child, friend or future partner. 
Clear Quartz
The transparent sibling to rose quartz, clear quartz is best suited for aiding with mental concentration and emotional stability. Clear quartz is also commonly used to cleanse and reset other crystals, so consider it an altar staple.
Share this article