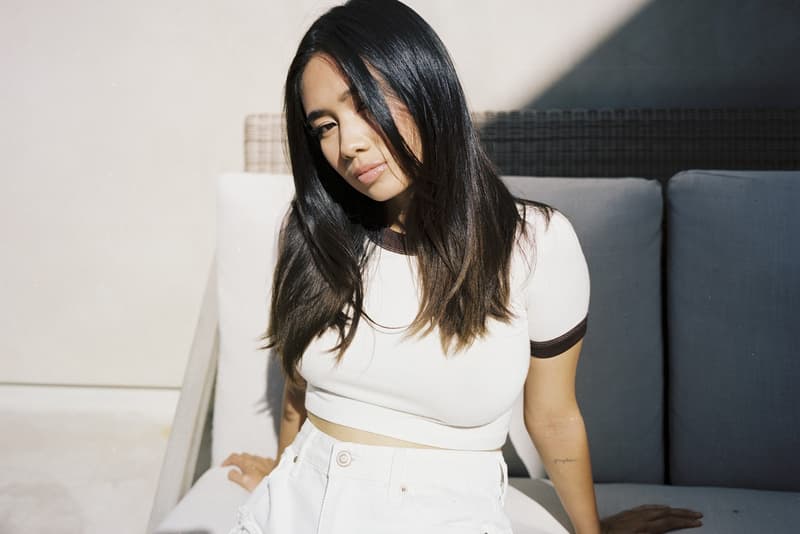 Music
INTERVIEW: NIKI's Album 'Nicole' Serves as a Formula on How To Change Your Past's Narrative
The 88rising artist's sophomore LP is a love letter to her younger self.
INTERVIEW: NIKI's Album 'Nicole' Serves as a Formula on How To Change Your Past's Narrative
The 88rising artist's sophomore LP is a love letter to her younger self.
Revisiting your past isn't always easy, but NIKI graciously found a way to do that with her latest album, Nicole. As a result, she's changed the narrative by honoring her teen self. The journey of creating a nostalgic album has led her to become more fulfilled than ever before.
Like some of the best things in life, Nicole, which dropped on August 12, came unexpectedly. In fact, it all started when NIKI had an itch to create something after Taylor Swift dropped the 10-minute version of "All Too Well" — one of the tracks the pop star rerecorded as a way to take ownership of her music. That inspired NIKI to take a look at her past and take ownership in her own way.
"I was enticed by this idea of reimagining and reproducing old songs as it stirred this curiosity toward a new feeling of both unfamiliarity and nostalgia, I suppose," the 23-year-old exclusively tells Hypebae on how her second studio album came about. "So I asked my manager for a studio day, didn't really tell them what it was for. I brought only my acoustic guitar, pressed record and went home that night with seven or eight barebones-acoustic demos of what I call the old High School Cuts."
That sort of spontaneity began to help her heal and create the music she was truly passionate about. "Prior to that day, I had zero intention of creating Nicole — it wasn't a thought that crossed my mind. After that night, I felt so genuinely 'woken up' creatively that I just couldn't put the idea to bed. So over the next few weeks, I started producing around these single-vocal demos, started tossing them over to co-producers to finish and eight months later, here we are with a whole entire sophomore album that I deeply love and root for."
Nicole is made up of 12 folk-pop tracks, which can be considered confessionals. Each song is vulnerable and tells a personal story. Though she doesn't have a favorite track, especially because she wrote and produced them all, there are two particular songs she has a soft spot for. "I am particularly proud of the writing on 'The Apartment We Won't Share,' and I find myself passively putting on 'Backburner' in the shower, so, there's that," she says.
Evidently, NIKI was very intentional with naming her sophomore LP. "I chose to call it Nicole because it is my given name, the name I went by before I was ever NIKI and a sweet nod to my younger self who penned these through a difficult, arduous coming-of-age and got me to where I am today," she explains.
Without realizing it at the time, her debut album, Moonchild, paved the way for Nicole — both the album and the person. "I think Moonchild was still me trying to find/evolve my sound and identity. I was definitely still exploring, and it felt safer to do it through a project that felt very figurative and conceptual and less personal," she says. "It's almost more daunting to me, to lean into something that is totally honest and vulnerable. I think Nicole needed Moonchild to precede it. I needed to learn everything I learned through making Moonchild in order for Nicole to find its way — or perhaps even find its way back — into my universe the way that it did."
While creating Nicole has been very fundamental to the Indonesian singer, she also hopes it can benefit her fans in their personal lives. "I hope this album encourages people to bask in nostalgia and maturity all at once," she says. "Embrace that every step and misstep gets us to exactly where we need to be."
Listen to Nicole by NIKI below.
---
Share this article