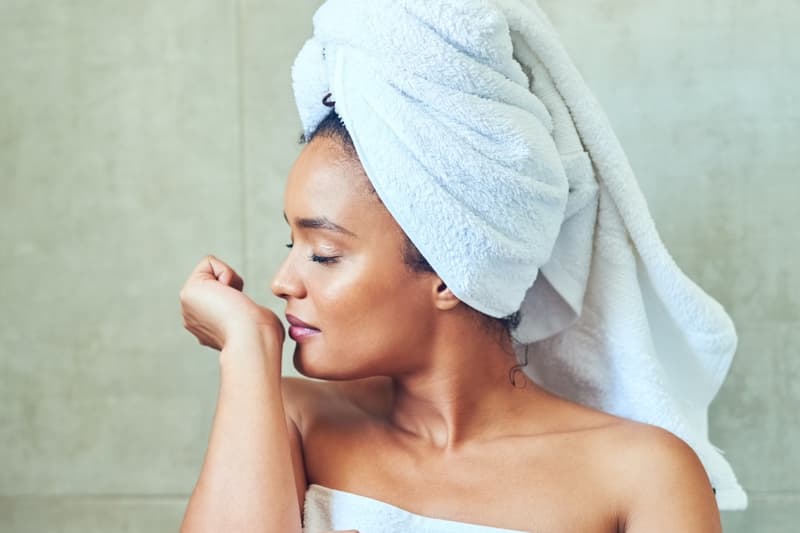 Culture
The Risks You Should Know About the TikTok Vagina Dabbing Trend, Vabbing
AKA using your vaginal discharge as perfume to attract male gaze.
The Risks You Should Know About the TikTok Vagina Dabbing Trend, Vabbing
AKA using your vaginal discharge as perfume to attract male gaze.
If you're actively on TikTok, then chances are you might have heard about vabbing, which is a cross of the words "vagina" and "dabbing" because, well, that's basically what it means. Vabbing is the act of taking the discharge from your vagina and dabbing it on your pulse points, such as behind your ears and wrists, to attract a suitor.
With vabbing gone viral, it has sparked lots of conversations, some among doctors, who are claiming vabbing can be dangerous if not done safely. Not being hygienic when vabbing could lead to serious issues, such as infertility, according to Dr. Paraskevi Dimitriadi, a private gynecologist, who spoke to The Daily Mail.
Dr. Dimitriadi said, "If you use dirty fingers inside your vagina to collect discharge, you can not only potentially traumatize the tissue in your vagina and but also spread infection, potentially causing something as serious as a pelvic inflammatory disease. Dirty fingers could also cause bacterial vaginosis or thrush. If you have bacterial vaginosis or thrush your discharge can be malodorous and will not help you attract a partner."
Despite many partaking in vabbing, it's important to note that it's simply a fun trend some are using to help boost their confidence. "We all have pheromone receptors that help us attract our sexual partners; however, this practice of vabbing is completely medically unnecessary," added Dr. Dimitriadi. "We secrete the same pheromones throughout the glands of our body. We have pheromones in our sweat. We also secrete pheromones through urine and we don't put that on our bodies. There is absolutely no need to use your vaginal discharge on other parts of your body to attract a partner."
Check out more on how to safely partake in vabbing in the TikTok video below.
---
Share this article