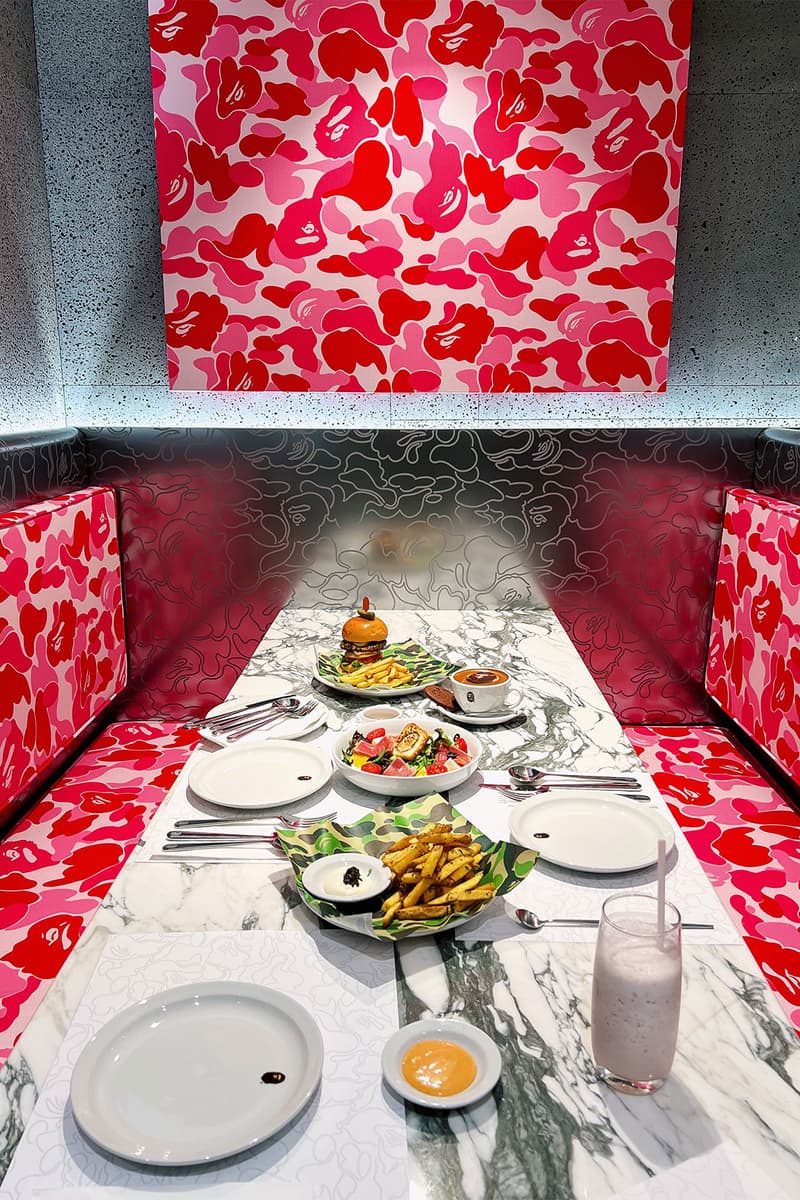 BAPE Opens an Instagram-Worthy Café in Hong Kong
Take a look inside the space covered in the brand's signature camo print.
Culture
BAPE Opens an Instagram-Worthy Café in Hong Kong
Take a look inside the space covered in the brand's signature camo print.
Hong Kong has finally eased its COVID-19 restrictions after three long years, allowing travelers from around the world to rediscover the city's charm and explore new attractions. One of Hong Kong's recent updates includes A BATHING APE's trendy eponymous café situated in Harbour City, where the label has also set up its newest retail store.
Visitors can find the BAPE CAFE!? within the 2,780-square-foot space — a shop within a shop, if you will — featuring interior details similar to the brand's locations in Kuala Lumpur and Shanghai. Upon entering the vicinity, you'll be greeted with silver-gray marble countertops and minimalistic BAPE Modernica Fiber Shell Chairs decked with the signature camo print in military green. Further into the back of the café are three huge booths with ABC camouflage sofas, which are each dressed in pink, blue and green camo print.
Of course, food and drinks are the main attraction at this joint, which is why we paid BAPE CAFE!? a visit to try out some of its note-worthy offerings. Read on for our honest review in the latest installment of our Hypebae Brunch series.
THIS PLACE IS PERFECT FOR: Famished streetwear fanatics looking for a cozy pitstop to recharge. If you're a loyal BAPE fan, this is the perfect spot to hang out before or after a cheeky shopping spree at the label's store.
WHAT YOU SHOULD ORDER: We started off light with the Seared Tuna Nicoise Salad ($119 HKD, approximately $15 USD) topped with tomatoes, a sliced hard-boiled egg, olives and a refreshing dressing. While waiting for our mains, we also ordered a side of Crispy Golden Truffle Fries ($69 HKD, approximately $9 USD) to satisfy our cravings.
The main dishes recommended to us were the BAPE Burger ($159 HKD, approximately $20 USD) and the BBQ Peking Duck Pizza ($169 HKD, approximately $22 USD). The burger was cooked to perfection and had a generous amount of sauce and cheese. As for the pizza, it featured a harmonious blend of sweet and salty notes thanks to the Peking duck, cheese and tomato base.
For dessert, we went for the BAPE Hazelnut Chocolate Cake ($79 HKD, approximately $10 USD). The base arrived in the form of an oval-shaped spongecake coated in dark chocolate and crushed hazelnuts. For added texture, a serving of cream is pipped on top of the coated cake and finished off with a BAPE-shaped piece of chocolate.
OUR FAVORITE DRINK: You can never go wrong with a classic flat white. What we loved particularly about this cup of coffee was the BAPE logo decorated right on top — an Instagram-worthy finishing touch. However, if you're looking for something else to pair your meal with, the beverage menu offers a variety of tea lattes, shakes, tea, homemade sodas, juices and soft drinks.
BAPE CAFE!?® Hong Kong
Shop G301, G/F, Gateway Arcade
Harbour City, Tsim Sha Tsui
---
Pauline De Leon is a Hong Kong-born Filipino freelance writer currently based in Melbourne. She covers all things music, beauty, travel, culture and food. Check out her work here or follow her on Instagram.
Share this article