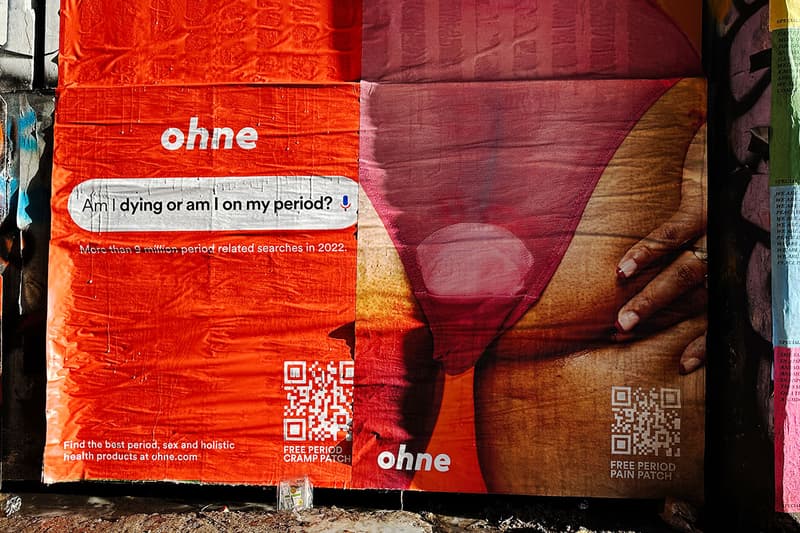 Sex & Dating
ohne's New Campaign Is All About Your Sexual Health Searches
The period care brand is here to help.
ohne's New Campaign Is All About Your Sexual Health Searches
The period care brand is here to help.
Period care brand, ohne, just launched an all-new campaign entirely based on Google keyword research. Looking at over 19 million searches in 2022, each including words like "periods," "orgasms" or "thrush," the brand noticed a serious lack of education surrounding women's bodies and sexual health.
According to research carried out by YouGov and ohne, only 3% of people in the U.K. are able to recall learning about gynaecological issues like endometriosis at school, with 26% of those aged 16 and over stating that they weren't taught about sexual or reproductive health at school. The brand's research also revealed that 50% of over 55's stated that they weren't taught about sexual or reproductive health at school either.
Hoping to encourage open and honest conversations around the gender health gap, the brand's biggest campaign yet features large-scale posters with some of the most common searches written across them. Search terms like "Am I dying or am I on my period?" "Why can't I orgasm?" and "Itch or thrush?" feature across the posters, with each one complete with a scannable QR code which guides users to the answers on ohne's website.
What's more, users will be directed to a free gift with purchase should they scan the QR code, with items relating directly to the symptom mentioned on the poster, including lube, probiotics or period pain healing patches. To offer further support, ohne has since purchased 144 google search terms pertaining to sexual health, which means that those searching will be directed to the dedicated landing pages tackling each symptom.
"There are literally billions of searches from people questioning their bodies -  in fact, over 70% of Google search queries that start with the words 'is it normal' pertain to the female experience, said ohne co-founders Leah Remfry-Peploe and Nikki Michelsen in a press release.
They continued, "As a team of ten women, we wanted to highlight that the mainstream support, products and education available to us is quite simply not good enough. We want people to know that they're not alone in their searches, and instead of sending them down a rabbit hole, welcome them into our community."
Take a look at the campaign above, and head to ohne's website for more information.
In other sex and dating news, here's how to talk about kinks with a new partner.
---
Share this article