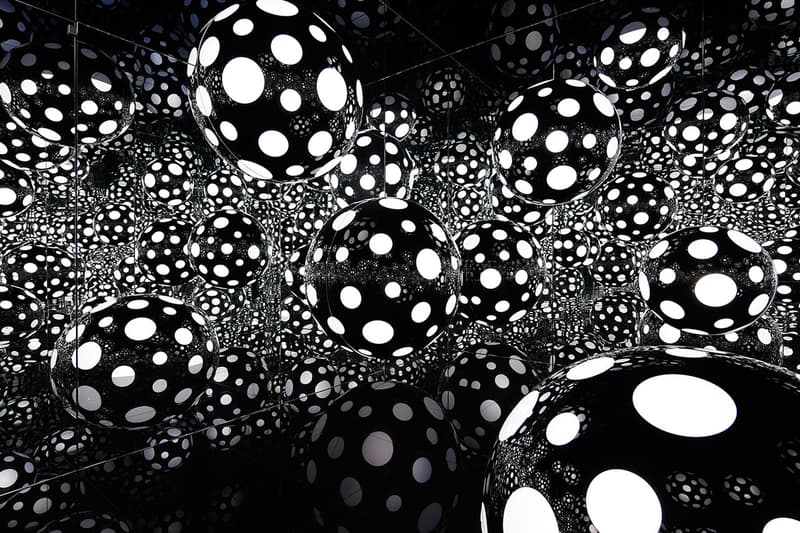 Art & Design
A New Yayoi Kusama Exhibition Has Landed at Hong Kong's M+ Museum
Here's what you need to know.
A New Yayoi Kusama Exhibition Has Landed at Hong Kong's M+ Museum
Here's what you need to know.
Hong Kong's M+ Museum is celebrating its one-year anniversary in the best possible way: with an extensive exhibition surrounding the life and works of artist Yayoi Kusama.
Titled Yayoi Kusama: 1945 to Now, the unique retrospective marks the largest exhibit of the artist's work in Asia, excluding Japan. The collection of pieces seeks to honor Kusama's avant-garde vision and unique ways of working, whilst showcasing her signature styles and the philosophies behind them. Comprised of over 200 works of art, the exhibition will feature a series of paintings, sculptures, drawings and installations alongside archival material and behind-the-scenes sketches.
Beginning from her earliest drawings, made when Kusama was just a teenager during WW1, the exhibit will take visitors on a journey throughout the decades, leading up to the artist's more contemporary and immersive pieces from her more contemporary periods. Designed to be experienced in chronological order, 1945 to Now features six distinct themes, dubbed Infinity, Accumulation, Radical Connectivity, Biocosmic​, Death, and Force of Life.
Yayoi Kusama: 1945 to Now is now open to the public until May 14, 2023. Head to the MPlus website for tickets and further info.
M+ Museum
West Gallery, The Studio, Main Hall, Lightwell, Found Space
West Kowloon Cultural District
38 Museum Drive
Kowloon, Hong Kong
---
Share this article