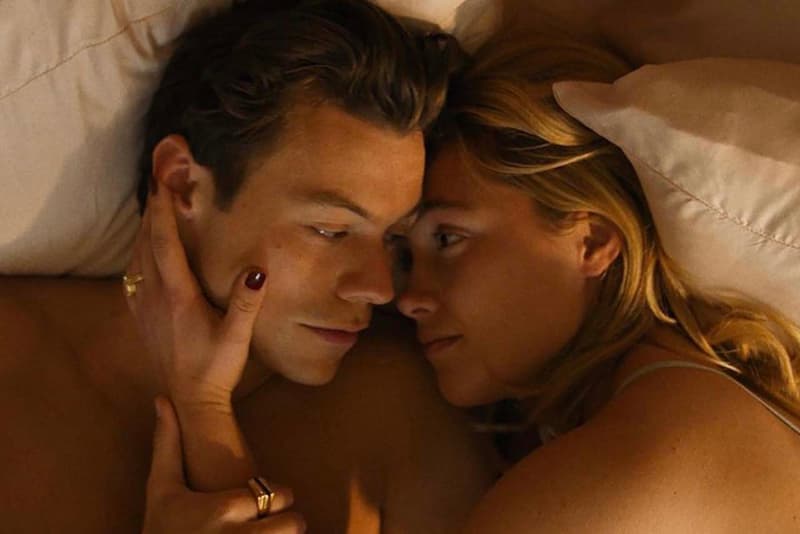 Sex & Dating
Unveiling the Future of Sex in TV and Film
An expert discusses the art of onscreen sex.
Unveiling the Future of Sex in TV and Film
An expert discusses the art of onscreen sex.
In a world where consent is barely taught, the presence of intimacy coordinators was never considered. Thankfully, just as 2022 came to an end, intimacy coordinators, along with a tone of sex-positivity have become essential to the creative process, and a trend in the TV and film industry. With shows like House of the Dragons and Sex/Life keeping things hot and heavy, it's clear sex scenes are becoming more creative and steamy, as a new trend, the presence of intimacy coordinators, keeps the industry safe.
Intimacy coordinators were introduced to TV and film after the rise of the #MeToo movement, which notoriously came after filmmaker and predator, Harvey Weinstein was accused and later found guilty of numerous sex crimes in relation to his film studio, Miramax. The movement acted as a catalyst for necessary changes regarding consent on set. Soon, HBO made history as the first network to require intimacy coordinators for all intimate and sexual scenes. Micaela Coel, in her 2021 BAFTA TV Award acceptance speech thanked Ita O'Brien, the intimacy coordinator on the set of her HBO film I May Destroy You. "Thank you for your existence in our industry, for making the space safe, for creating physical, emotional, and professional boundaries so that we can make work about exploitation, loss of respect, about abuse of power without being exploited or abused in the process," she said.
For those unfamiliar, intimacy coordinators pioneer safe sex on set. Considering sex education failed us on the concepts of consent and pleasure, the need for the profession is undeniable. To create safe environments on set, they first review the script and extract all moments of intimacy — which can differ from person to person depending on their personal beliefs. Then, the coordinator reviews the ins and outs of each scene with each character. This consists of disclosing boundaries, their interpretation of the scene and what they need for safety. They also provide props that allow closeness, without crossing boundaries.
Season 2 of HBO's Euphoria also tapped intimacy coordinators as it included a f-ck ton of nude and intimate scenes with Cassie, (played by Sydney Sweeney). As she told ELLE Australia, "It's important to always have an intimacy coordinator even if it's not a sex scene and it's making out or something like that. It adds another level of comfort… It's a very safe and incredible environment to do such scenes in and having the intimacy coordinator adds another level of 'I feel okay, I feel safe and this is for my character.'" She later reported the experience boosted her body confidence.
As you read that you're probably wondering — "Well, WTF did we do before intimacy coordinators?" And unfortunately, there was minimal regulation. So much so, that actors Olivia Hussey and Leonard Whiting, the stars of the 1968 Romeo and Juliet filed a lawsuit against Paramount Pictures for sexual exploitation and child abuse due to being forced to film a nude scene of them — as minors.
However, while intimacy coordinators are now welcomed by most, there's still a lot of work to do. For example, the sexual tension between Euphoria's underage character Maddie Perez (played by Alexa Demie) and Samantha (played by Minka Kelly), the wealthy mother she babysat for in Season 2. According to Kelly, there was a nude scene written, which Kelly revealed she pushed back on. Mike White, the producer of HBO Max's hit series, White Lotus, teased an incestual relationship between a nephew and uncle which he later explained away: "I want to make gay sex transgressive again."
Another HBO series, House of the Dragons did not skimp out on incest as a theme and even followed the relationship trajectory amongst two related characters Rhaenyra and Daemon. Ironically, viewers praised both moments, citing how steamy the scenes were. As discussed earlier, although the rise of intimacy coordinators is a plus, it doesn't seem to change the presence of questionable dialogue. However, it does empower actors like Kelly to share what they're comfortable with.
As intimacy coordinators and sex positivity become more common, it seems actors are thankful, but viewers aren't. To my surprise as a sex and dating editor, I've read dozens of threads rejecting sex scenes. One Twitter user shared that many opinions against sex scenes in TV and film reflect Puritan culture, in their opinion, and ultimately give Republican. Another rebutted with a claim that sex scenes are notoriously "exploitative to women in film." But as another user chimed in "this is a great argument FOR intimacy directors," and not an argument against them. It's important to note that as the world is perceived to become more sex-positive, the backlash against safe and inclusive sex — especially where women are experiencing pleasure — intensifies.
It's undeniable that sex within TV and film has progressed light years from the industry's exploitative ways. Instead of solely following a sex sells approach, the media has taken it upon itself to create more ethical work. With that being said, intimacy coordinators are absolutely needed within the film and TV industry, especially with the normalization of boundary-pushing scenes in series like House of the Dragons and Euphoria. Unfortunately, the trend of safety onset was triggered by such predatory instances within the industry, but seeing as HBO pioneered the intimacy coordinator trend while also creating the most highly-acclaimed and boundary-pushing series', we can only assume they've gotten the drop first and the trend is here to stay.
---
Share this article