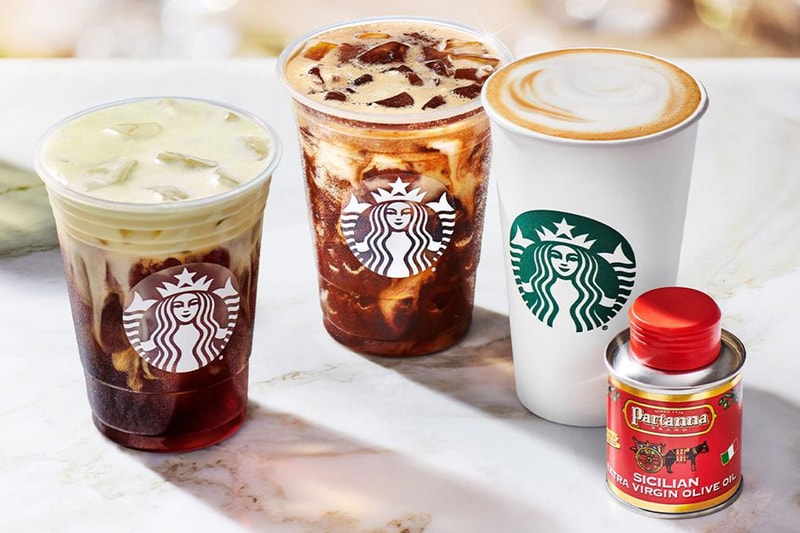 Culture
UPDATE: Starbucks' New Olive Oil-Infused Coffee Drinks Have Landed
Made with olive oil steamed with oat milk.
UPDATE: Starbucks' New Olive Oil-Infused Coffee Drinks Have Landed
Made with olive oil steamed with oat milk.
Starbucks just announced the launch of its all-new olive oil-infused drinks line and we must admit, we have some reservations.
The new line was set to launch first in Italy, somewhere that the brand has previously struggled to target due to its famous independent and family-run cafes and coffee culture, and now expands into the UK. Dubbed the "Oleato" range, the new selection includes an iced shaken espresso and a latte, complete with olive oil that's been steamed with oat milk. Also due to launch within the range is a cold brew coffee, featuring a "silky infusion of Partanna extra virgin oil with vanilla sweet cream foam… slowly cascades through the beverage."
According to the brand's Chief Executive, Howard Schultz, the addition of olive oil and its "unexpected, velvety, buttery flavor," enhances the coffee and "lingers beautifully on the palate." Alongside its flavor, olive oil has long been known for its anti-inflammatory properties and vitamin and mineral content, alongside polyphenols — micronutrients that are derived from plants.
Speaking about the new UK launch, Alex Rayner, General Manager at Starbucks UK, added "We are very excited to bring Starbucks Oleato to the UK for the first time, introducing a new coffee ritual to the capital's coffee lovers. Whether you enjoy Oleato hot or cold, the alchemy of coffee and olive oil yields a rich texture that pairs the buttery, round flavours of the olive oil with the soft, chocolatey notes of the coffee – it's unique."
The new range includes the Oleato Golden Foam Cold Brew, Starbucks Oleato Iced Shaken Espresso and Starbucks Oleato Caffè Latte.
The new "Oleato" range is now available in select stores in Italy, including its Milan roastery, and in the U.K. from May 4.
---
Share this article