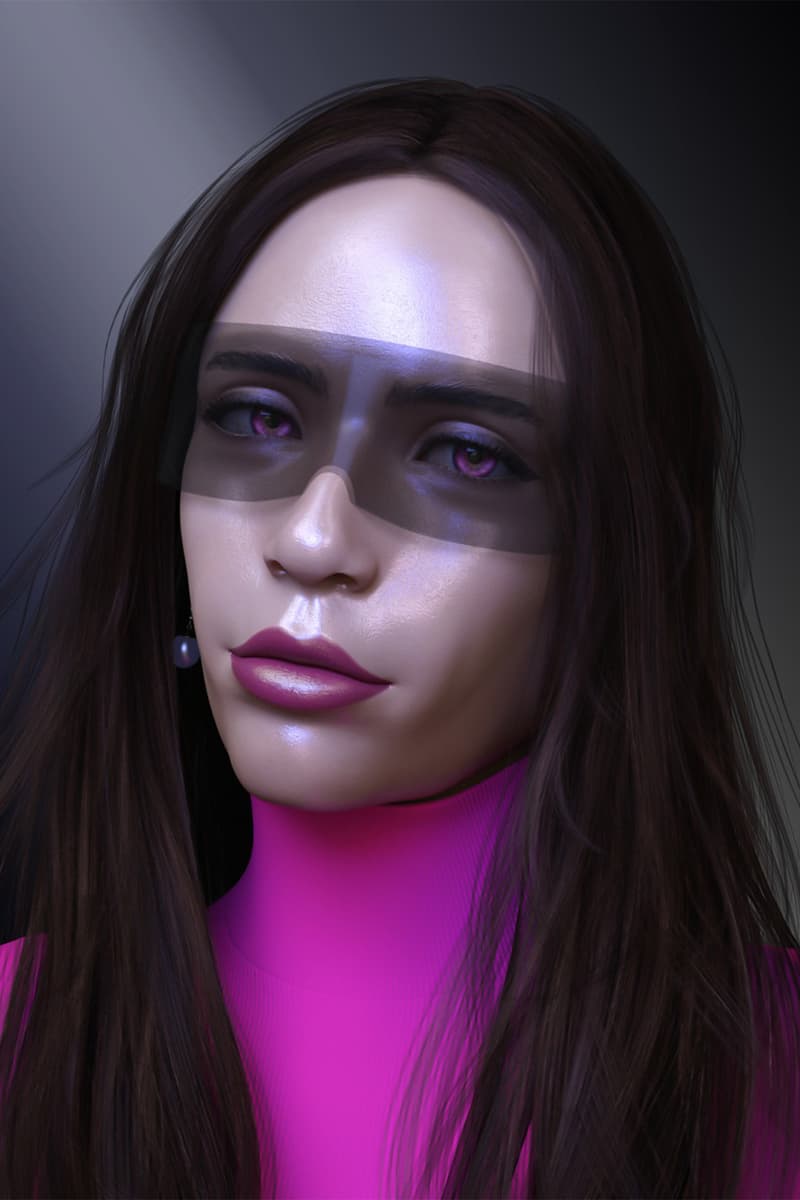 Beyond the Interface: Zaiba Jabbar, Founder of HERVISIONS, Talks Femme-Focused Futures
The creative walks Hypebae through her creative journey and how HERVISIONS is transforming contemporary visual culture.
Art & Design
Beyond the Interface: Zaiba Jabbar, Founder of HERVISIONS, Talks Femme-Focused Futures
The creative walks Hypebae through her creative journey and how HERVISIONS is transforming contemporary visual culture.
Beyond the Interface is a fashion-tech series that explores the vibrant spectrum of next-gen designers and artists in the Web3 industry. The series provides an inside look into the digital ecosystem's most promising names and explores the radical shifts challenging all creative practices.
For the fourth installment, Hypebae spoke with Zaiba Jabbar, a moving image artist, award-winning director, curator, commissioner and founder of femme-focused curational agency HERVISIONS. In a ravishing conversation, Jabbar walked us through her creative journey, how HERVISIONS is transforming contemporary visual culture and the need to democratize the art sector.
---
Art and technology have never had such a close and prolific connection. The growing intersubjectivity between Web3 and the creative sector is placing us, both viewers and makers, in a new, thought-provoking relationship with images, sounds, texts and the wider multimedia landscape.
A decade ago, when few were questioning the development of human cultural identities and the evolving, male-dominated net art landscape, Zaiba Jabbar saw an opportunity to create radical change at the intersection of art, technology and culture through a femme-focused perspective. As a result, HERVISIONS, a curational agency helping female-identifying artists to produce innovative commissions, exhibitions and events, was born.
HERVISIONS seeks to understand trends emerging within subcultures in order to amplify them in an array of transformative, anti-disciplinary formats. Projects are characterized by their autonomy and interactional level — how they create environments that merge the functionality of technology with the philosophy of artistic expression. The agency has collaborated with numerous partners, including Tate, Chanel, Instagram, BFI, The London College of Fashion, Google and more.
Scroll down below to read our interview with Zaiba Jabbar.
To begin, we would love to learn more about you and your role at HERVISIONS.
Personality-wise, I would say I am both an extrovert and an introvert. I love networking, facilitating emerging talent with opportunities and discovering innovative and experimental projects. I also have an innate need to make and produce; I'm a builder, an outsider and an underdog. I think it's because of these traits that I am deeply interested in the democratization of how we experience art. As the founder and creative director of HERVISIONS, I am on a mission to create diversity and inclusivity through discourse around queering art and technology spaces. More specifically, through my role, I curate, commission and partner with organizations and brands while working with new and advanced technologies to produce innovative commissions and exhibitions. I love collaboration and making space to see others shine through their creativity.
View this post on Instagram
We've read you experienced a big change in your life and career after going to LA on a "spiritual journey." What were the signs that made you realize you needed to shift paths?
It sounds cheesy but, there's a reason people talk about "The American Dream." Being in LA made me feel empowered to explore a different life path. It was a mix of things that led to this 180 degrees shift. The circumstances I was going through in my personal life led me to question my work and the career choices I had made. I was also feeling extremely frustrated by the lack of opportunities working as a woman of color in a white male-dominated sector. For context, I used to work in the film industry as a director, mainly producing music videos and commercial content — it was a bit of a challenge maintaining and securing a stable balance between creative and paid work. Going away and being in unfamiliar territory gave me the courage to rebuild a future on my terms.
What was the main reason you decided to start HERVISIONS? And has this reason evolved with time?
At the time, there weren't any platforms or communities looking at digital art from a femme perspective, which seems crazy to think about because there was a lot of emerging talent exploring it. I was constantly coming across so many fascinating artists on social media, especially working with short-form content, from animation and gifs to music and film. It was overwhelming to me as to why so many female-identifying and non-binary artists were self-publishing on these platforms. I started to feel like there had to be a change in the sector that would widen the representation and inclusivity of women working at the intersections of art and technology. To this day, HERVSIONS has evolved so much, bringing many opportunities and support to all gender minorities and marginalized artists challenging these notions of time-based media and working with technology.
You've expressed that the traditional film industry is quite difficult for women to break into, what is it like in Web3?
I think most difficulties arise from the number of gatekeepers within Web3 spaces. Specifically, in the NFT marketplace Nifty Gateway, only 5 percent of sales come from females, which certainly needs to change. I can see more and more women-led projects in digital ecosystems gathering attention, which is really exciting — people like Shannon Snow at World of Women and Majorie Hernandez at Lukso offer more user-friendly and inclusive building blocks for Web3 integrations. Nevertheless, women still very much feel like outsiders in the sector.
View this post on Instagram
How do you think Web3/digital ecosystems are shifting the way we can explore our identity?
In Web2, our digital identities are highly controlled by big techno-capitalist companies, which use our data for their own monetary endeavors. Through Web3 and blockchain technologies, we can take responsibility (in terms of provenance and ownership) for our digital persona and assets. There will undoubtedly be a time in which our avatar will live seamlessly between metaverses — for example, going from one game experience to the next while retaining all our metadata as if we were physically traveling from one place to another. Afropolitan, a digital nation, is an excellent example of this interoperability. The platform comprises the best that Africa and the diaspora offer across art, finance, tech, health, energy, sports, and media. At the core, it is about starting new dialogues highlighting that places like Nigeria are one of the third biggest adopters of Web3.
Could you tell us more about the "Lives of Net Art" showcase, what themes were you trying to explore?
The "Lives of Net Art" showcase sought to celebrate and revisit fifteen net artworks commissioned by Tate during 2000–11. We were asked to explore, from a contemporary point of view, the possibilities the internet opened for artists during the 1900s and 2000s. With my commission, I wanted to analyze, specifically, how we engage with contemporary "net art" and the nature of augmented reality (AR), which coincided with the recent launch of Spark AR by Meta. The installation explored emerging beauty biases driven by the rapid development of technology. The face filters showcased were actually the very first ones to be exhibited in a European art institution, maybe even in the world. Back in 2019, face filters were an unknown art medium giving a new understanding of beauty, concealing and accentuating one's identity.
What about "The Art of No Likes"?
"The Art of No Likes," in collaboration with art and technology gallery arebyte, was an experimental project centered around critically investigating curational systems while reflecting on the implications social media infrastructures have on the production of exhibitions. The project shined a critical gaze on the "economies of like" and related systems of value judgments inherent to capitalist social media platforms across communication formats, experience, and environment.
View this post on Instagram
Your work as a curator often emphasizes projects that explore whether we can live in or out of virtual systems and what that would look like. Do you exist more online or offline? 
I try to have a balanced relationship with technology, but I find it tricky to switch off from it because of the nature of my work. I do try to exist more offline and be in the physical world, yet (like most of us) I seem to end up doom-scrolling!
What does the creative process behind preparing a new showcase look like?
It really varies on the type of project and partners I am working with and my level of involvement. I either brainstorm on potential themes or respond to a brief. After this, I organize a team to work collaboratively with and understand the best process to follow while considering the client's timeline and budget. For example, the motion art installation "Yours To Make: Fluid Imaginarium" at Saatchi Gallery was produced using gaming technology and in collaboration with 50 of the UK's most exciting creators.
You mentioned AR filters can conceal and accentuate one's identity. How do you think Web3 is disrupting our perception of beauty?
I believe that thanks to Web3, we have realized we no longer need to pursue representations of beauty that comply with biologically bound definitions. Why have two eyes when your whole body can be full of them? Why have smooth skin when you could have scales? In digital ecosystems, we can fly, shed skin, mutate over time and even grow younger or not age at all. Our understanding of beauty is becoming redefined because we are no longer anchored to time or gender. Web3 enables us to own digital assets and customize them accordingly. In digital ecosystems, beauty is generative, intuitive and constantly evolving. The rise of AI in the fashion and beauty industry certainly is pushing even further the normalization of surrealist beauty forward.
View this post on Instagram
What are other of your favorite projects you have curated for your platform?
"OUT of TOUCH" at LUX is still one of my favorite projects. It was a broad digital program of performances, talks, films and digital work that sought to understand new meaningful vocabularies of touch during COVID-19. It was great to curate media by LaTurbo Avedon, Danielle Braithwaite-shirley, Libby Heaney, Tabitha Swanson, Léa Porré and Claudia Hart, to name a few.  My collaboration "Based on a Tree Story" for Furtherfield with artist Bones Tan Jones is another one of my favorites — still live to experience in Finsbury Park, London! We wanted to create a site-specific, sonic augmented reality encounter with a digital tree sprite that would tell tales of the tree's past, present and future. We chose the trees of Finsbury Park since they are very old and have witnessed a lot of change and growth.
View this post on Instagram
I also have to mention "Disembodied Behaviors," a virtual exhibition presented on New Art City. The showcase explored the potential of digital individuals, from avatars ingrained with cultural memory to AI narrators, to dismantle predictive structures of power and normative behaviors. Artists included Julie Béna, Vitória Cribb, Kumbirai Makumbe, LaJuné McMillian, and Alicia Mersy.
With all the rapid changes we are experiencing technology-wise, do you reckon the future looks like a utopia or dystopia?
With all the unfortunate things we are experiencing in the real world, technological advancements offer us hope and new ways of experiencing things. Technology helps us distort the world and enables us to imagine alternative futures and bring those into being. Perhaps it's not about utopia or dystopia but about embracing this idea of fluidity.
Finally, what's next for HERVISIONS and yourself?
What's next? You will have to wait and see!
View this post on Instagram
---
Share this article