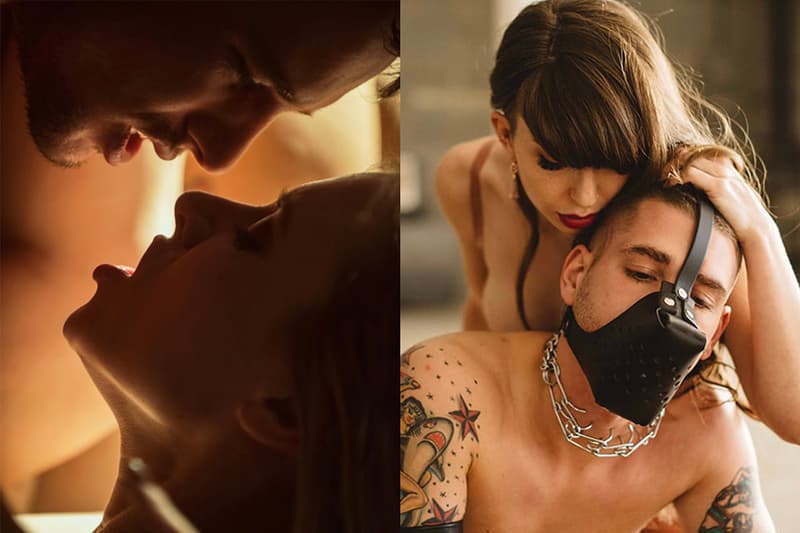 Sex & Dating
Ethical Porn Pioneer Erika Lust Shares Her Top 5 Dirty Talk Tips
From setting the mood to talking them through it.
Ethical Porn Pioneer Erika Lust Shares Her Top 5 Dirty Talk Tips
From setting the mood to talking them through it.
For Episode two of Sex School, leading NSFW company ERIKALUST and Sex School Hub founder Anarella Martinez-Madrid reveal the top tips for non-cringe dirty talk.
According to ERIKALUST productions, "40% of Brits admitting to rarely, or never, talking about sex with their partners, despite the majority — 90% — believing it's key to a better sex life." A major reason is that these couples "lack the language" to discuss their desires, despite the dire need to explore them.
To help curb the lack of communication,  ERIKALUST and Martinez-Madrid share their top five tips for keeping it spicy in and out of the bedroom.
Tip 1: Set the mood
"Communication is always the best way to initiate dirty talk," the series states. "It's a great way to expand your imagination and creativity and get to know what your partner likes and dislikes."
Ease your way into the mood by reading an erotic book together, "or saying what you would like to do to your partner." This is your version of "testing the water with non-explicit, but suggestive phrases, you can see if your partner is receptive to taking part."
However, be careful to "avoid incendiary language, as certain words and phrases may not be well received by your partner, so it's good to understand and talk more about the boundaries you want to implement."
Here are their best examples:
"I love that lipstick on you and how plump it makes your lips look; I'd love to taste them."
"That top looks great on you, but I bet it'd look even better off."
"I've been thinking about you all day."
Tip 2: Discuss your desires
Now, its time to gently discuss your desires, they share. "Ask what turns your partner on and share your own sexual fantasies to direct the conversation." This is another form of easing your way into it, and will also "allow them to open up and guide you on how best to pleasure them." The ultimate cheat code.
Tip 3: Talk them through it
"If you're engaging in a sexual act or sensual moment, talking your partner through it can guide what to say. For example, explain how you touch, lick or blow your partner."
Vary your tone of voice, speed and pitch to arouse your partner even further. "Utilizing language with sexual connotations," will elevate the vibe as well.
"You feel so wet, are you ready for me to enter you and fill you up?"
"I love caressing your breasts, they're so plump and perfect."
Tip 4: Be playful
"Dirty talking is not a must, like anything in sex, but by dirty talking, you can create different sexual scenarios that can bring you to another dimension."
Feeling anxious or self-conscious when tapping into dirty talk is normal, but
"by engaging your playful side many of those inhibitions will disappear."
Martinez-Madrid suggests: "Try imagining yourself in a role, many find roleplay easier to get into during their first time. Perhaps you could take inspiration from a situational porn film you've seen, for example, in ERIKALUST's 'The Good Girl', a pizza delivery boy visits the titular characters home. Working in roleplay language might allow you to relax."
Tip 5: Find inspo from other sources
Lastly, "if you're still struggling with what to say in the moment, why not look to our sources for inspiration before delving in," they ask.
"Learning by doing, reading erotic books, allowing your fantasies to be free and loud, checking what your partner likes, asking questions, watching porn, — all of these things can help you improve."
For more on elevating your sex life, check out BLOOM's most recommended ethical porn stories for women.
---
Share this article