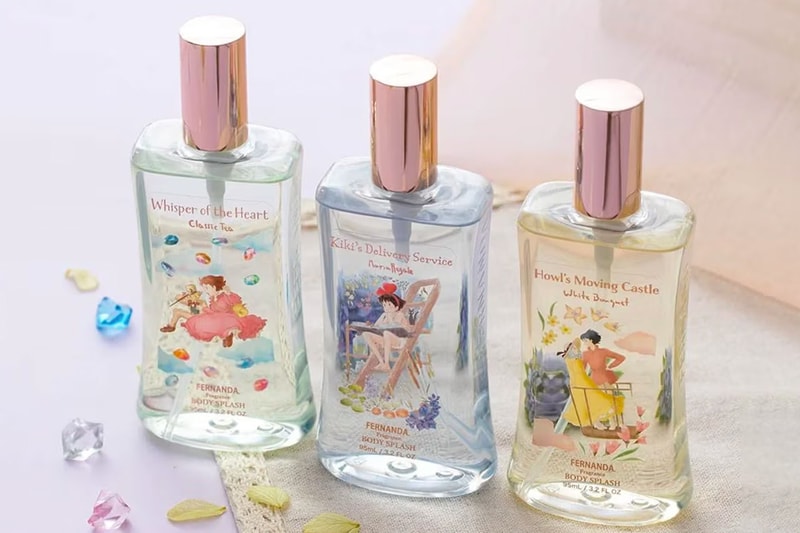 Beauty
Smell the Magic of Studio Ghibli Through Its New Anime-Inspired Fragrances
Inspired by some of its fans' favorite characters.
Smell the Magic of Studio Ghibli Through Its New Anime-Inspired Fragrances
Inspired by some of its fans' favorite characters.
In anticipation of the release of Hayao Miyazaki's final film, The Boy and The Heron, Studio Ghibli is once again immersing fans into its universe, this time through a collaboration with fragrance brand, Fernanda.
Debuting an all-new perfume line inspired by three of its most popular anime films, the new offering aims to keep the magic of the movies alive with three new "body splash" scents for fans to enjoy. Known for having numerous well-known heroines at the heart of its stories, Studio Ghibli is hoping to commemorate these heroines and their captivating adventures through the power of scent.
The first spray draws inspiration from Kiki's Delivery Service, landing in a "Maria Regale" iteration. Its powerful scent aims to replicate that of the flowers and herbs found at Kiki's home, featuring notes of pear, jasmine and Lily of the Valley. Next up, is Whisper of the Heart, featuring a tea-centric smell comprising black tea, amber and yuzu. Finally, Howl's Moving Castle gets its own spray as "White Bouquet," featuring rose, cedar wood and lily scents to replicate Howl's secret garden.
The collaboration with Fernanda joins a long line of impressive and immersive Studio Ghibli releases, including its recent collection with Levi's and final capsule with LOEWE.
The fragrance trio is now available for purchase via Donguri Kyowkoku, retailing for approximately $15 USD per bottle.
In other news, is BLACKPINK's Jennie teasing another Calvin Klein capsule?
---
Share this article