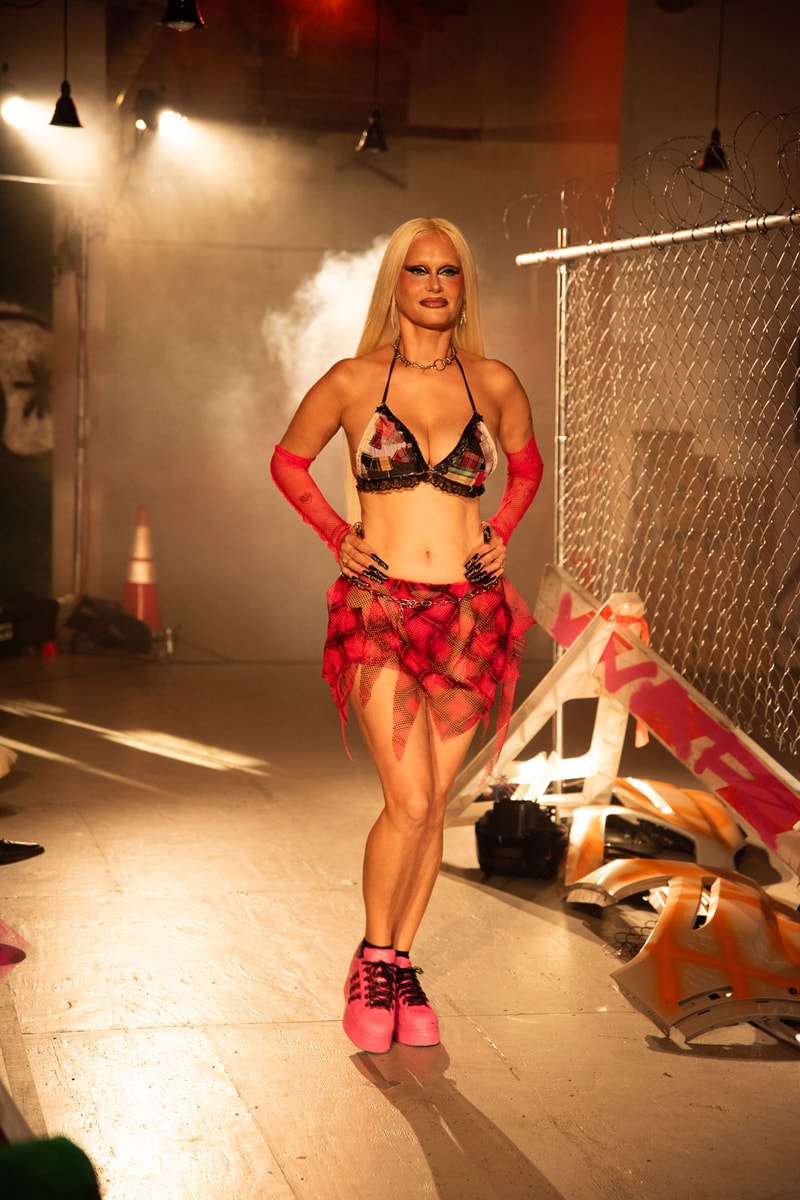 1 of 12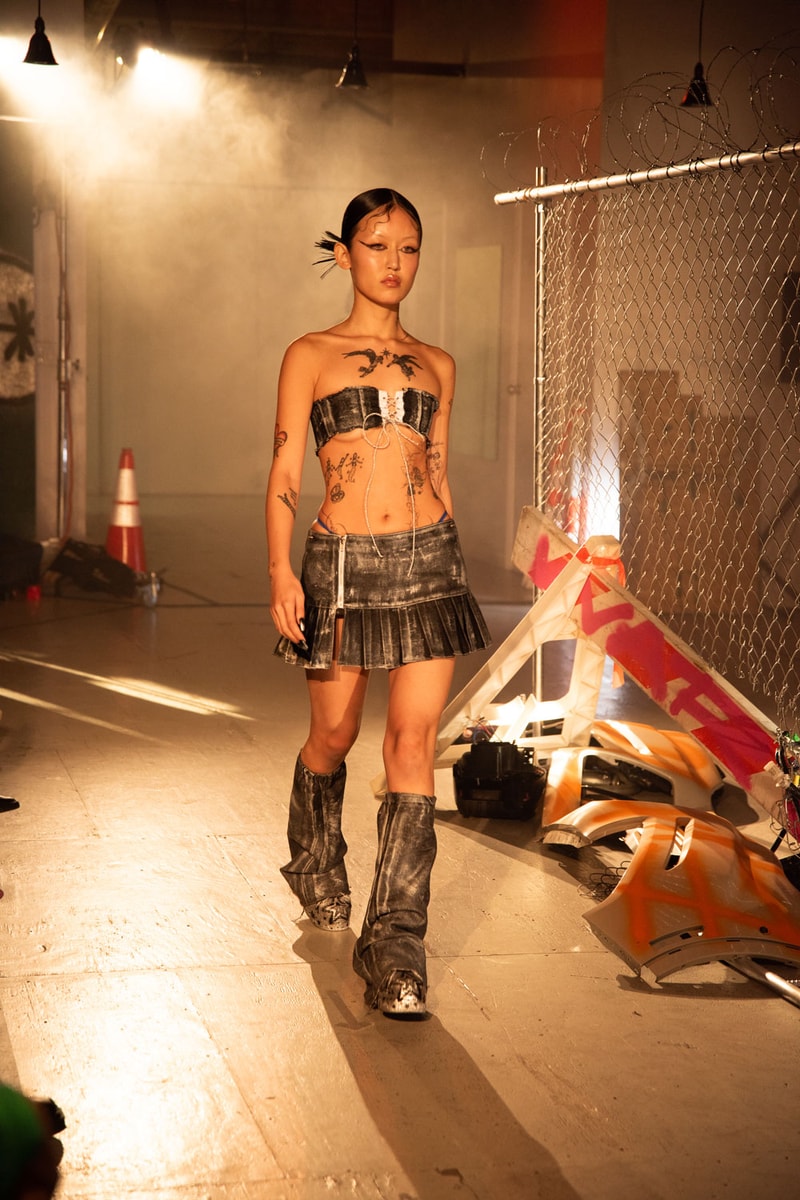 2 of 12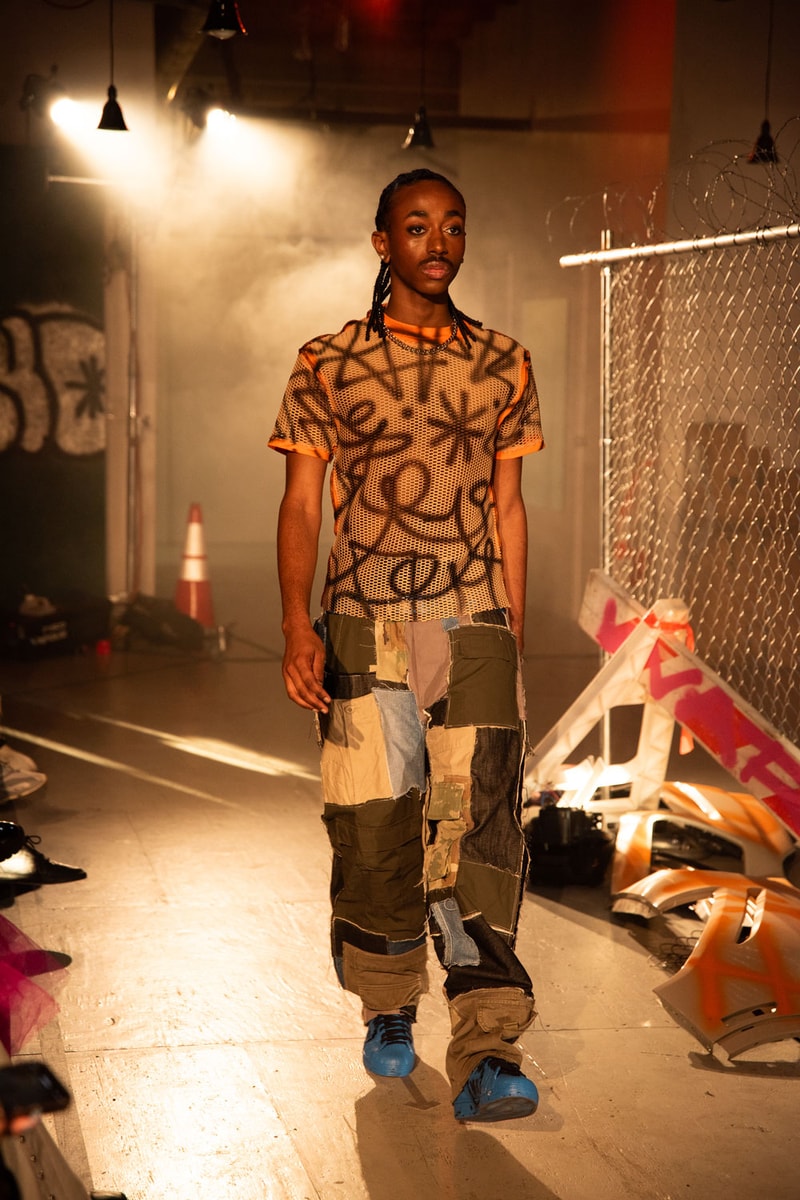 3 of 12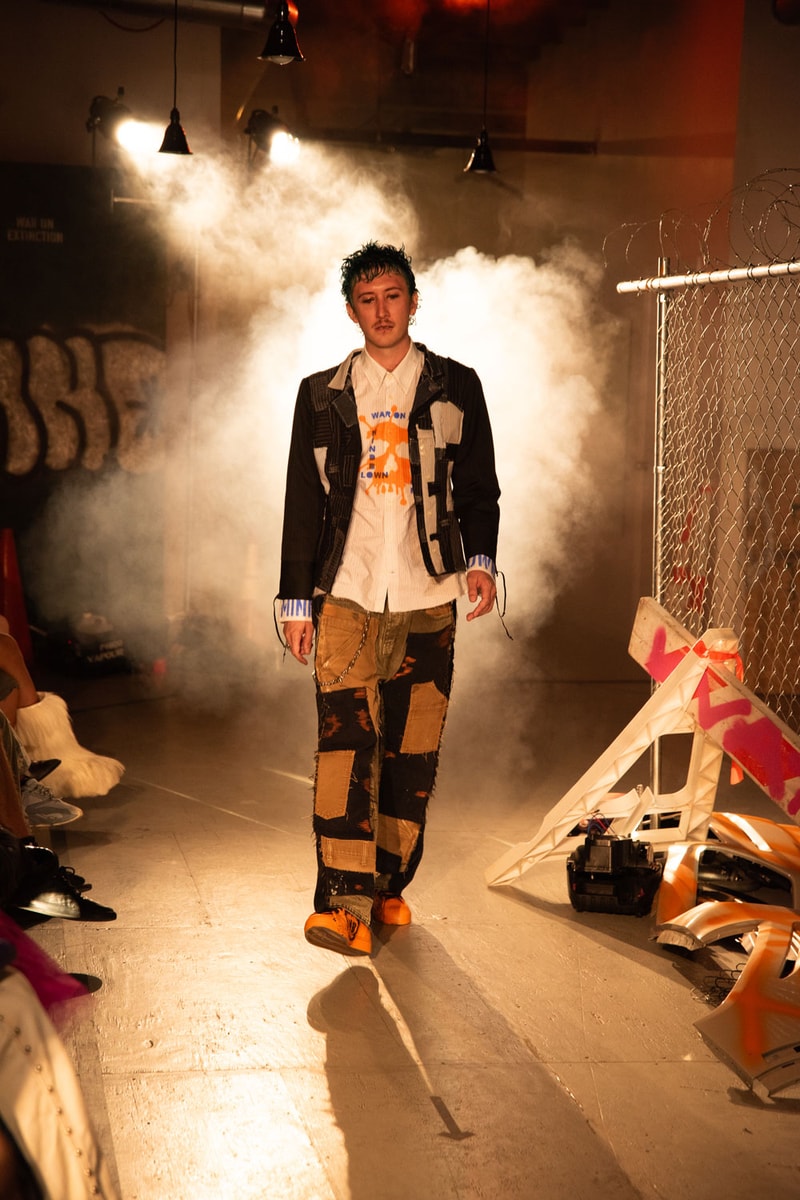 4 of 12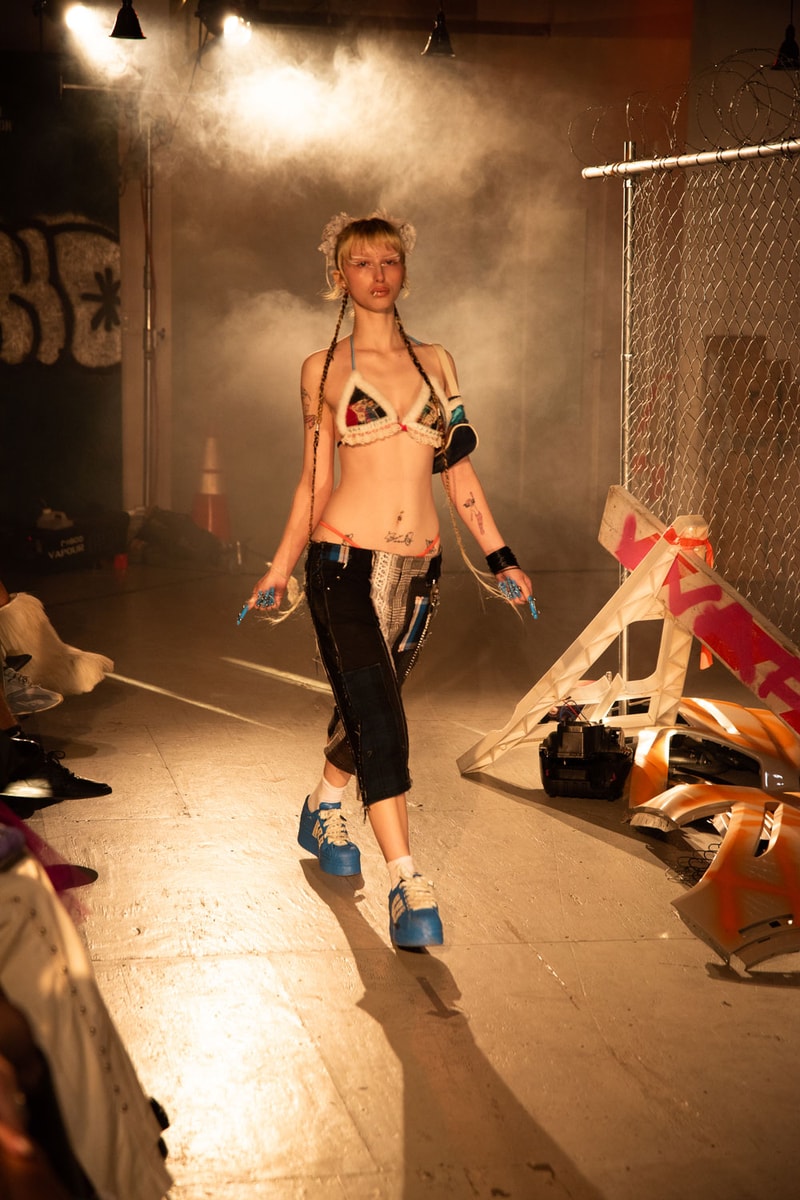 5 of 12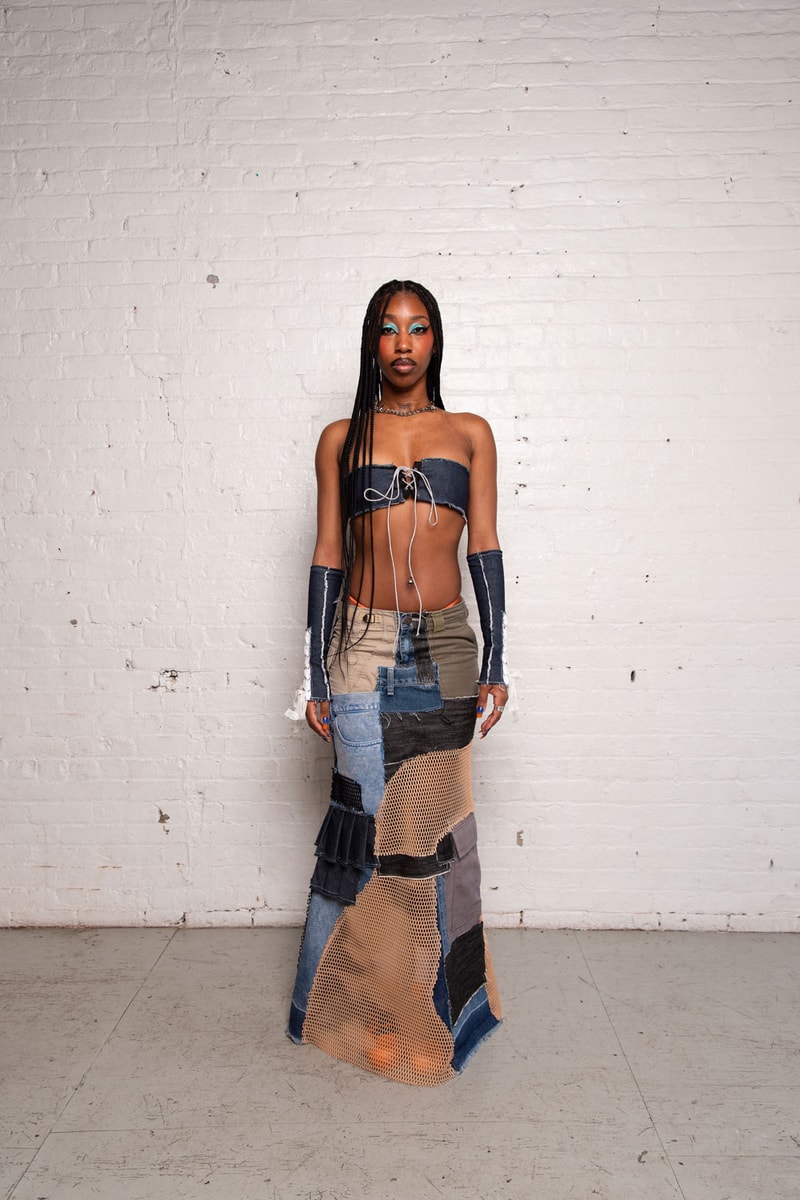 6 of 12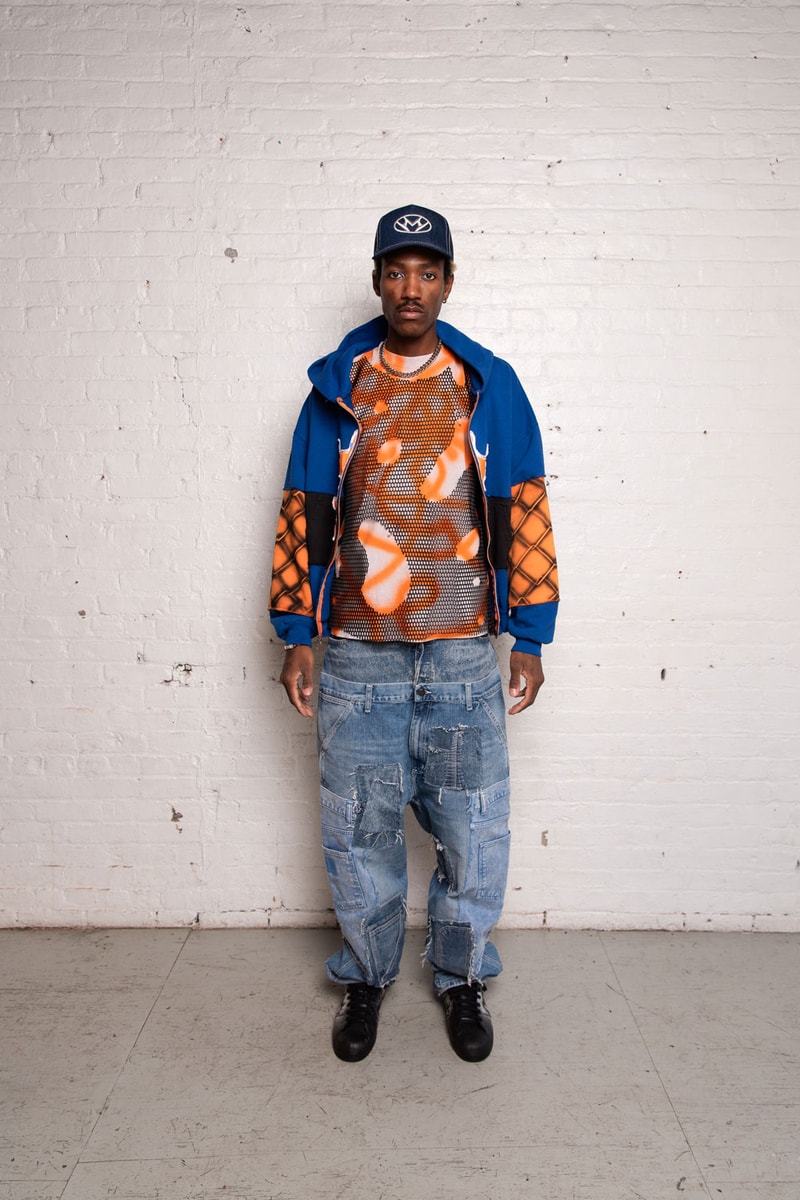 7 of 12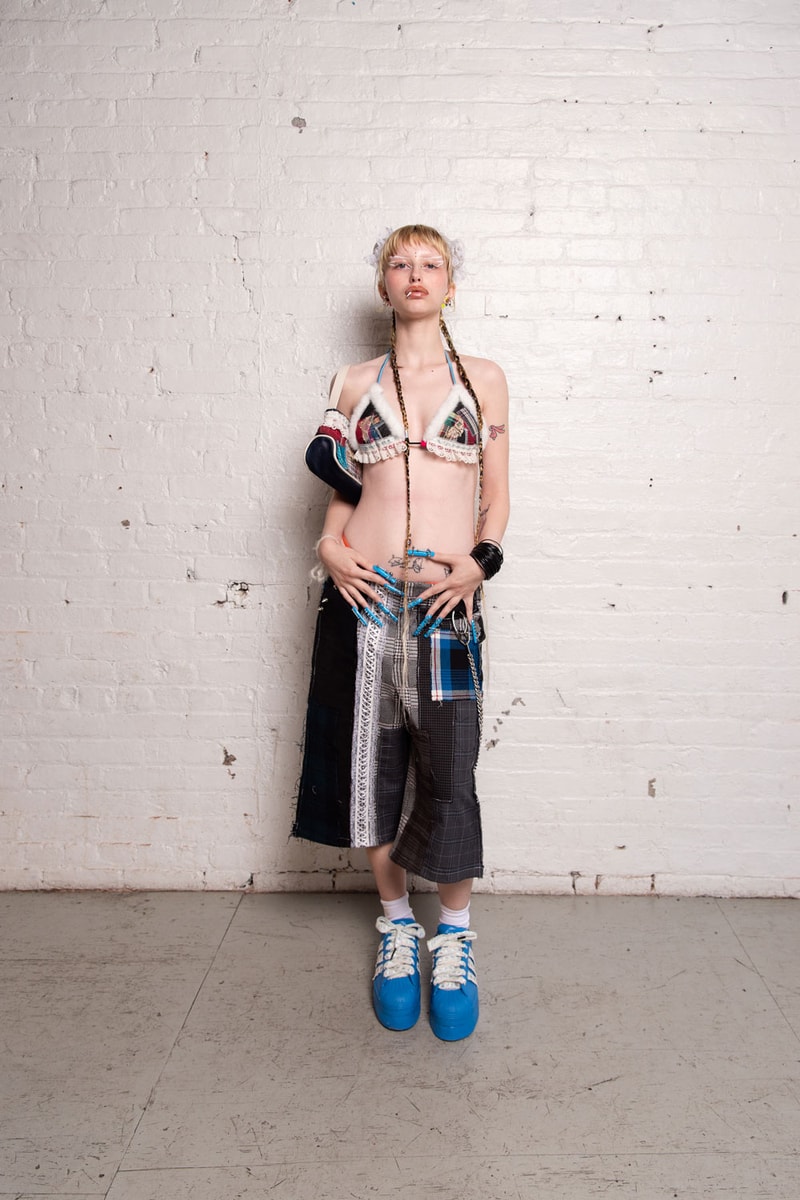 8 of 12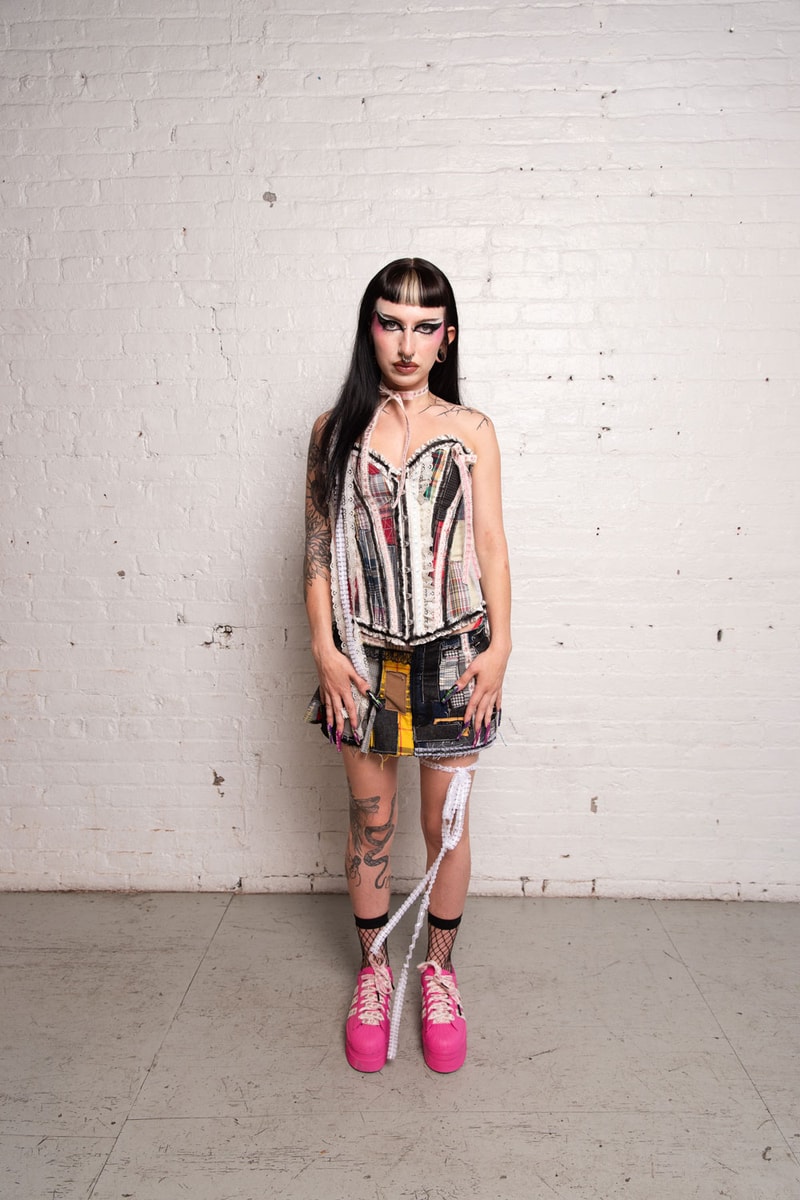 9 of 12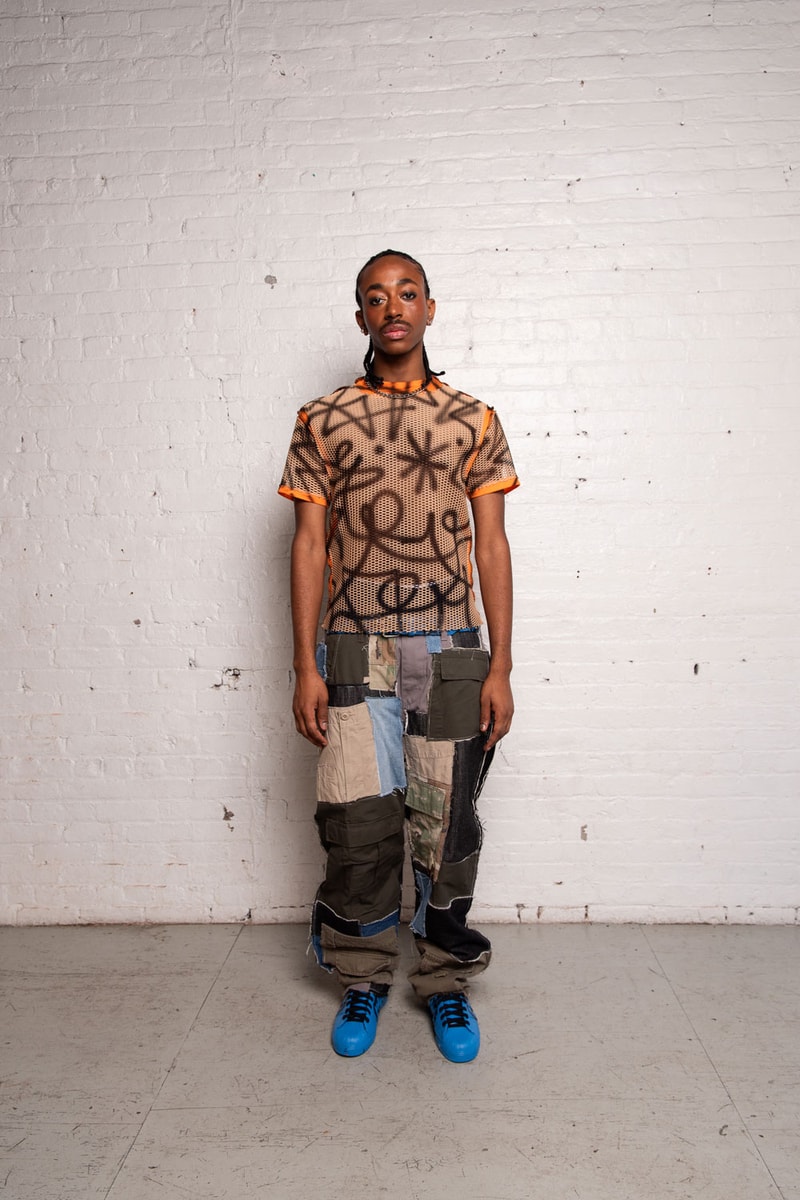 10 of 12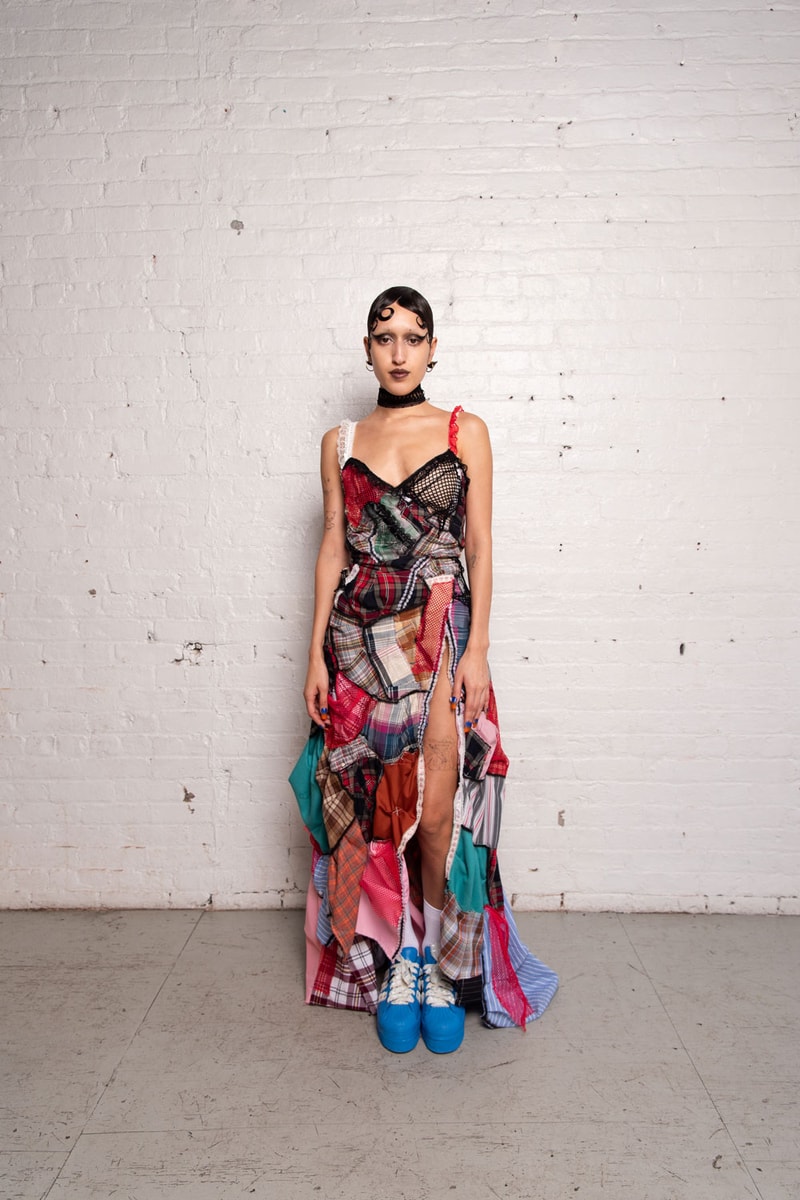 11 of 12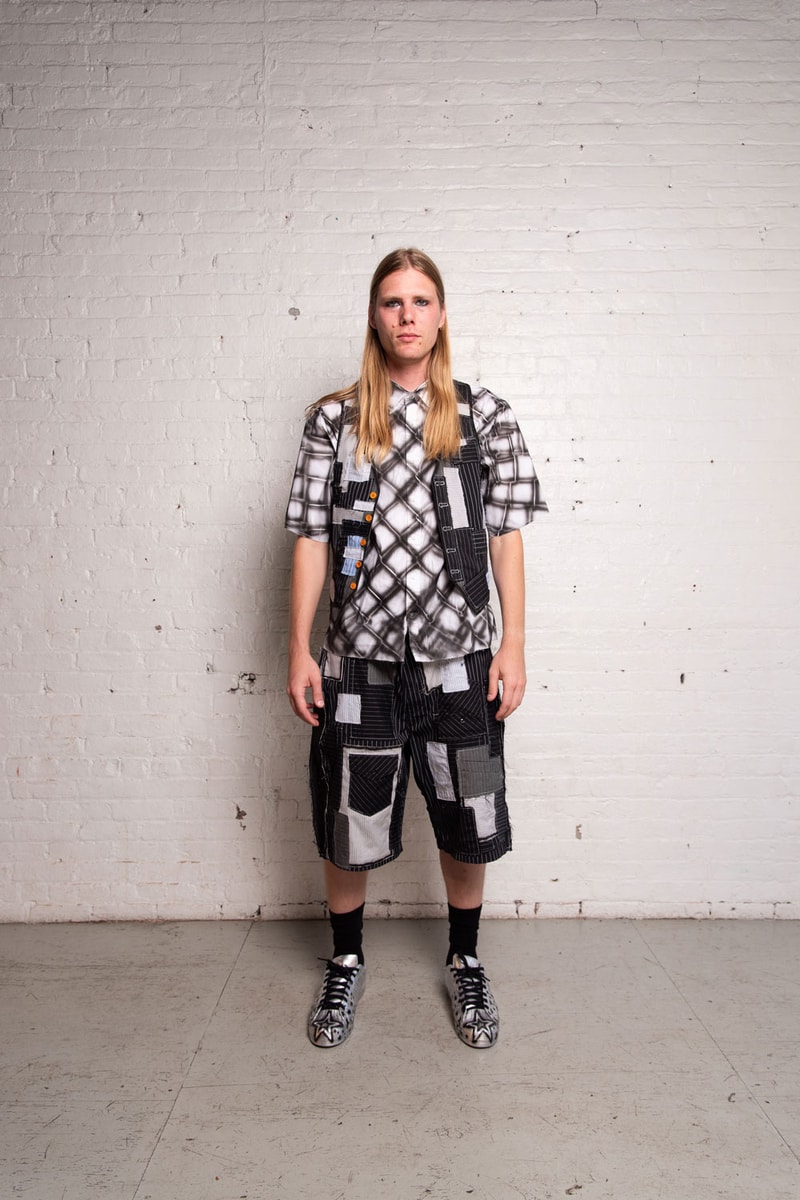 12 of 12
Design Duo MINDBLOWN Displays Counter-Cultural Identity With Runway Debut
Millicent Grace Dunstan and Ben Lucas Jones of MINDBLOWN discuss the details behind their first-ever runway collection.
MINDBLOWN's SS24 NYFW debut runway show brought personality, grunge-inspired fashion and sassy, spunky models to the streets of SoHo. A sprawling line around the corner saw influencers and media personalities donning their own interpretations of MINDBLOWN's edgy, punk aesthetic. Millicent Grace Dunstan and Ben Lucas Jones, the creative minds behind MINDBLOWN, returned to their roots during the runway show, paying homage to New York City's art scene. The Spring/Summer 2024 collection spotlights the design duo's authentic appreciation for NYC, the artists that animate the city and their eco-conscious designs. 
Mismatched prints and patterns, hints of plaid and upcycled lace were a common thread throughout the collection, along with oversized silhouettes reflecting the brand's alternative approach to fashion. With punk tunes produced by Jones himself as the show's soundscape, guests were given the opportunity to see how MINDBLOWN repurposes deadstock fabric to create their grittypieces. Dunstan and Jones enlisted models from their immediate network — style savants and artists in their own right — to embody the brand's subversive identity and diverse, artistic communities throughout the city. 
During the event, Hypebae had the opportunity to sit down with Millicent Grace Dunstan and Ben Lucas Jones of MINDBLOWN to discuss their NYFW debut, the creative and collaborative process behind the SS24 collection and using New York City as a source of inspiration. Read below for the full interview.
Talk to me about the inspiration behind your SS24 collection. 
Our debut MINDBLOWN runway collection was very much a reflection of our brand identity. Our collection displays our "anti-establishment" streetwear aesthetic and pulls from the subcultures and grittiness of the city. It's all about subverting the fashion industry with bold, one-of-a-kind looks that are ethical and sustainable. We often find inspiration by walking around the streets of NYC for hours and this collection was a reflection that – from the colors and graphics to the installation and music. It was an homage to our New York City.
What was the collaborative like in crafting this collection? Was it different compared to past collections and pieces?
We collaborated with a lot of artists in NYC who align with us and our vision. We really wanted our show to feature authentic creators who live and breathe their craft, from the team behind-the-scenes to the models who walked in the show. 
Makeup, hair and nails were really important to the show – to elevate and match our clothing. Ben created original music with his drum machine and we spent nights sitting down together and working on beats for each individual model that fit with their essence and our looks.
Even parts of some of the designs and styling were edited to fit the vibe of the artists who wore them on the runway. We wanted to capture their best energy and our clothing in the strongest light possible. Casting was very important to this show. 
How was this collection reflective of your brand identity? 
This collection is an homage to our little world within New York City. The goal was to display the way we break the rules of the traditional fashion system and how we have been building our own thoughtful, sustainable and inclusive identity within the industry. 
Describe how it felt to debut your first collection at NYFW. What did you learn from this experience? 
It felt overwhelming and wonderful. The experience was a lot of work of course because we really did almost everything by ourselves – the music, casting, styling, installation and making of all garments. That was a great learning experience though. We really wanted to put our best foot forward and show the world who we are and what we can do. We hope that this show inspires our audience and draws more people into our world. We would love to continue to collaborate and build a community and we are excited to see what our future holds.
Art Direction

Millicent Grace Dunstan, Ben Lucas Jones
Make-Up

Rory Alvarez, Yunqi Ying, Madison Calderon
Hair Stylist

Francheska Nieves
Nail Artist

Marbles Valdez
Lighting/Tech

Ryan Morris
Music Composition

Ben Lucas Jones
---
Share this article