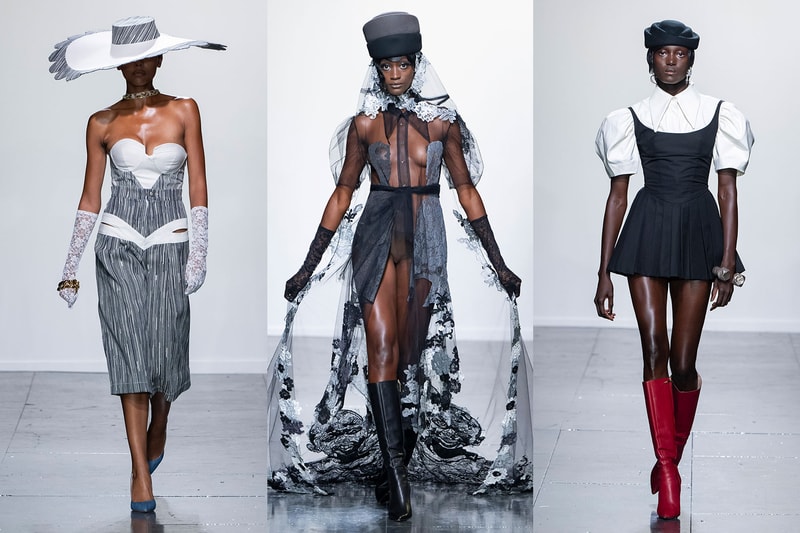 Fashion
Tolu Coker's SS24 Debut Was a Celebration of Her Yoruba Roots
"With African countries, a lot of the narratives that we have were imposed on us. There's now a way for us to tell our own story."
Tolu Coker's SS24 Debut Was a Celebration of Her Yoruba Roots
"With African countries, a lot of the narratives that we have were imposed on us. There's now a way for us to tell our own story."
Tolu Coker just made her London Fashion Week debut and at just 10 am, it was already one of our favorite shows of the day. With a front row that featured the likes of IAMDDB, Ghetts, Julie Adenuga, Arsema Thomas and Jordan Stephens, the show's vibrant audience was a clear indicator of what was to come.
Titled "IRAPADA," Coker's SS24 kicked things off with a home video which showcased a traditional Yoruba naming ceremony, followed by a soundtrack from Ghanaian producer Juls alongside a talking drummer and a saxophonist. The collection itself explores the concept of a matriarch and delves into the designer's Yoruba heritage alongside the depiction of the African diaspora.
Speaking about the video, Coker tells Hypebae: "The video was of my naming ceremony, a traditional Yoruba naming ceremony. As you can see, it's very sacred. It was actually in my living room and with my grandparents and my dad. Half of my family are Muslim and half of them are Christian and you can see they actually prayed together and that's something that isn't very common. It was just about giving this different depiction of Africa. With African countries, a lot of the narratives that we have were imposed on us. There's now a way for us to tell our own story."
In terms of fusing the collection with experiential elements, Coker tells us, "My practice has always been very holistic, it's never been just about the clothes or commercially selling. It's always been about the incorporation of the story. People don't tend to see the process or see the inspiration behind the product and I don't want the audience to just be spectators."
With imagery taken from her late father's archive, the collection offers a fusion between traditional wear and a contemporary "Sunday Best" aesthetic, landing in the form of corseted shirt dresses, halter neck tops and jacquard prints — reminiscent of Aldura Church — a Yoruba church dating back to the 20th century — and its attendees.
"The collection nods to different forms of empowerment and how women have translated that spirituality into their dress," Coker explains within her collection notes. "My grandma is a great reference point and features heavily throughout the collection. She was a Muslim woman who married a Christian man, which is considered both in the religion and in culture, haram. That was a huge statement within my family."
Featuring preloved materials, deconstructed denim and Yoruba signifiers, the collection was an opportunity for Coker to explore a contemporary perception of Yoruba spirituality, free of negative connotations and stereotypes.
In related news, T LABEL presented its debut runway show at LFW.
---
Share this article