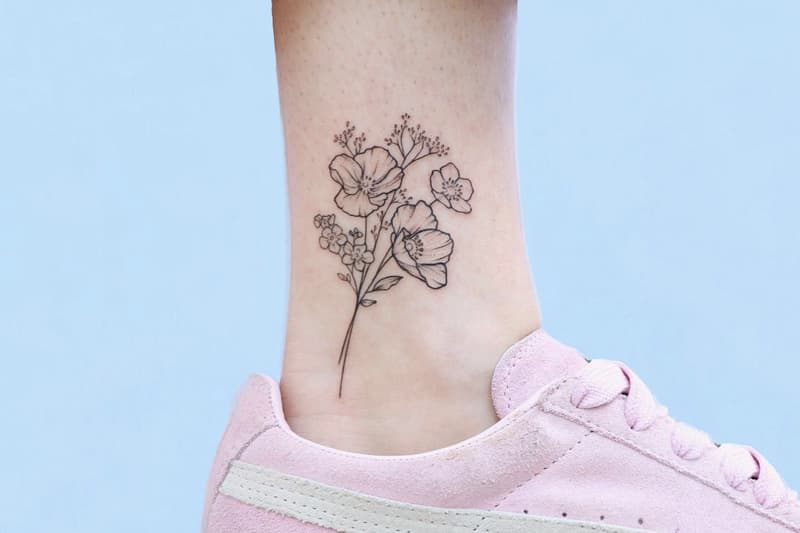 Culture
Here Are 8 Minimal Tattoo Artists You Need to Know in London
For your next tattoo appointment, or your first.
Here Are 8 Minimal Tattoo Artists You Need to Know in London
For your next tattoo appointment, or your first.
Whether you are someone who's obsessed with dainty, fine-line tattoos or somebody who's in the market for their first tattoo and is looking for a simple design, finding an artist who can work expertly with precise, clean lines can be tricky. There are so many different genres of tattoo art out there and each individual specializes in specific styles, so we've rounded up the best artists in London for expertly-finished, minimal tattoos.
From delicate line drawings of flowers, animals, household objects and scribbled or cursive script to the faces of your favorite pet and mythical creatures, these artists have built their followings on their unique and pared-back approach to art. Read on to get inspired and book your next, or very first, appointment. Be sure to check out global roundup of minimal tattoo artists, too, for inspiration outside of London.
Based out of South City Market, Suki's work focuses on dark, intricate lines. Contrary to the usual simple linework style which can often be quite angular and geometric, this artist's signature lies in the soft, flowing freehand feel that truly gives her work a unique and instantly-recognizable edge.
Based between London and Brighton, this handpoked tattoo artist's books feature mostly nature and mythical-inspired work. With fine line and dotwork depicting everything from stars, flowers and shells to cherubs, koi fish and snakes, these works of art are ideal whether you're looking for something tiny and delicate or a larger piece.
Bunny's work has a distinctly nostalgic, almost childlike quality to it, with the simple lines appearing like they were just inked on with a Biro between classes. Skilled at everything from simple text to hearts to larger graphic depictions of cartoonish tigers, hands, bodies and even full-on human figures. Stop by East London's Vaporwave tattoo studio to book in with this skilled and importantly – fun – artist
Obsessed With You is based out of London's Soho area, specifically the One By One studio. Just one quick glance at this Instagram feed gives you an accurate overview of this artist's aesthetic: fine lines and single needle work. From abstract, Picasso-esque faces to surprisingly detailed flowers there's something for everyone whether you're looking to fill up space between existing tattoos or taking that brave step toward getting your first.
I'm probably biased towards Jezz because he's worked on two of my tattoos and they're the ones I love the most. Based in Parlour, in the heart of Shoreditch, Jezz focuses solely on black and white work so if you're looking for something colorful, you might want to head elsewhere. Spiritual and geometric designs are his speciality however speaking from experience, he's also really great at working alongside you to perfect exactly what kind of design you have in mind. One things for sure; you'll be bookmarking plenty of pictures on his feed for future ink inspo.
Although European Son is based in Brighton, he sometimes works within London, and it's actually almost quicker to get from the city to Brighton than it is just to get to the opposite side of London. With a focus on stick and poke handwritten work mostly in black but sometimes in color, European Son really nails the playful, almost childlike homage to lettering. Pick anything from small smiley faces to Lil Peep lyrics or make sure your parents can't get mad by opting for a "mom" tattoo.
Formerly known as Gabby Colledge, this tattooist – and musician – now goes by her stage name, Zaya. Although she was previously based in South London, she's currently working outside of the city at Topboy Brighton. This in-demand artist is well-known for her cursive, handwritten text, linework and attention to detail – especially when it comes to intricate depictions of insects, flora and fauna. Her books are currently closed until March 2020, which gives you plenty of time to dream up the perfect design.
Much like Jezz-lee, Lara also works out of Parlour in East London and the other thing they have in common is their precision when it comes to delicate tattoo work. Lara typically deals with thicker linework than her colleague, but it's equally as captivating. She perfectly captures animal, landscapes and natural graphics but also deals with color and more bold, traditional styles so is the perfect artist to grow your tattoo collection with if you're looking for more than just simple pieces.
Conz is based in the One By One studio, just like Obsessed With You and whilst his linework is flawless, where this artist really excels is in highly-detailed graphics. His hyper-realistic depictions of fish, cars and praying hands will make you do a double-take, but his unfussy illustrations and script-work are both impressive and timeless too. With this caliber of work, you'll be unlikely to stop at just one tattoo.
Share this article