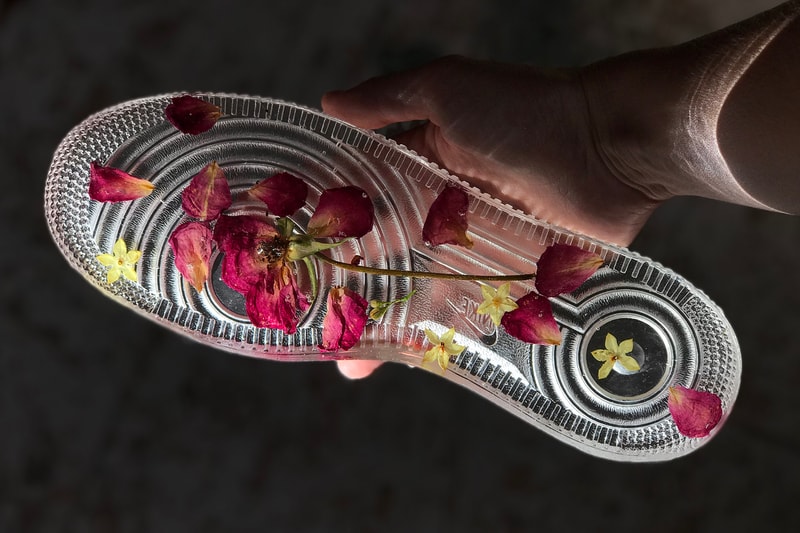 Meet Clémence Chasselon, the Creative Turning Sneaker Soles Into Art
You'll never look at your kicks in the same way again.
Our obsession with sneakers knows no bounds; from customizing kicks to requesting nail art to match our favorite trainers, we always seem to get dressed with our feet at the forefront of our minds. Whilst our entire wardrobes seem to revolve around sneaker options, Clémence Chasselon is helping us see our shoes as accessories in an entirely new way.
The French visual artist behind the brand L'empreinte Design has a clever knack for reinterpreting one of the often more unassuming elements of sneakers, the soles, as stunning art pieces. Casting a mold of the soles in transparent resin and embedding finishes like pressed flowers, marbled ink or flecks of glitter in between, Chasselon's vision elevates the once humble sole into an eye-catching, bona fide work of art that could be proudly displayed in any sneakerhead's home.
We caught up with the creative to hear more about her unique process, how she developed her unique perspective as a sneaker artist and what she has in the pipeline for 2019 – read on for more.

What made you decide to start creating art from sneaker soles?
I've always enjoyed experimenting with different materials.  When I moved into my first apartment, I tried different ways of decorating my walls with sneaker art; I started to hang real soles on my wall and then I thought "Why not try to mold them and make different pieces to get a bit more creative?"
Do you have a traditional background in arts; is it something you studied?
Yes. I went to the Academy of Fine Arts in my home town, Marseille, but I felt like my work wasn't that appreciated and that I couldn't properly express my creativity and grow in the direction I wanted to, so I left, changed my plan and started my own business.
Could you talk us through the process? How long does each piece take to create, and how do you decide in the style you want each one to take?
First, I need to create a mold, which I make from my own sneakers' soles. Once I've created the ones I want, I need to choose what I put in. It is a long process, especially for the pressed flower ones because I have to let them dry before incorporating them in the sole. Each creation is unique, so it depends on my mood. My pieces are made with love; it takes time but it is worth it.
You seem to focus mainly on Nike-related products – is there a reason behind that? 
Because I'm a Swoosh girl for sure! Nike is my favorite sneaker brand – I love the logo, the history behind them, etc.
Where does your love from sneakers stem from? 
I grew up dancing a lot, and needed comfort [for my feet] so my mom took me to Foot Locker to find the perfect sneakers for my breakdance classes. I ended up choosing a Nike Air Max Plus – the comfiest shoe ever, in my opinion. Then I met my boyfriend and the love became a passion. I'm more on the minimalist side than him, but I do really love my little collection.
You're based in France, what is sneaker culture like there? 
I've seen a new movement growing quickly in these past three years and now a lot of younger kids are wearing sneakers just to follow the "hype." It makes me smile. There's also the older generation, which I call the OG sneakerheads, who are mad at the younger people for not knowing the history or the basics. I'm in between, I'm more on the aesthetic side; I love a pair for the shape and materials they showcase more than for the name, the brand or the hype around it.
You're starting to branch out and apply your design aesthetic to other products, like key chains. What made you take that decision, and what other pieces would you like to start making? 
I'm always thinking about all the new creations to try and play with. I love experimenting and seeing how things turn out. For example, this year I did a lot of tests reworking Nike basketballs into suspensions. I also tried to rework Nike bags into throw pillows, that kind of stuff. I'm a huge fan of Mini Swoosh, we have the same vision of upcycling to create new apparel or accessories.
What's next for you? Do you have big plans for your work in 2019? 
I'm continuing to work on my second label @thefreshestcustom. I'm also working on a cool new thing with Girl on Kicks – new projects with new friends!
---
Share this article