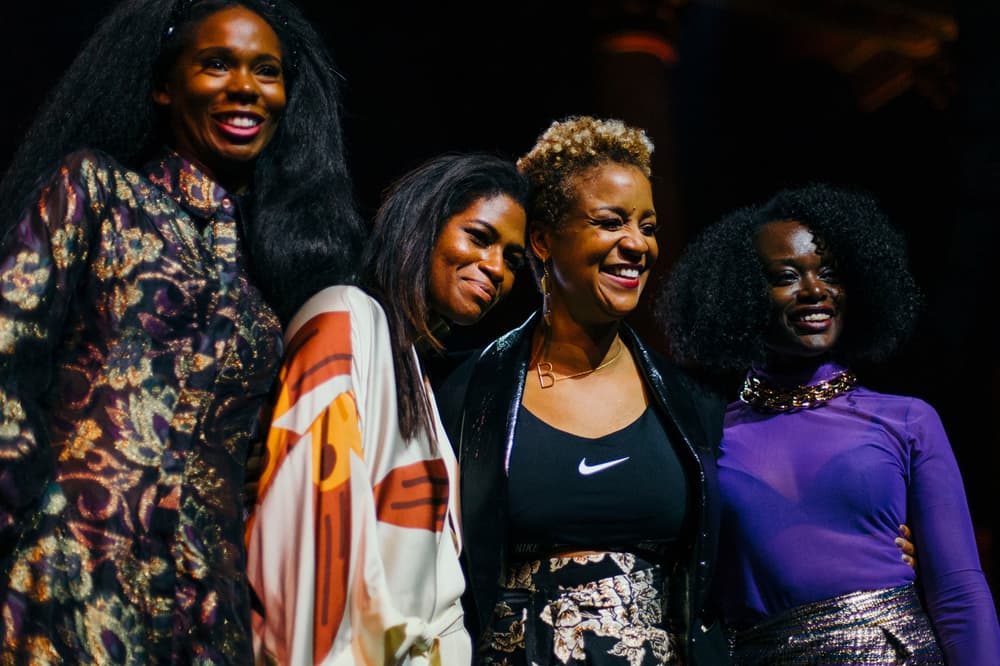 Fashion
Harlem's Fashion Row Style Awards & Fashion Show Was A Night Honoring Diversity and Black Designers
Paying homage to Dapper Dan, Bethann Hardison and more.
Harlem's Fashion Row Style Awards & Fashion Show Was A Night Honoring Diversity and Black Designers
Paying homage to Dapper Dan, Bethann Hardison and more.
Diversity is a robust topic which has been having a long moment within the fashion industry. Originally created in 2007 by Brandice Daniel, Harlem's Fashion Row sprung to life to shed light on black designers who are blatantly left out of the mainstream. Her ability to create a platform for designers of color is commendable and necessary at this very moment. On Tuesday evening, Daniel hosted her annual Style Awards & Fashion Show at New York City's Capitale. The black-tie affair was a team effort brought to life by LeBron James, Nike and three black, female designers — Felisha Noel, Kimberly Goldson and Undra Celeste Duncan.
Prior to the show we were granted backstage access to capture the beauty and hair looks. Hair was spearheaded by celebrity hair stylist Ursula Stephen. Using TRESemmé products, Stephen chose to focus on blunt wig bobs, sectioned braids and accessorized pulled back buns. Along with the array of assistants each hairstyle was perfectly mastered prior to being sent down the runway.
The designer's Spring/Summer 2019 collection's set the tone for the night. Noel's range focused on whimiscal separates which she is known for. Her work typically features loose-fitting, on-trend garments. While Duncan, chose to highlight grandeur cuts privy to the '70s era. Goldson's looks highlighted clean, wearable suiting.
Following the show, celebrity stylist Jason Rembert was awarded the "Stylist of the Year Award." This award comes months following his iconic feat of styling his client Issa Rae in all-black designers as she hosted the 2018 CFDA Awards. During his acceptance speech he spoke about his journey of leaving college and chasing his dream job, styling. His storytelling was candid and filled with inspiring commentary.
Rembert on his career:
"For the last 13 years of my life I have given all to my passion which has led me to this moment, a creative craft we call styling. A job that's seldom seen as work."
Bethann Hardsion accepted the prestigious "Iconic Trailblazer" award following Rembert. During her speech she highlighted the importance of championing real diversity. She also spoke about how proud she was of HFR creator, Brandice Daniel, as she's built her company.
Hardison on racial diversity in fashion:
"The most important thing for me is I'm trying to educate an industry. Because my world was the fashion model, that's the thing I know best. I'm very proud of the achievement that has happened in the industry internationally. Right now we have so many beautiful girls working."
Directly following this moment, Dapper Dan won the "Lifetime Maverick Award." The designer who has Harlem roots has a rich history in the New York City streetwear community. The award was a career highlight for the icon who spoke in detail about his space in the luxury fashion industry. He even touched on how instrumental Twitter was in starting a conversation with Gucci's Alessandro Michele after an infamous copied look was spotted at a runway presentation in 2016.
LeBron James followed the aforementioned award by winning the "Icon 360 Award." During his speech he spoke about the strength and power of black women, including the three handpicked designers who created his first female sneaker. He later touched on the importance of loyalty.
After James' segment, Felisha Noel, Kimberly Goldson and Undra Celeste Duncan appeared in a short clip. The significance of the video pointed to how instrumental they were in the process of creating the HFR x LeBron 16 sneakers. It also pointed out how it was a rigorous creative journey that ultimately paid off in their favor. It was a passion project which alluded to the importance of giving marginalized individuals a seat at the table.
In total, the 2018 HFR Style Awards & Fashion Show pushed forward a positive agenda. It touched on the importance of honoring changemakers who are at times shunned from the forefront. Brandice Daniel's large event was overall a joyful event filled with a memorable environment. Ultimately, it proved that though black designers are at times invisible to some, HFR will continue striving and pushing for their rightful relevance.
---
Share this article