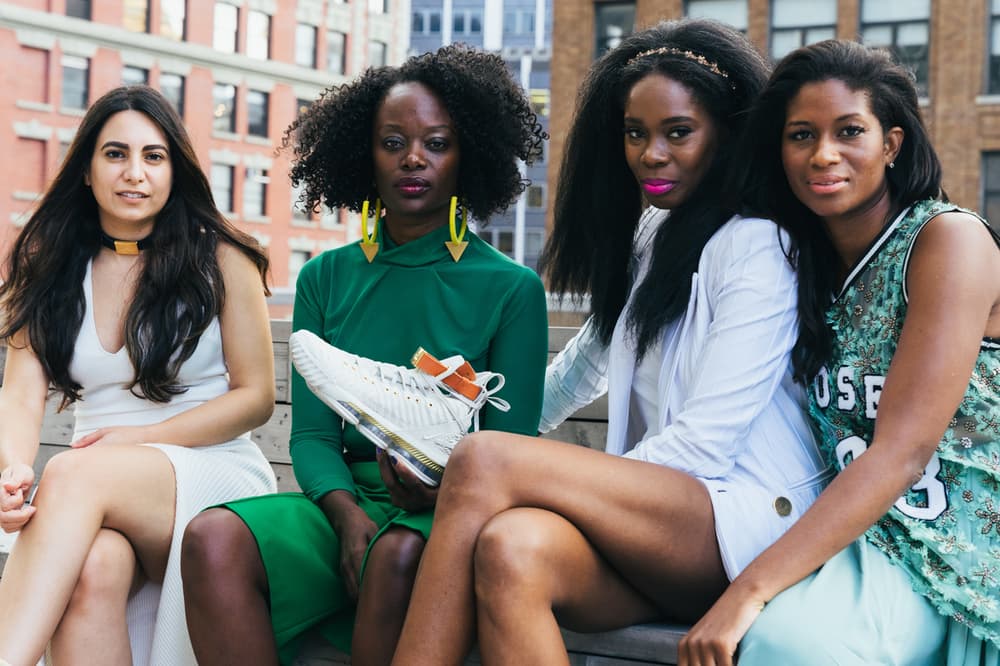 1 of 2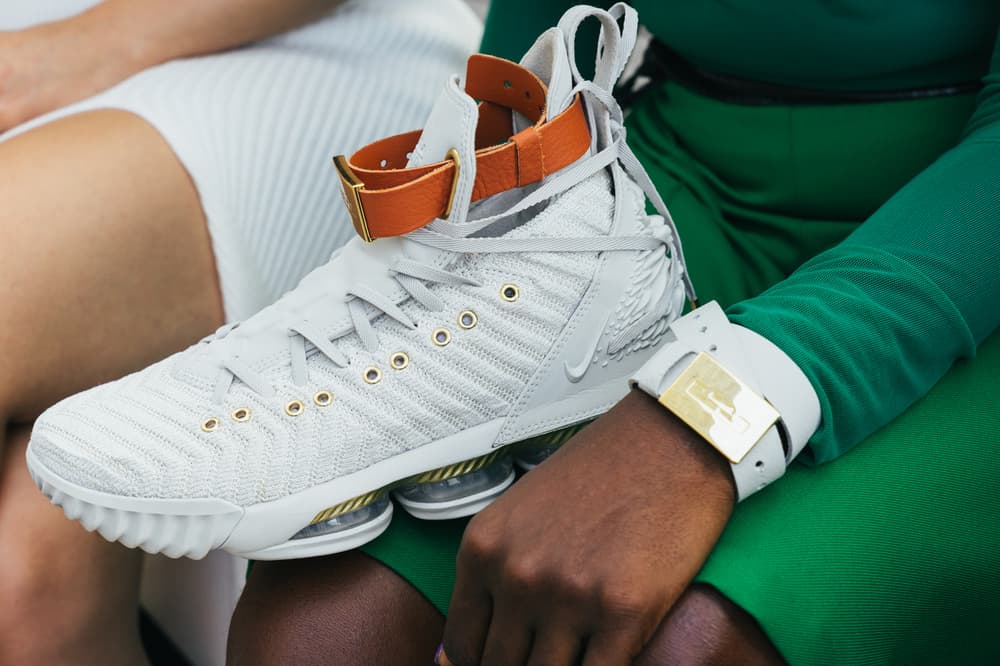 2 of 2
Footwear
Meet the Women Who Designed LeBron James' First Female Sneaker
The HFR x LeBron 16 celebrates the "strongest."
Meet the Women Who Designed LeBron James' First Female Sneaker
The HFR x LeBron 16 celebrates the "strongest."
"I believe that African American women are some of the strongest people on Earth. This is the statement that inspired LeBron James' newest sneaker. As family and fans, black women have supported James as he's risen to become one of the greatest NBA players of all time. His collaboration with Harlem Fashion Row on the new LeBron 16 silhouette highlights the creativity and talent of three HFR designers, who came together to collaborate on the shoe's design. HFR founder Brandice Daniel tapped Kimberly Gordon, Felisha Noel and Undra Celeste Duncan to join forces with Meline Khatachourian, Nike's global basketball footwear designer. As one, the women created a statement sneaker that has customizable features and truly lives up to James' legacy as an athlete and advocate.
We got a chance to sit down with the HFR x LeBron 16 team to learn more about the footwear world and the year-long design process. Read on to find out how the sneaker came to be.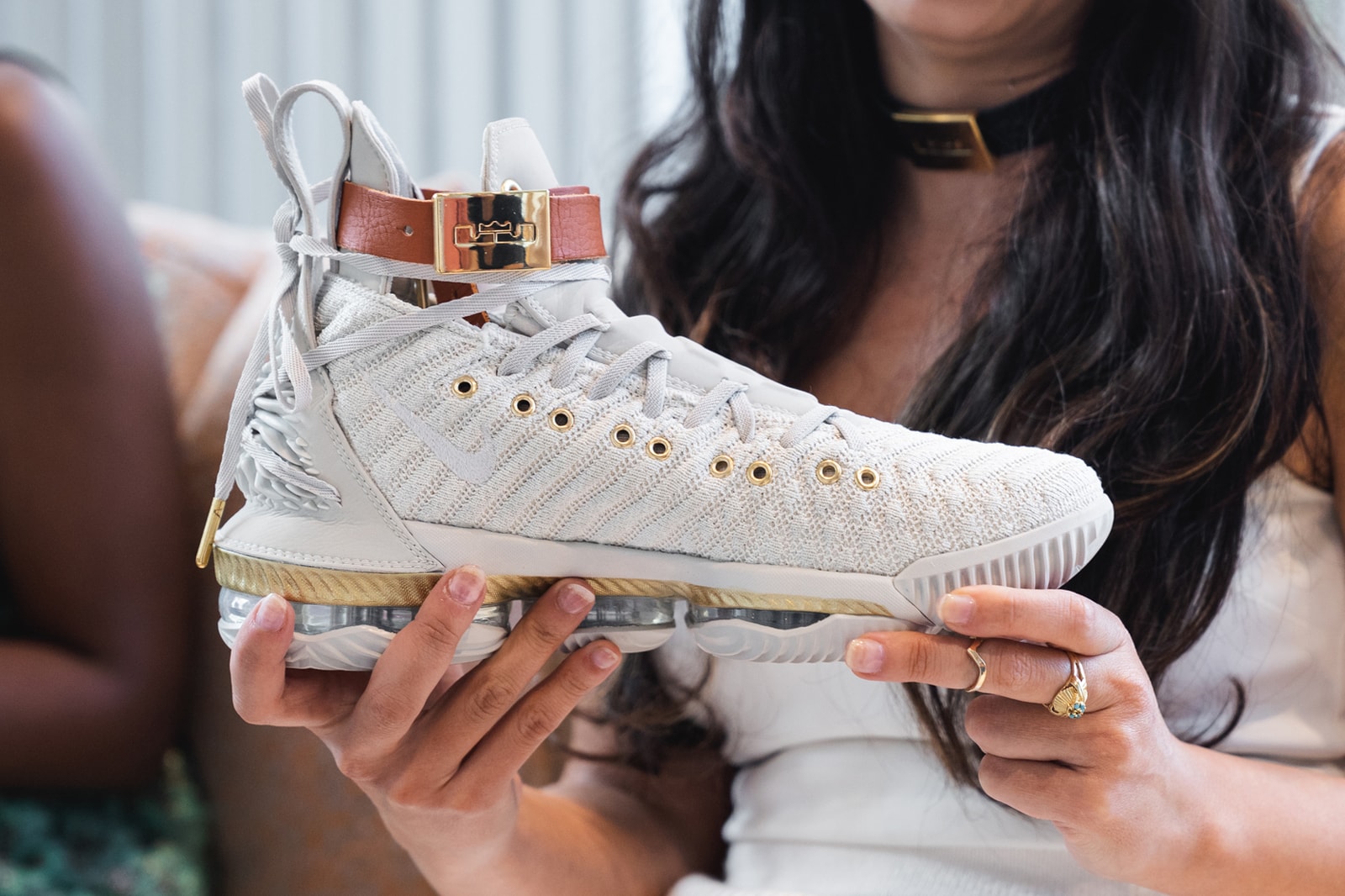 Tell us how the project came together.
Undra Celeste Duncan (UCD): There was a video of LeBron where someone asked him about his mother and he made the statement: "B lack women are the strongest women I know." This stemmed from the story of his mother who had him at 16 and eventually raised him to become the man that he is today. Nike saw this as something the world needed to hear on a larger platform. Originally Brandice mentioned that it would only be one of us designing but we were excited to find we'd be working together.
What was it like working together? 
Kimberly Goldson (KG): I'm self-taught in design. I went to school for merchandising so I when I heard I would be working with other designers I was a little nervous because I felt like I wouldn't know all the lingo or technicalities behind everything but it has been the best experience. I love the sneaker of course, but working with these women has been the best thing to come out of this process. We have shared resources, tools and problems solved our way through a lot.
Meline Khatachourian: I think their stories inspired me too. When we were in the boardroom, we all shared aspects of our personal lives and as a first-generation American, I was so inspired by the adversity they made it through. It fueled me to help them make the best product possible. Late nights didn't mean anything. We all had the same mission.
While designing, what type of woman did you picture sporting the HFR x Lebron 16? 
KG: You can wear this sneaker in multiple ways and we want people to approach it freely. It showed at each of our SS19 shows that you can take high fashion silhouettes like ball gowns and skirts and pair them with kicks.
Felisha Noel (FN): I don't think you have to be in fashion to appreciate this silhouette. When you're putting on this sneaker and you see the words "strength" and "courage," it can instantly be related to. The message applies through all stages of life and can be empowering.
What's some advice you have for young women interested in fashion and footwear design?
UCD: The two most important things for me is to perfect your craft and persevere because it's not going to be easy. Especially when your circumstances are different from others. If you think that fashion is something you can try for a year and drop, after not succeeding immediately, then it's not for you. Becoming a fashion designer, and particularly one of color, is hard.
KG: Perseverance is what keeps you when you don't have all the tools and resources to make things happen. If you believe it is your purpose, you have to keep going.
FN: I would tell young ladies to dream and do. There needs to be work and actions behind all of your ideas. Lastly, do not give up. If you're working toward something you're passionate about, I believe the universe will guide you.
---
Share this article