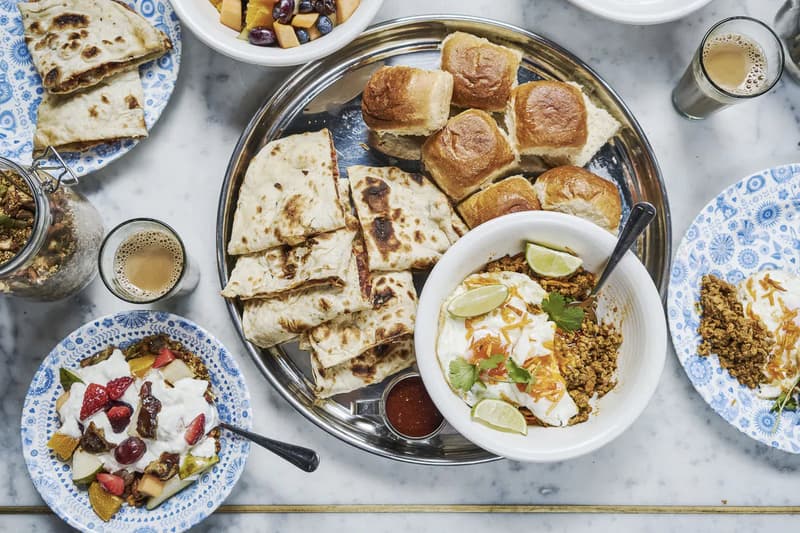 Food
Here Are London's Best Brunch Spots to Try This Weekend
Pancakes, eggs and everything in-between.
Here Are London's Best Brunch Spots to Try This Weekend
Pancakes, eggs and everything in-between.
Breakfast is the most important meal of the day, and ahead of the weekend, we're taking a look at some of London's best restaurants for brunch, drinks and delicious food. Whether you're on the lookout for a healthy açai bowl, perfectly golden scrambled eggs, artisan coffee, sourdough toast or fluffy pancakes – we've got you covered.
We've put together a handful of the best brunch spots to try in the British capital, ranging from popular hot spots like Dishoom and Eggslut, to small and hidden gems like Esthers. Keep reading to see our top picks, and get ready to feel your mouth water.
Dishoom
Inspired by the old Irani cafés of Bombay, Dishoom has become one of London's hottest restaurants for breakfast, lunch and dinner, with a queue that often stretches around the block. Paying homage to the old cafés, the restaurant combines traditional cuisine with modern influences, and have breakfast specials like their drool-worthy breakfast naan rolls and fluffy pancakes. A must-try for any foodie, the restaurant boasts five locations across London in Carnaby, Covent Garden, Kensington, Shoreditch and King's Cross, as well as two locations in Edinburgh and Manchester.
Where: 22 Kingly St, Soho, London W1B 5QP
The Good Egg
If you're looking for an eggcelent option, The Good Egg is no yolk. The Tel Aviv-inspired restaurant offers breakfast, lunch and dinner, and is ideal if you're looking for a modern and fun twist on breakfast classics. The reastaurant also boasts a wide range of healthy options, fragrant and stacked with spices, to provide you with the ultimate food coma. The Good Egg has two locations in London, in both Soho and Stoke Newington.
Where: Kingly Court, Ground Floor, Kingly St, London W1B 5PW
Caravan
With everything from buttermilk hotcakes to pizza on the menu, Caravan is a must-try for anyone that loves a good brunch meal. Offering freshly pressed juices, cocktails and more, the restaurant is the perfect weekend treat. With five locations across London, you'll want to make sure you pay this one a visit.
Where: 11-13 Exmouth Market, Farringdon, London EC1R 4QD
Esters
Ester's is a hidden London gem, and the restaurant is all about using local produce to create everything from soup to cookies. Their brunch is based on sourdough bread, organic eggs, as well as seasonal fruit and vegetables, and like Ester's themselves put it, "we brew the best coffee we can find from roasters we trust, tea from farms smaller than 15 acres and cook delicious brunches."
Where: 55 Kynaston Road, N16 0EB
Milk Beach
Located in London's Queen's Park neighbourhood, Milk Beach Café sources speciality coffees from all over the world, and roast it themselves. Serving an all-day brunch, you can munch on healthy options like açai bowls, sourdough bread and avocado on toast, as well as many more options.
Where: 19 Lonsdale Road, Queen's Park, NW6 6RA
Little Duck Picklery
Serving breakfast between 10 AM and 1 PM, Little Duck Picklery is the perfect place to start the day, offering a menu stacked with Lebanese-style flatbreads with labneh and dukka, home-cured bacon, eggs various ways and more. In addition, the restaurant also offers home-made kombucha and drinking vinegars. A highlight from the breakfast menu is the granola with poached peaches and yogurt, as well as the curry spiced aubergine.
Where: 68 Dalston Ln, Dalston, London E8 3AH
Eggslut
View this post on Instagram

Eggslut has combined the concept of fast-food with, you guessed it, eggs. The chain has become hugely popular in Los Angeles, and only opened its London location this year. If you're looking to get your egg fix, this is without a doubt the place to be.
Where: 185 Portobello Rd, Notting Hill, London W11 2ED
Starfish Loves Coffee
"Our menu revolves around the seasonality – taking inspiration from the Australian brunch and speciality coffee scene of Melbourne," reads the restaurant's website, and their influence becomes clear in the vibrant interior and mouth-watering breakfast plates. Offering all-day brunch, the restaurant is the place to go if you're looking to indulge in a big meal
Where: 92 Aldermans Hill, London, N13 4PP
Granger & Co.
Granger & Co. has four locations across London, and originally comes from Australia. The inspiration between the restaurant as well as the food is what they call "Australian," meaning "sunny, easy-going and generous." The chain was started by Bill Granger 20 years ago, and now boasts locations across the world including Tokyo, Seoul and Honolulu.
Where: Clerkenwell Green, 50 Sekforde Street, London EC1R 0HA
Burnt Toast Café
View this post on Instagram

If you're on the lookout for artisan sourdough bread and the best coffee, Burnt Toast Café has got you covered. Located in London's bustling Brixton neighbourhood, the small corner restaurant has become a must-visit for any breakfast lover.
Where: Brixton Village, Unit 88 Coldharbour Ln, Brixton, London SW9 8PR