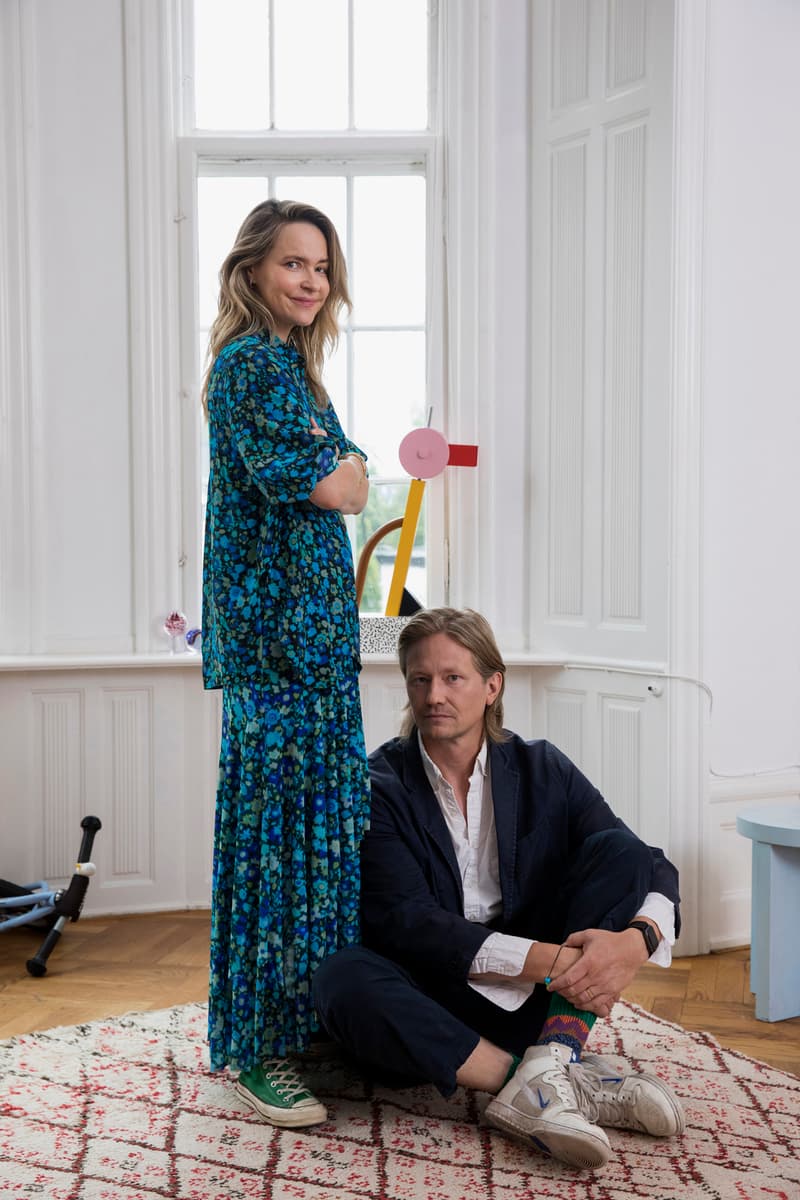 GANNI Brings Its Scandi-Cool Aesthetic to NYC and LA with Two New Stores
We spoke to the duo behind the Danish brand about the U.S. expansion.
Fashion
GANNI Brings Its Scandi-Cool Aesthetic to NYC and LA with Two New Stores
We spoke to the duo behind the Danish brand about the U.S. expansion.
Known for popularizing the now ubiquitous Scandi 2.0 aesthetic, Danish label GANNI is officially landing in America.
Following a three-week-long road trip across the country, where CEO Nicolaj and Creative Director Ditte Reffstrup visited stockists and customers in cities including Nashville, Austin, Tucson and more, the Copenhagen brand has just opened its first U.S. retail location in SoHo, Manhattan. Up next is the West Coast, with the GANNI Melrose store slated to launch in LA come October 25.
The two new flagships are opening just two months after GANNI presented its 10th anniversary show during Copenhagen Fashion Week Spring/Summer 2020.
We spoke to the Reffstrups about their hopes for GANNI's stateside and global expansion, as they reflect on the company's tremendous growth over the last few years. Read our conversation below.
Can you both share a bit about your respective backgrounds and how each of you got started in the fashion industry?
Ditte: For as long as I can remember, I have been into dressing up and loved how you can express yourself through what you choose to wear. Despite growing up in a gloomy little fishing village, I looked pretty out there as a young girl in the schoolyard. When others wore pretty dresses I was recreating a Bananarama look or borrowing my dad's clothes.
I always wanted to be in design. It just took a while for me to admit it. I became a trainee in buying, retail and design at Danish fashion brand Bruuns Bazaar, also spending some time in Paris. Then I went on to work for some high-end concept stores in Copenhagen.The first design I did for GANNI, before we even joined the company was a pair of suede shoes that became quite popular. Our old friend Frans asked me to help him do some stuff for the brand and I was like, "yeah, sure." We were pretty naive back then so I guess we just decided to go for it.
Nicolaj: I had a more unconventional route in to fashion. I studied business, administration and philosophy at Copenhagen Business School, followed by an MA in information technology at IT University of Copenhagen. After graduating, I worked on different projects in tech, the latest of which was an early attempt at creating a chatbot that was somewhat like Siri, however we were probably $3 billion USD short and 10 years too early if we should have had a chance of succeeding, so we wrapped up the company right about the time when I ended up with Ditte at GANNI.
Did either of you expect for GANNI to experience its burst into the global fashion market within the past few years?
Nicolaj: We always set out to be a Copenhagen-based brand with a global outlook. But we call ourselves insecure overachievers — we're never really sure that things are good enough and are our harshest critics. Neither of us are capable of just sitting back and enjoying things.
Ditte: Exactly, but that's also a drive for us, that's why we always think we can do better. I don't think we ever really dared to believe it would come this far, but we don't really get to stop and look back — you just have to keep looking forward. You're never better than your last collection.
When did you two realize that opening boutiques in other countries would be ideal for connecting with your customers?
Ditte: For one, we've had a lot of asks. We took our pop-up KIOSK to New York twice in 2018 and our friends and friends of friends, and everyone in our DM's kept asking us when we'd open a store. It's really a dream come true to be opening two stores in the U.S.
Nicolaj: We've been extremely fortunate to be stocked in some of the world's finest boutiques and retailers for the past five years, and that has given us the opportunity to built a solid network and loyal customer base. Seeing our U.S. audience connect with our Scandi 2.0 sense of style has been incredible.
Why is it important for GANNI to open a storefront in the U.S. and specifically in New York?
Ditte: Opening two flagship stores in the U.S. is a dream come true for us. New York is like our second home, I love coming here for inspiration. I've always been fascinated with the U.S. Growing up in the '80s in a small Danish fisherman town, there were no magazines, but there was MTV. It was my window to U.S. pop-culture — and Madonna… My whole world cracked open. There's a feeling of freedom and big-time dreaming I find so appealing. I love how rule-free the Americans are when it comes to style, something that I use a lot in the way I design. It's more about personality.
Nicolaj: We both have many great memories of wild adventures in the U.S. As we come from a smaller, homogenous, in some ways more predictable culture, we see the U.S. as a melting pot of creativity and diversity, that has inspired us for years. Having our own standalone location in NYC and LA is a leap forward for us and that means we can really get to know our U.S. #GANNIGirls community — we can't wait for what's next.
Aesthetically what direction were you going for, for the NYC storefront? Were there any direct inspirations?
Ditte: So for the months leading up to the NYC opening, we covered the store in blue leopard print. We wanted something fun that reflected our playful spirit and stood out. Leopard is a classic print for us, it runs throughout our collections every season because it's so versatile — it never goes out of style. We wanted to let NYC know that we are here to stay.
Was GANNI Repeat a platform you two have been looking forward to launching? 
Nicolaj: It's really cool — first and foremost because reusing clothes is the best thing you can do in terms of mitigating your impact on the planet. But It's also a great opportunity to introduce the concept of a sharing economy to our audience. Two years ago, in 2017, we signed the Global Fashion Agenda Circularity Commitment with the aim to become more circular in our business operations by 2020. It's been a journey and meant we've had to really rethink how we do things. Right now it's only available to our Danish community as we are aiming to test, learn and refine. The end goal is creating more responsible ways of doing business in the fashion industry.
We're hoping that we can increase this part of our business and shake up how we do things. Although for now it is only available in Denmark, we are looking to roll out internationally next year.
Since it's the brand's 10-year anniversary, can you speak about what it's been like to be a part of GANNI's immense growth over the past decade?
Ditte: Ten years feels magical. The team has grown from just a handful to over 100, and it's really special to think about that. It means so much to see how women all over the world connect with what we do. For our SS20 collection, I looked back to our first show, to everything that has happened since then. The GANNI woman has grown up with us and it's great to have the same friends by our side who've been there with us since day one.
Can you share what you both would like to see happen with the GANNI brand within the next few years?
Nicolaj: We want to keep looking forward, and keep doing things as authentically and organically as possible. As part of our moral obligation, we're trying to be more responsible throughout the business every day, so we can still do what we do in the future. We also really want to focus on the U.S. as a whole, not just the cultural bookends of NYC and LA.
Ditte: Honestly, for me it's about staying true to ourselves and I'd love to continue bringing our Copenhagen spirit to our global #GANNIGirls. When I'm on a trip and I see girls in the street wearing our clothes, it gives me such a buzz.
---
In celebration of the opening of its New York and LA storefronts, GANNI is releasing two exclusive products. Find the crewneck sweatshirt at the Mercer store for $175 USD, and the graphic T-shirt at the Melrose location for $100 USD.
Interviewer

Robyn Mowatt/Hypebae
---
Share this article