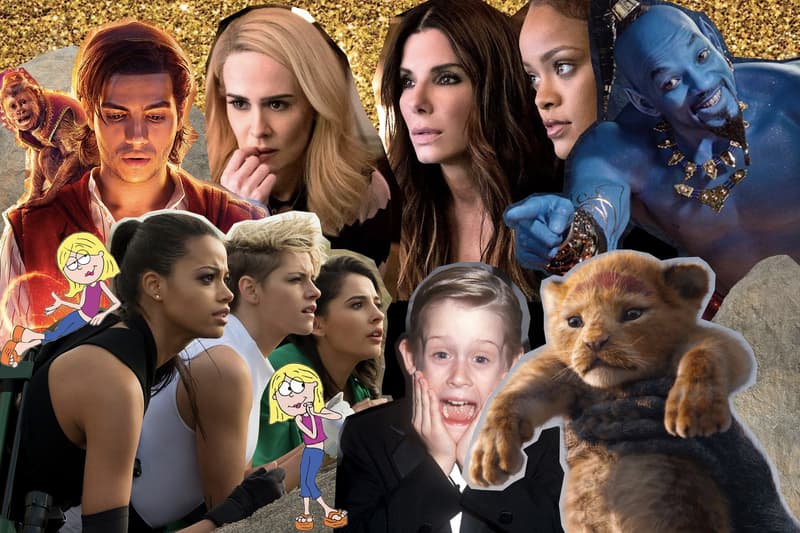 Film & TV
The Genius Business of Reboots and Remakes
Why do companies keep recreating the movies and series we already know and love?
The Genius Business of Reboots and Remakes
Why do companies keep recreating the movies and series we already know and love?
Lizzie McGuire, How To Lose a Guy in 10 Days, Recess – the list goes on. We're in a time where every single film and TV show from the late '90s and early 2000s is getting a reboot, and I can't help but to ask – why?
Over the past few years companies like Disney have been pushing live-action remakes of some of their most successful films, including Aladdin, Beauty and the Beast and most recently The Lion King, which surpassed Avengers after making $1.65 billion USD and snagging the top seventh spot on the highest-grossing box office list, according to Box Office Mojo. There's no doubt that there's money to be made in remaking films that we hold near and dear, but why is it that we're so obsessed with remaking what is already there? As the saying goes, "If it ain't broke, don't fix it," but why doesn't this hold true when it comes to the entertainment industry?
It's not just this year that we're seeing an uptick in remakes, this business model has existed for years. For example, Cameron Diaz, Drew Barrymore and Lucy Liu starred in two remakes of Charlie's Angels that released in 2000 and 2003, following the original series that debuted in 1976. It isn't just remakes of films and popular TV series, we're also constantly adding sequels to previous successful franchises, including the famous Star Wars saga which saw the addition of the 2015 Star Wars: The Force Awakens as well as the 2016 Rogue One: A Star Wars Story, 2017's Star Wars: The Last Jedi and lastly, Solo: A Star Wars Story. There are thousands of examples out there, but you get my point. It seems as if everything keeps coming back in one way or another, and the answer as to why is simple – it's all about money.
Production companies like Disney, Warner Bros., Universal Studios are thriving multi-billion dollar businesses that understand the financial successes that come with capitalizing on nostalgic franchises that have succeeded in the past. In order to understand the industry, it is important to be able to distinguish between a "remake," "reboot" and a "revival." ABC reports that a remake is defined as an old story line with fresher faces, a reboot features familiar characters but with a new story line, and a revival brings back a main cast of a show or movie for a new run years after its original release, for example the X-Files.
The idea of bringing back something that is already familiar to an audience is a strategy with minimal risk tied to it. The Lion King is one of the most loved Disney classics out there, and already has a storyline that we're all familiar with and associate with childhood and growing up. "It's why movie sequels really began. Tried and true and lessens the risk, as these companies are very risk averse and with millions of dollars being spent," Deadline's film editor Anita Busch told ABC, adding that if movies have "worked on one generation and, if written properly, will work again." This rings true to films that have debuted over the past two years, including the Oceans 8 remake of cult classic Oceans Eleven which starred Rihanna, Awkwafina and more, and scored a $435 million USD box office with a $85 million USD budget. Same goes for Disney's Aladdin live-action remake, which made a whopping $1,044 billion USD with a $183 million USD budget, reports Box Office Mojo.
This year it was announced that Home Alone would be remade, to which the original Kevin McAllister, Macaulay Culkin, responded with a picture of himself on a couch eating fast food captioned with "This is what an updated Home Alone would actually look like." Another announcement that gained a lot of buzz came from Hilary Duff, who revealed that she'd be reprising her iconic role as Lizzie McGuire in an upcoming film. "She has a cute little apartment in Brooklyn and everything is going her way and she's celebrating her 30th birthday with all of her friends," the actress revealed in an interview, adding that she "think(s) everyone's dreams are going to be fulfilled by going on the journey of the show." The Lizzie McGuire cartoon character will also be returning, wearing the exact same outfit as in the original series, of course.
If you weren't conviced already, during the next few years we'll be seeing remakes and reboots of Charlies Angels, The Addams Family, Men In Black and The Grudge will all be hitting the big screen, and shows like The Proud Family, Recess, Zoey 101, Gossip Girl and more will also be seeing remakes within the next few years. It is almost as if we're reliving the past, seeing the iconic classics we grew up with coming back with a new and shiny finish.
Companies know that they've already found a gold mine when it comes to remaking well-known films and series, and as reboots, remakes and revivals continue making money, the recipe for success won't change one bit. We can question the authenticity behind the decision to bring back beloved classics, whether it is all about the money or if it is to remember beloved media works, but at the end of the day we're still going to watch them all. We're able to relive memories and stories from childhood, and we're able to introduce the tales we grew up with to a younger generation that are completely unfamiliar with them, and that's worth it on its own. Reboots, remakes and revivals will continue to happen as we move forward, just like trends, and there's nothing we can do about it but enjoy the ride.
Share this article